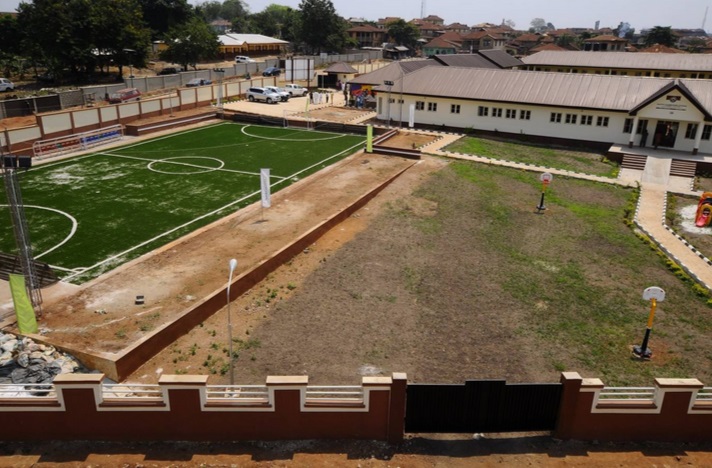 Osun Educational Landmarks In Perspective
Education is the greatest instrument of change in any human society, which explains why investment in human capital has continued to bring about development and training of future generation for the nation building.
The government of the state of Osun in the last three years has invested 30billions of naira on education. Osun school infrastructure project called "O SHOOL" is aimed at bringing the infrastructural standard of education in the state at par with the standard in advanced countries of the world. The reality on the educational structure today is the new face of state of the art schools that are already in use or about to be commissioned by the state government.


The governor of the state of Osun , Ogbeni Rauf Aregbesola began to prove the opposition wrong on the non-achievement of the three years administration of the present government by commissioning the Salvation Army Middle School, Alekuwodo, Osogbo on the 2nd of October 2013 .The New school is one of the 50 middle school government plans to build across the state. The governor averred that the educational reclassification is a well thought out arrangement painstakingly put in place to showcase government's pragmatic approach to revolutionize education and address the many rots which have crippled the system before November 27, 2010 when his administration assumed office.
Reason for school reclassification
From the school structure to the quality of education prior to his assumption of office in the state were indescribably dilapidated, students performances both at the internal and external examinations were abysmally woeful with less than 3% that could manage to secure admission to tertiary institutions.
Instructional materials were not provided; Parents Teachers Associations were the one making provision for the needs of their wards when things have gone badly. The educational summit organized by the new government resolved that surgical operations must be carried out in order to redeem the educational sector, which eventually gave birth to the reclassification of Schools.
The school reclassification by the state into; Elementary, Middle, and High schools synonymous to global trend in which effective teaching and learning take place, and where pupils of same age brackets are grouped together in classes with fewer students to be taught and prepare for examination. The new school system aims at removing financial burden of running of schools totally from parents, hence the government has taken full responsibility for infrastructural development, funding and management. The new school system also aims at making available and exposing pupils and students to modern facilities and international best practices in teaching and learning. This explain the reason why the present government has been providing standard classrooms, boarding facilities, sporting facilities, libraries, science laboratories and ICT facilities in the new schools across the state.


The new school system and national policy on education
It is important to let the world know that the new educational policy is in tandem with the National Educational policy. Under the re-classification, the government of the state of Osun run the modified National 9-3-4 System as well as the normal school academic calendar. What the state has now is 4-5-3-4 System. Under the re-classification of the Primary and Secondary Education into Elementary, Middle and High Schools; pupils in primaries 1-4 are under the same roof and environment with provision of modern facilities that is consistent with their age. They will spend four years before proceeding to the Primary Middle school and complete their last two years before going into the High school.
Critics of the new educational system
Politicians who realised the benefits of the new educational policy rather than appreciating the achievement of the Aregbesola administration in this sector allowed their emotions to over run their reasoning, only to align themselves with the Baptist Church whose demand is for the government not to allow their long term Christian traditions to be swept away with the re-classification. The political opposition see the gargantuan achievements of Aregbesola not only in educational sector but in infrastructural development and road development, and were frightened by such success, believing that if nothing is done to rubbish Aregbesola's achievement it may block their chances of success in the August 2014 gubernatorial election.
The sudden appearance of masquerades in Baptist High school Iwo can only better explained by the politicians abracadabra, who promised to " return school to the original status owners" if elected " as governor of the state ". The question is that how many original owners can afford to invest 30 billion on education at the primary to secondary level of education, and even let us assume the schools are eventually returned to the owner, looking at the economic condition of the state, how many parents will be able to finance their wards education. As at today, parents have been withdrawing their children from the private schools to the public schools because of the massive government investment on education aiming at fulfilling the state anthem which says:


" Egalitarianism/ Is our watchword/Equality of good fortune/Must be to each sure reward"
The education of the people must not be toyed with; neither should we play politics with it, if we are to avoid catastrophic future. The Northern part of Nigeria is burning today because some of our leaders failed to do what they ought to have done in providing the then youths with good and sound education and today things have fallen apart in the North East and the centre could not hold. We must allow the new educational system to fulfil its purpose in the lives of our children so as to usher in a new generation of complete man.
Governor Aregbesola was right by saying "it is our unwavering belief that education offers the best way to produce great individuals that will create great society. This is the thrust of our mission in education. It is a mission that should be backed by all, for it is a mission that is in the interest of all."
Religion in schools
The politicians who hope to reap at the polls using religion as a bate underrated the present government as they failed to understand the mission of the government of building the state for all irrespective of religious persuasion. As the governor Aregbesola further opined "We are clearly neutral on religious observances. If religious observance had been allowed, why would a section of the partisans seek relief from the court?".
DAILYINDEPENDENT