Osun Showcases Education Transformation At NESG's Summit In Abuja …Says "We Are Poised To Achieve A Total Overhaul"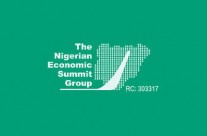 The Deputy Governor State of Osun, Mrs. Titilayo Laoye-Tomori on Wednesday reiterated that the state is poised to achieve a total overhaul of its education sector in line with global best practices.
The Deputy Governor who also doubles as the Commissioner for Education told audience at the 20th Nigerian Economic Summit in Abuja that the complete overhaul embarked upon was central to the vision of the current administration for a modern Osun. She towards the realization of a new face of education, a total of 1,724 classrooms has been completed in the 39 ultra-modern schools in the state.
The Transcorp Hilton venue of the summit with the Theme "Transforming Education through Partnership for Global Competition," which kicked off on Tuesday, had in attendance notable stakeholders in the education sector, like the Minister for Education, Mr. Nyesom Wike, the former Minister for Education, Dr. Obiagele Ezekwesili, the Vice President of Nigeria, Arc. Namadi Sambo among others.
Mrs. Laoye-Tomori revealed that aside building structures, government has added 10,407 new teachers to the list of public school teaching staff in Osun.
The deputy governor added that apart from recruitment of qualified teachers, government has designed training programmes both local and foreign for public schools teachers.
According to her, "We now have 12,715 teachers in our primary schools and 7,848 teachers in our secondary schools. This amounts to a 54.8 per cent increase in the number of public school teachers we inherited. The same applies to non-teaching staff whose number has also increased by 564.
"What we have brought to education in Osun, if we will not sound immodest, amounts to a revolution. The public schools that we have now in Osun in terms of structure and the quality of teachers can compete favourably with what is obtainable in developed countries". Laoye-Tomori told the summit.
The Economic summit group had invited the state to be part of its 20th summit to share the experience of its innovative e-learning device called "Opon Imo" with people across the country.
Earlier at the summit on Tuesday, the Head of the Tablet of Knowledge team, Mr. Bambo Bashorun, took the audience on a journey of how Opon Imo was conceived and transformed into reality as well as its impact on the state's education sector in the last one year of its deployment.
Government of Osun pioneered the e-learning, which was adjudged one of the first across the world. The tablet is a device to expose its students to information technology as it is being done in the developed countries of the world, where education has gone digital.
Since its debut in 2013, Opon Imo has won awards both at national and international levels as one of inventions of the 21st century contributed to humanity by the State of Osun.