Osun Breaks New Ground, Launches Smart Master Card With Advance Salary Payment For Civil Servants …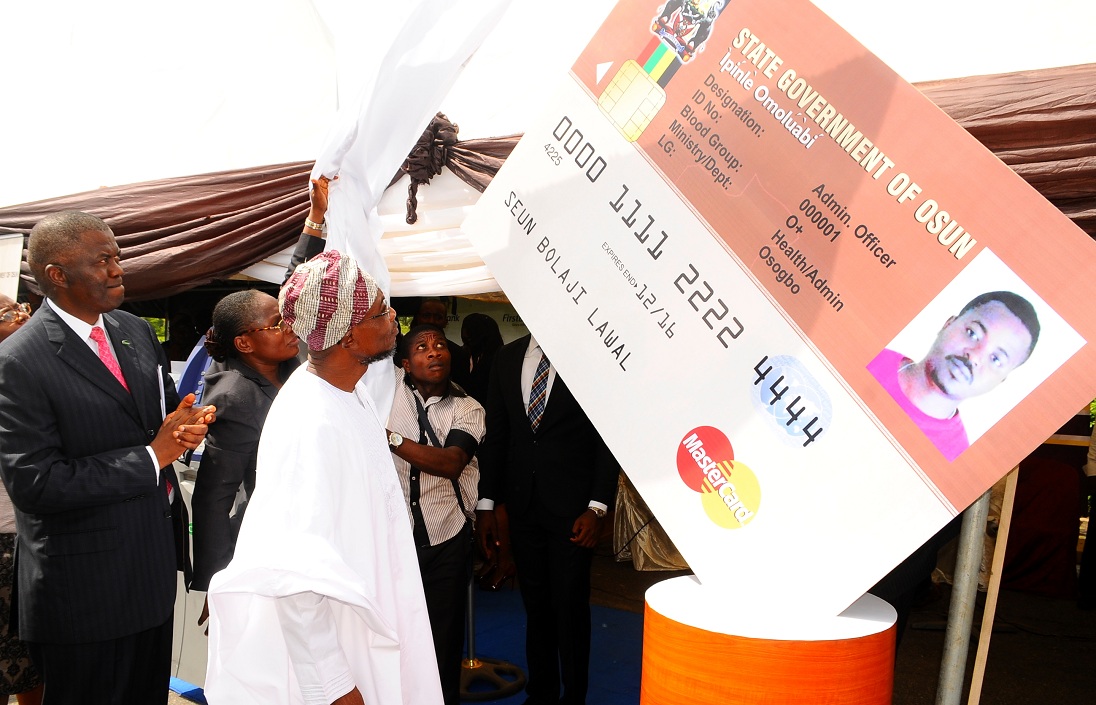 The State of Osun under Ogbeni Rauf Aregbesola has broken into new grounds through maximally utilising information communication technology for governance effectiveness in the State. This is the first of such uncommon thinking in the Country.
The state has launched a smart card which carries the data base of all civil servants in the state and will also serve as credit card, debit card and staff identification. The card has embedded in it the profiles of all government workers in the state. The card is tagged '' I AM ALIVE''
At the launch on Tuesday, 29th April 2014, the Governor of the State of Osun, Ogbeni Rauf Aregbesola while giving his speech at the occasion said the civil servants smart card is to intensify the state's use of information communication technology for administrative effectiveness. The unique features and benefits of the smart cards include:
The  card is electronically personalised with biometric features to each of its users
Through this smart card system, the workers can get their monies paid directly to their accounts instead of through any intermediary points.
There cannot be mistaking identity in the payment of monies due to the workers
For the pensioners, it removes the stress of going through multiple verification to get their payment and also blocks the means for cheating them out of their money.
It eliminates ghost workers in the system
The card is linked to a credit or debit card and gives the owner access to his or her salary account, which he use to withdraw up to 20 per cent of the salary with or without money in their account
The smart card can be used not only in Osun but also within and outside Nigeria and anywhere in the world.
The card carries the fingerprint of card holder with which he can identify him or herself.
The project is a tripod arrangement between State Government of Osun, Chams Plc and financial giant, First Bank Plc.
This project has set Osun aside as a leading state in novel ideas which have come to be the hallmark of this government. It is worthy of note that the automation of the State Payroll System singlehandedly raised the internationally generated revenue by 100% without increasing a dime in tax payable by citizens.
The state is also set to issue personalised cards for State public school pupils from 1-6. The card will contain the bio-data of the pupils.
Osun is taking the driver's seat in innovative thinking and unparalleled strides in state administration in Nigeria.
IT IS A RISE FROM OBSCURITY TO STARDOM UNDER OGBENI RAUF AREGBESOLA!