Osun To Procure 6,000 Tonnes Of Fertiliser, Says Commissioner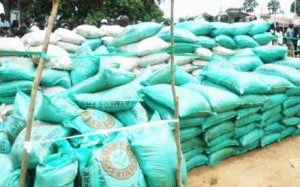 The Osun State Government said on Tuesday it had approved contract for the supply of 6,000 metric tonnes of fertiliser for the 2014 planting season.
The Commissioner for Information, Mr Sunday Akere, said this in an interview with the News Agency of Nigeria (NAN) in Osogbo.
Akere said that the contract had already been awarded.
"The State Agricultural Development Programme (OSSADEP) had requested for the procurement of 6,000 metric tonnes of fertiliser.
"Gov. Rauf Aregbesola has approved to procurement to facilitate food security in the state.
"The government has also ordered for 3, 500 metric tonnes of NPK at N6, 000 per bag and 2, 500 metric tonnes of Urea at N5, 800 per bag."
The commissioner said that the state would not release any money to the contractor until the consignments were delivered, adding that government would ensure that the contract was executed to specification.
"The consignment will also be inspected by both the state's Tender Board and the state's Planning Committee before the payment is effected," Akere said.