Ogbeni At 57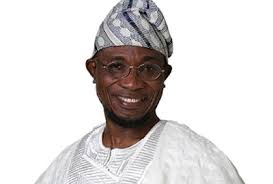 Today (25th May, 2014) provides another opportunity for the amiable and doughty governor of the state of Osun, Ogbeni Rauf Adesoji Aregbesola to thank his creator for sparing his life to be able to witness another date of his birth. But not only for the grace of being alive should he be thankful to God, for having lived a life of impact thus far also provides a cause for him and his numerous admirers to glorify the name of the Lord today.
A journey of fifty seven years on the shore of earth is not a joke and especially as the journey is defined by giant achievements not only personal but humanitarian. And it is for this reason that we are happy to identity with this visionary leader who has impacted positively on the lives of so many people and added value to humanity in no small measures.
For Ogbeni Rauf Aregbesola service is what matters. His life is purely defined by service to humanity. Thus for those who are familiar with his life history his stellar performance as the Governor of the state of Osun is no surprise. For he has always excelled in whatever position of responsibility he found himself. Not for him to regard any assignment as being small or unimportant and so he always put in his best and handles every assignment with absolute commitment.
When it comes to work Ogbeni Aregbesola does not look back. For him what is worth doing at all is what doing well. He is such a hardworking man so much so that the word 'workaholic' has always been used to describe him. Of course he must be a workaholic to have always worked for twenty to twenty one hours daily. It's this nature of his that made a journalist to once asked him during an interactive session with the public whether he (Ogbeni) even sleeps at all.
Whenever Ogbeni Aregbesola finds himself handling a particular assignment his mind is focused on result. So as a result-oriented leader he loathes to hear from anyone to whom he might have given assignment to come back and give him excuse that he couldn't achieve result. Thus for him there is no excuse for failure. No wonder he has achieved so much during just a period of four years that he has attained the position of leadership in his home state even in spite of the monetary challenges he has been facing.
It is important to mention it that Ogbeni Aregbesola had for long prepared himself for leadership role. So it doesn't seem to be by accident the position he finds himself now. Even as young and as smallish in stature as he was he emerged the President of the Black Nationalist Movement in his days at the Polytechnic Ibadan due to his agility and vocal attribute. It was that platform he and his colleagues used in fighting against perceived bad government policies then.
As a Commissioner for Works and Infrastructure in Lagos state during Asiwaju Bola Tinubu's administration Ogbeni Aregbesola was an excellent performer. For that he won many awards as the best Commissioner in Lagos state then in recognition of his hard work. And since he became the chief helmsman of his state four years ago the story has not been different. He has carried on with the same spirit and determination. The reason why awards have also been pouring in for him both from near and afar.
As the Governor of the state of Osun Ogbeni Aregbesola has proved that he is equal to the task. Within four years he has turned the state around. The level of development the state has witnessed under him is quite unprecedented. His style of governance which is quite unusual has been recommended to other states of the federation especially his educational policy.
As this dynamo turns 57 today we at Osun Defender are proud to identify with him as we wish him many more years of meritorious service to humanity. It also pleases us to wish him victory in the coming governorship election in the state. Happy birthday to a focused, visionary and virtuous leader!