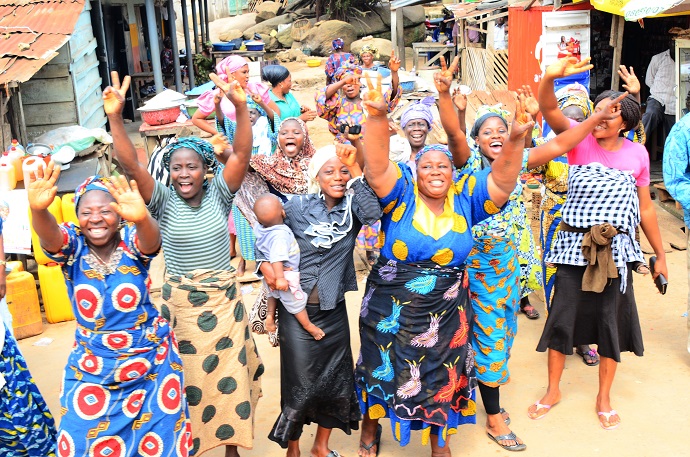 Monarch, Osogbo Indigenes Endorse Aregbesola For Second Term
The Ataoja of Osogbo, Oba Jimoh Olanipekun, has appealed to citizens and residents of the town to give maximum support on the second term bid of Governor Rauf Aregbesola.
The monarch, who spoke at an event held at Nelson Mandela Freedom Park where the community honoured Governor Aregbesola with the title of Aare Akinrogun of Osogboland, said the gesture was in recognition of the sterling performance of Aregbesola. Ataoja, who showered encomium on the governor at the programme put together by members of Osogbo community and environs to appreciate and officially endorse the governor for a second-term in office.
The monarch pointed out that the town has never had it so good since it was made the state capital, stressing that the touch of Aregbesola is very visible in every part of the town hence the need for Osogbo to ask him to continue the good work he has started.
According to him, "We are so happy and grateful to Aregbesola for the wonderful work he is doing in Osogbo and the state at large, our town is now wearing the look of a true state capital.
"Osogbo has benefited so much from the various life changing policies of this administration and we shall forever be grateful to Aregbesola who has made us to be proud of our town because the town is on a steady progress ever since he assumed office as the governor of the state.
"From "Oyes" to O Ambulance to the building of modern schools, the feeding of our school children, the abattoir projects going on in Osogbo and construction of roads, I can boldly say that Osogbo has highly benefited from the administration of Aregbesola.
"We are here today to appreciate the governor and to tell him that we want him to continue because the good work he has started in Osogbo and Osun as a whole must continue". The royal father stated.
In a keynote address, the Asiwaju Muslumi of Yoruba land, Alhaji Olatunde Badmus, who is also an Osogbo indigene, emphasised that the administration of Aregbesola has changed the image of Osogbo town to a modern city which the sons and daughters of the town can now be proud of.