School Feeding Experiment: Osun Leads, Others Follow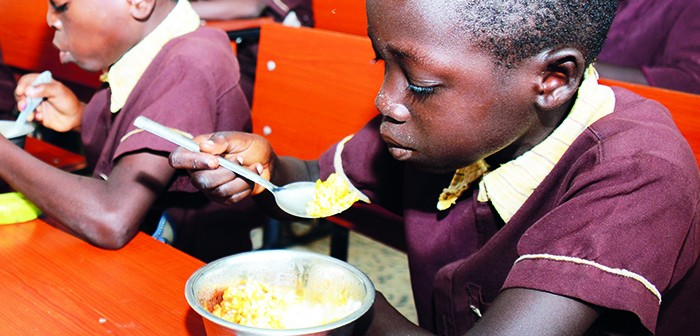 Knowledge, they say, is power. But in Osun State, under the leadership of Ogbeni Rauf Aregbesola, power seems to have changed hand. In the past, to gain knowledge, any knowledge, you would have needed to travel to the Whiteman's country or land, across the seas, to practically beg him to share some of his knowledge with you.
But today, Aregbesola, has succeeded in changing the order of things with his O'MEALS (where O is for Osun) school feeding project or programme. The result is that, on account of his experience/knowledge, today, he is being invited here and there, to lecture those of us, Blacks and Whites, who find his achievement with it, something out of this world.
The height of it came when he was invited, early this year, by the All Party Parliamentary Group (APPG) on Agriculture and Food for Development and the Partnership for Child Development (PCD), Imperial College London, to address the United Kingdom's House of Commons, on Osun Elementary School Feeding and Health Programme (O'MEALS), which they acknowledged as a successful model to be copied worldwide.
Governor Aregbesola who received loud applause as he made eloquent statistical presentation before the parliamentary body during which he advocated the use of biometric registration for beneficiaries of the Home Grown School Feeding programme worldwide to eliminate corruption and guarantee transparency, also called for the adoption of O'MEALS programme, which he wants extended, with appropriate legislative backing, to the first nine years of schooling, in all the 36 states of the federation, including the Federal Capital Territory, Abuja.
During the presentation, four other speakers including Prof. Donald Bundy, the Lead Health and Education Specialist of the World Bank, Mr. Peter Rodrigues, the Chief of School Feeding and Chronic Hunger Unit of the World Food Programme (WFP), Ms. Boitshepo Bibi Giyose of NEPAD and Prof. Josephine Kiamba, the Senior Technical Adviser of the Partnership for Child Development, Imperial College, London, praised Governor Aregbesola for successfully implementing the O'MEALS despite the challenging financial situation of his state.
Months later, Dr. Lesley Drake, Executive Director, Partnership for Child Development, at a workshop with the theme: "Technical Meeting on Osun Elementary School Feeding and Health Programme (O-Meals)," and held, late last month, (May 21-23, 2014), at Centre for Black Culture and International Understanding, Osogbo, still recalls the aftermath of that Ogbeni Aregbesola's outing in UK parliament.
"UK has now adopted the school feeding programme," she told 
Education Review
. "Actually, the rationale for inviting the Osun State governor is to see how well he is doing it here and how we can adopt the practice in England, Scotland and Wales and in many countries in Europe. So the message of homegrown school feeding is growing globally and the Governor of Osun State has been the primary motivator in that regard."
"I will like to add that there is also the way the finances are being managed here which is very important," Prof. Bundy remarked. "Obviously, in any business where you have a lot of commodities and a lot of people involved, you've lots of opportunities and linkages for corruption. But what is done here is really quite clever. One thing about it is that it is cash free. I mean, the system of hiring contractors, the caterers who are involved in the preparation of food involves no cash exchanging hands; rather transfer of money is through a bank system which is very tightly controlled. Most of the food procurement which is another area that otherwise would have been opened to bad practice is managed in a very co-ordinated manner; in fact, it is centrally managed. So instead of thousands of people being involved in that process, there are few people and there's a lot of checks and balances. I think those are very important lessons for any country and any society. I think it is a very good system."
It was in order to impart the knowledge not only to the UK parliament and other international communities but to also his fellow Nigerians, that the state government, in partnership with PCD, Vitol, etc, organized the 3-day workshop.
Bundy who spoke on the topic "Levelling the Playing Field: Reasons We Feed Children" noted that, among other things, it improves school attendance, acts as a sort of social security net for the poorest of school children and provides a ready market for local farmers and traders. Daniel Mumuni from Ghana, and who spoke on the topic: "Home Grown School Feeding: Developing Local Agriculture, Nourishing Young Minds" observed that the programme worked and is working in Osun State because of high level political support and added that such political support is needed to make it work in other interested states or countries. But he emphasized the need for close monitoring as to evaluate its success or otherwise at any given point in time.
Mrs. Doyin Orogun, from Universal Basic Education Commission (UBEC), spoke on "Home Grown Feeding in Nigeria: The Way Forward." In her presentation, she called on the Federal, states and local governments to get involved in the school feeding programme, noting that "education for all is the responsibility of all."  Education, she insists, may be free for a child, but to his or her parents or to the state that chose to bear the responsibility it is not free. Praising the states who sent representatives/delegates to understudy Osun, she warned that "when a child drops out of school you are breeding another set of insurgents."
Aregbesola agrees. "We are having security challenges big enough to engage global attention because we have neglected education in the past," he said in a keynote address he presented at the occasion. "We are reaping the fruits now. Well-educated children will have the confidence to face the future and remake their world in their own image. Uneducated or badly educated children on the other hand are not only easy recruits for violent gangs, they are incapable of conceiving beauty and all that is good about man, the environment and the good life. They are naturally predisposed to nihilism.
"Against this background, the peculiar challenges that confront elementary education in our clime had to be identified, after which solutions that mainly rely on local resources and efforts would be needed in order to make such solutions viable and enduring. School feeding programme is a revolutionary development in education and indeed governance because it integrates at least four areas of governance with education. These are agriculture, health, job creation and local empowerment."
"School feeding is very expensive but the positive impact on the pupils and the economy cannot be ignored," the Deputy Governor and Commissioner of Education, 
Iyaafin
 Grace Titi Laoye-Tomori, earlier noted in her welcome address. "We implore the Federal Government to devote part of its annual budget to feeding our elementary school pupils because of the positive impacts it would have on school enrolment, the health of the children, economic growth and development, and particularly, youth empowerment, as many of the currently unemployed youth would be engaged in different types of productive farming. Nigeria as a nation should cut down on frivolities and focus on educating our children."
Mrs. Louis Onyike, a nutrition officer with the Ministry of Health, Owerri, Imo State, and one of the participants in the workshop, while praising Aregbesola for the courage to embark on such ambitious project expressed her belief that Governor Rochas Okorocha who she said had made free education for Imo children, one of the cornerstones of his administration's programmes, will want to key into the programme if he is properly briefed and shown its importance.
Mrs. Charity Usifo, of the Department of Primary Health Care, Ministry of Health, Edo State, also expressed the same hope. "It's a good experience, we in Edo State believe we can come on board even though we are not among the 12 states originally selected for the pilot scheme. When we go home now, we will give our reports, with our findings and recommendations. I believe that our governor, Adams Oshiomhole, will buy into it because he is interested in the transformation of schools. No child is allowed to go into hawking or street trading. Every child must be in school."
SUNNEWS