'Living In Osun Is A Blessing', Says Hausa Community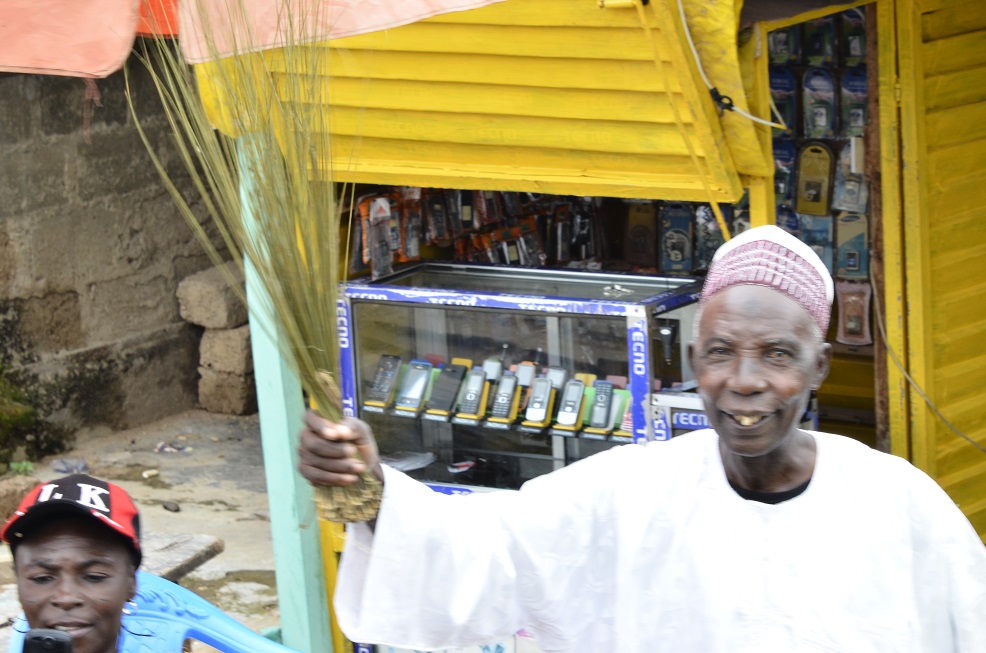 The Hausa community in Osogbo is a very old one, and its members speak fondly of golden ties linking them with their Yoruba hosts.
Alhaji Yahaya Haruna, Chief Imam of the Hausa community in Osogbo whose father is an indigene of Kano, was born in Osogbo in 1925. The Deputy Chief Imam of the Hausa community in Osogbo, Alhaji Muhammed Awal was also born in Osogbo in 1947. Both Alhaji Yahaya and Alhaji Awal have been living in Osogbo since birth ,and they tell Daily Trust that  they are enjoying living in the city.
The Imam who explained that there is cordial relationship among the Hausa and Yoruba communities  in the State, noted that he now claims to be an indigene of Osogbo. "Most of us don't see ourselves as non-indigenes here, except for the fact that we cannot forget our origin. My younger brother married a Yoruba woman, and they are living comfortably. We enjoy living in Osun.  There is no discrimination between Yorubas and Hausa here."
Alhaji Awal, the Deputy Imam, married a Yoruba woman and many other people from his family also married Yoruba, while Yoruba people also married from his immediate family. The Deputy Imam of the Hausa community, believes  he has  equal rights  with the Yoruba, especially as he  contested for the position of councillor in 1976. "I contested because I know I have the  right to vote and be voted for in any part of this country. I came second in the election and I challenged the outcome of the election at the election tribunal.But I was persuaded to withdraw the case and support the winner. I can assure you that the Hausa are partaking actively in politics in Osogbo up till now.
60-year-old retired staff of Independent National Electoral Commission (INEC), Mr. Yunusa Sulaimon who hails from Kano, is entitled to become a king in a Yoruba town which  his mother hails from. "My father is Hausa from Kano, but my mother is Yoruba from Ipaye and I'm qualified to become a king in that town, because my mother was a princess."
Umoru, Muhammed, Alhaji Awal and Alhaji Yahaya as well as Mr. Yunusa, are some of the few examples of northerners who chose to live in Osogbo, and have no reason to regret their stay in the ancient city.
The Hausa people have been  in Osogbo since time immemorial, and majority of them can speak the original Yoruba language and even make use of Yoruba proverbs to illustrate their points during discussions. Also, their Yoruba accent is not different from the accent of a typical Osogbo indigene.
When the Hausa people first migrated to Osogbo, they settled down among the people of the town in various family compounds. Their desire to have a predominant Hausa community warranted the creation of the Sabo in Osogbo about a hundred years ago.
Alhaji Lawal Gonima, the Seriki Hausa ( leader of the Hausas ) in Osun State told Daily Trust that Sabo in Osogbo was founded in 1921. But he does not know when exactly the Hausa first entered Osogbo, as he explained that he did not see any record in that respect.
"Before they created this Sabo, the Hausas were living in various family compounds including Iya Dudu compound, Layiokun compound and Olu-Ode-Aranin family compound as well as Isale Osun. It was the then Ataoja of Osogboland, Oba Dokun who  released this area to the Hausa people free of charge. That was how our people moved down here and formed this Sabo." After the reign of that monarch, it was then the reign of Ataoja Adenle, and the Hausa people demanded for expansion because of developments. "When we realised that the land we got from Oba Dokun was not sufficient for us, we demanded for more and Oba Adenle granted our request by expanding the area covered by Sabo.
"That was how all these  areas become Sabo as it was expanded to Dogunmun's compound. They gave us the land free ,and no one has ever come to us to disturb us. If you see any Yoruba that built a  house in this Sabo,  he must have bought the land from the Hausa dwellers."
To Alhaji Gomina, intermarriage between the Hausa and Yoruba people, is very rampant in Osogbo. He said two of his wives are Yorubas, and that his daughter is also married to a Yoruba man. "There is intermarriage between Hausas and the Yoruba people in Osun.  I also married Yoruba women, while one of my daughters, Khadijah, married a Yoruba man. All our children understand Yoruba and Hausa language very well. In fact, some Yoruba people understand the Hausa language better than their own Yoruba language, while some of us understand Yoruba better than some Yoruba people. We relate well and we are enjoying our stay here."
Asked whether the state government takes the Hausa community along, the Seriki said "the state government is carrying us along in terms of distribution of dividends of democracy. One of our people was given appointment in the Aregbesola  administration. Also, some of our children were employed in the Osun Youth Empowerment Scheme."
Alhaji Gomina said the Hausa community is not comfortable with the state of roads within the Sabo area, and called on the state government to repair the roads or construct new ones. "We are begging the government to construct roads that lead to Sabo and other roads within Sabo. Our roads here are not good. The one that enters  Sabo from St. James and the  Ayetoro area  is in a terrible state, while the second one is not even passable."
The Seriki also noted that the past administration of Oyinlola gave some Hajj slots  to the Hausa community, but the administration of Aregbesola has not given them any Hajj slot in the last three years. "During the regime of Olagunsoye Oyinlola as governor, the state government gave us slots  for Hajj ,and I was the one that went to Mecca on that slot.
The government of Aregbesola has not given us  any Hajj slot, but we are still expecting it this year."
Speaking on the security situation at Sabo, the Seriki disclosed measures put in place to prevent crime and  contain criminals in the area. "There are various measures put in place to ensure security in Sabo,  so as to ensure safety of lives and properties here. We  hold  meetings with the police and the Department of State Security (DSS) regularly, and we also appointed some people as vigilante to monitor movement in this area.
Whenever there is a new immigrant from the north, such person would be referred to our vigilante group, who will screen them to ensure that they don't constitute security threats. You know everyone is afraid of Boko Haram, and that is why we always make sure that every vehicle that loads or offloads at Sabo is scrutinized. In fact, we banned loading at night for security purposes," the Seriki said.
Malam Abdul Basir, an indigene of Katsina state has lived in Osogbo for almost 30 years. He is a preacher and he teaches at the Arabic and Islamic School founded by Jama'at Izalattu Bid'a Waika Matul' Sunna. Governor Aregbesola appointed Basir as Special Assistant on Ethnic matters. Married to a Yoruba woman, unfortunately, Basir's wife is late.
"I married a Yoruba woman but she is no more. I have four children from my late wife and some of my children are now living with the family of my late wife at their request. My late wife's sister, who is a lecturer at the University of Maiduguri, is taking  care of the children. My second born child, Abdul-Rahaman is living with her in Maiduguri. My first daughter Yesirat and my last born are in Kano state, while the third born Fatimah is in Ibadan living with a family friend of my late wife. Three of my children can speak Yoruba and Hausa languages very fluently but the one who lives in Ibadan cannot speak Hausa, but she speaks  Yoruba and English."
Basir said Governor Aregbesola is doing well with the Arewa community in Osun state, and that his appointment as Special Assistant to the governor on ethnic matters, is to facilitate better relationship with the northerners. "I assist the governor on matters affecting Hausas. He promised to appoint more Hausas into his administration in the second term. When he recruited 20,000 youths as OYES, he told me to bring a  list of 100 Hausas from all parts of Osun State. I went round Hausa communities in the state including Iwo, Ikire, Ifon, Ilobu, Apomun, Ikoyi, Ile-ife, Olode garage, Owena, Ikirun, Inisa, Okuku, Ede and Ejigbo. I collated the names and gave it to the governor, and he  employed all of them. He usually gives rams to  our 28 Serikis in Osun State for the  Eid-El-Kabir celebration. In fact, all our Serikis got cows during the first Ileya of the Aregbesola  administration.
"He promised us a Hajj slot this year, and we are expecting it. Also, we have easy access to the governor and we enter the Government House anytime we need to be there. The governor always makes sure that we are  safe. He always asks after our welfare. We are enjoying the state just like every other indigenes of the state, as there is no discrimination here. The governor is also assisting the fulanis in the state. He promised to give them a borehole and teach them modern cattle rearing practices."
Basir said the wife of the governor, Alhaja Sherifat Aregbesola sometimes ago said she wanted to see the Hausa women, and that about 100 Hausa women were subsequently taken to the first lady at the Government House, and she entertained them. He added that Aregbesola's wife who was born in Kaduna can speak Hausa very well, even though the governor does not understand the Hausa language. Basir told Daily Trust that the Hausa community in Osun state is planning to honour Governor Aregbesola with an award to appreciate him for his efforts.
For the northerners, it is fun living in Osogbo.It is a city which the Hausa  refer to  as "Oroki Asala" which means 'Heaven for the migrants'.