Osun Govt Launches N4bn Empowerment Scheme …Distributes 40 Mini-buses To Transporters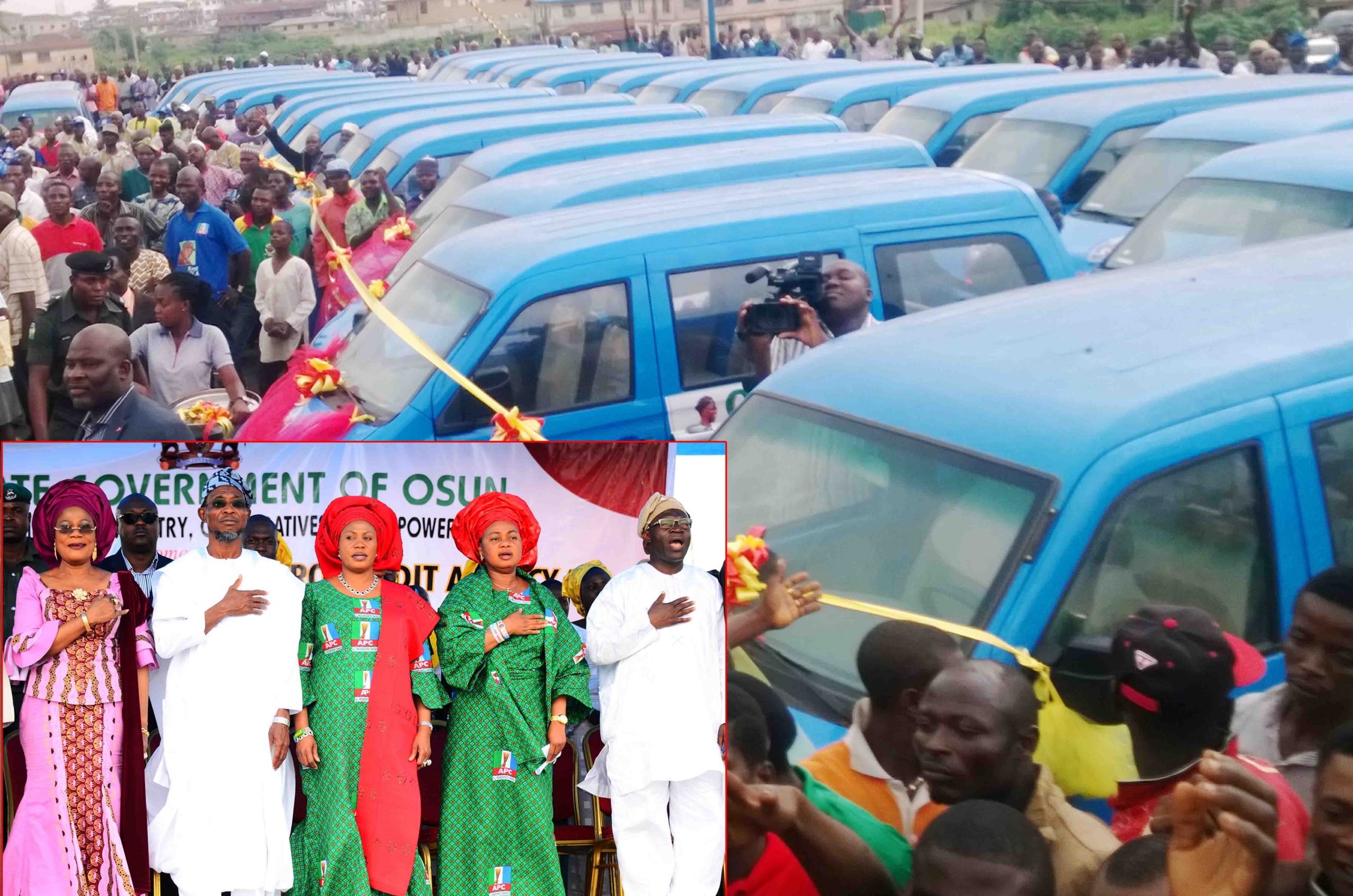 In its continued bid to make life more meaningful for the people, the Governor of the State of Osun, Ogbeni Rauf Aregbesola, has launched a N4billion micro-credit scheme for the operators of small scale businesses.
The governor also distributed 40 mini-buses "Korope" to transporters at the Nelson Mandela Freedom Park in Osogbo at the commissioning ceremony of Osun-Micro Credit Agency through the Ministry of Commerce, Industry, Co-operatives and Empowerment.
The transporters were so elated that they confessed that the twin task of purchasing the buses and tarring the roads have solved commuting hitches for the people.
The governor said welfare, security and empowerment of the people are primary responsibilities of a good government
The governor averred that any government that brings hardship rather than succour to the people is a devilish government.
The governor of Lagos, Mr. Babatunde Fashola who graced the occasion held that the All Progressives Congress (APC) is a party of the masses and will at no time consider any policy that will be against the people.
According to Aregbesola since the inception of his administration, he has pursued welfare, peace, progress and development of the people of the state.
Aregbesola said: "It is on the other hand a chance for our people to reap the benefits of their trust and support for our government.
"Our own way of serving our people and showing our gratitude to them is not by sharing money which they will spend within a very short time. Rather, what we do is give them the means and capacity to be able to make money by themselves and for themselves. In other words, we empower our people to be economically productive and financially independent.
"In this way, we tell our people certain things about us: that we are a government of responsibility, accountability and transparency.
"We are a government that is truly committed to the welfare and well-being of our people; and we will continue to serve them to the best of our abilities."
Fashola told the gathering that is it absolute lie that his government banned Okada from Lagos.
He stated that what his government did was to merely restrict the operators from plying highways as a way of protecting their lives.
He disclosed that since the restriction about six months ago, Okada-induced deaths and injuries have almost varnished on Lagos roads.
"We want what is good for our people, including security and protection of their lives.
"Don't let the opposition tell you lies that we banned Okada on Lagos streets. We have welfare of our people at heart.
"In fact, one of the cardinal policies of APC is to guarantee the welfare and well-being of our people," Fashola said
Speaking on behalf of the transporters, Asimiyu Oladejo, President Cooperative Transporters, said "No government has ever bought a vehicle for us in the history of this state. Government did not only by the buses for us; the government also tarred the roads so that the buses will be durable."