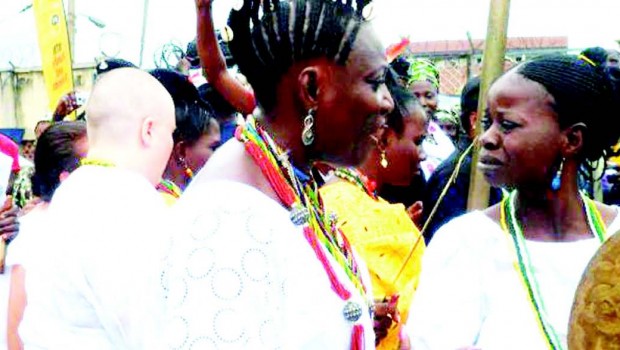 Osun-Osogbo Festival Unveils 2014 Programme
The program-unveiling event was attended by prominent dignitaries from Osun State including The Ataoja of Osogboland, Oba Jimoh Oyetunji, Olanioekun Larooye II, the Special Adviser to the State Government on Culture and Tourism, Hon Ladi Soyode, veteran international artists, Chief Jimoh Buraimoh and Chief Nike Davies-Okundaye, Ifa Archbishop cum actor, Chief Ifayemi Elebuibon and prominent cultural festivals marketer, Mr Ayo Olumoko.
The programme unveiling marks the commencement of the pre-festival events which includes the Ataoja Youth Football Challenge, Iwopopo (Traditional Cleansing of the City), Art exhibition, Ayo Olopon contest (Native Ayo game), and Musical concert to be led by Apala maestro, Musiliu Haruna Ishola, the Lightening of the 642 years old 16 points lamp (Olojumerindinlogun), and Ataoja's golf Competition. Other pre- festival events include Osun Marathon Walk, Osun Traditional Food Festival, and Osun Trade Fair. The pre-festival events end on Sunday, 17th August, 2014.
The festival's grand finale kicks off on Monday, 18th August, 2014 with Iboriade (Ataoja's Crowns Assemblage), Arugba's berth, a tour of Susanne Wenger's Sacred Colloquium, Osun Children cultural fiesta, HIV/AIDS Promotional Campaign, Sisi Osun Cultural Pageant and Ataoja's Royal Invitational Reception.
Corporate sponsors of the Osun-Osgogbo festival were also unveiled. They include telecoms giant, MTN, Nigerian Breweries' Goldberg, Seaman's, and Kasapreko's Alomo Bitters.
A special assistant to the State Governor, Hon Soyode speaking at the event, says the Osun Osogbo festival 'has culminated in becoming the biggest festival in Nigeria having recorded 21,713 domestic tourists including 123 international tourists while Abuja Carnival recorded 19,015 domestic tourists with 113 international tourists in 2013'.
In Chief Jimoh Buraimoh's remarks, he said the festival has maintained its originality, authenticity, and acceptability despite the influence of western civilization, education and religion.
"It should also be noted that the Osun Grove was enlisted as a World Heriatge Site by the United Nations International, Scientific and Cultural Organization (UNESCO) in Durban, South Africa in July 15th, 2005. Corporate sponsorship and individual's identification with any of the festival events will therefore be a rare opportunity to advance relations, products and services patronage with the fulfilment of discharging corporate social responsibilities and national obligations to the Osogbo community cultural fiesta, State of Osun, the Government and people of Nigeria".