Osun Governorship Election Should Not Be Militarised – NLC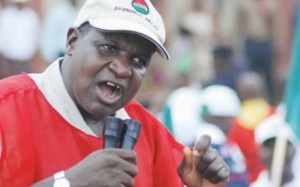 The Nigeria Labour Congress (NLC) has said it is worried by the deployment of armed security men and women to Osun State as part of preparations ahead of the governorship election scheduled to hold this Saturday across the state.
The union, in a statement by its president, Comrade Abduwahed Omar, said it believes this cannot be helpful to the growth of any democratic culture as it portends an infringement on the rights of the electorate who may refuse to participate in the election as a result of the intimidating presence of armed security agents.
"More worrisome is the reported shootings across the state capital by officers of the State Security Service (SSS) shortly after arriving the state for election-related duties. We wonder why the SSS had to waste bullets shooting sporadically to scare residents who were not engaged in any form of violence at the time of the shootings," the union stated.
It stressed that inasmuch as elections are very important to any democracy, "we caution that the state should not be turned into a war".