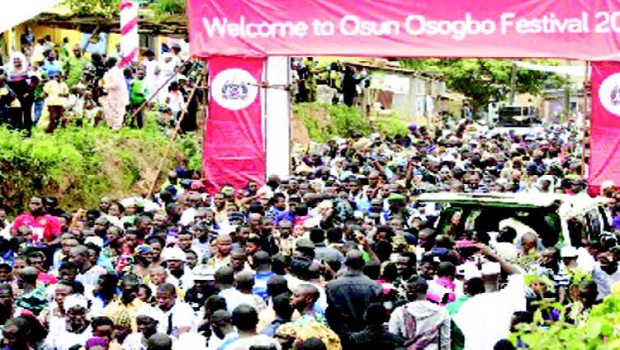 Osun-Oshogbo 2014 Update: Festival On Ebola Alert For Grand Finale
This is in view of the mammoth crowd, local and foreign being anticipated at the festival whose grand finale comes up on Friday, August 22, 2014.
According to a statement issued by the organisers, "It is not a ruse but a fact that Ebola is here in Nigeria but our sincere prayers and hope is that it will not get to the State of Osun before it is nipped in the bud by the Federal Government of Nigeria with the assistance of the Government of the United States of America in which a relationship in ensuring that the cases we have in Nigeria are attended to. As enumerated by the State Government of Osun, we want to support their efforts and admonish our people to please inculcate the prescribed hygiene measures put in place as neither anybody nor religious group are being intimidated in performing their religious obligations.
To this end, we want to implore each and every one of us to ensure that we moderate our reception of our visitors, either from overseas or most especially from other states within Nigeria, where cases of this deadly disease are being managed. Also, we the organisers of the festival are in total support of the State Government's crowd control measures being put in place to minimise the risks of the spread of this disease during the Osun-Osogbo Grand Finale coming up on Friday, August 22, 2014.
We want to thank the press for the steadfastness in the coverage and reportage of the newly packaged Osun-Osogbo Festival since 2002 which earned the Osun Grove the enlistment by United Nations Educational Scientific Organisation(UNESCO) at Durban, South Africa, on 15th July, 2005. We reiterate that the Osun-Osogbo Festival is the way and life of the Osogbo community and its organisation and presentation has been accepted by all, not only in Nigeria, Africa, but in the whole wide world.