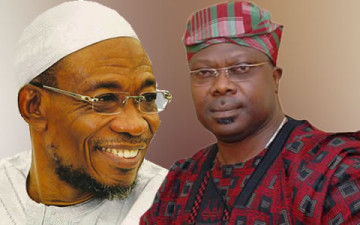 Osun Poll: Who Wins?
Friday, May 24, 2013, thirty-five governors gathered to vote for the Chairman of the Nigeria Governors Forum (NGF). With the initial postponement and intrigues that surrounded it, it was going to be a night of long knives.
With the Presidency interested in the outcome and with Governor Rotimi Amaechi determined to give it another shot in spite of his open confron­tation with the President, it was going to take more than ordi­nary determination to navigate the treacherous waters. It would take grit, uncommon courage and the ability to outfox the henchmen of the Presidency. At the entrance of the venue of the election, all the Governors were mandated to submit all their mobile phones.
But one man particularly sus­pected there was going to be foul play so he sneaked in a pen cam­era. He recorded the vote count­ing surreptitiously until when Governor Godswill Akpabio no­ticed they were being secretly re­corded. When controversy sprang up on the actual winner of the contest, he released the video to the public. The man who exposed the lie was Ogbeni Rauf Aregbe­sola, the Governor of Osun State.
Controversy is his middle name. For nine months, he operat­ed solely without commissioners. He renamed Osun State and gave it a new nomenclature: 'State of Osun.' He fashioned a new educa­tional policy and called it reclas­sification of schools. In one fell swoop, schools were merged and bedlam ensued.
In spite of the unending contro­versies and despite the appoint­ment of an Osun State indigene, Jelili Adesiyan, as the Minister of Police Affairs, it is my carefully considered opinion that Ogbeni Rauf Aregbesola will win the Au­gust 9 election. Here's why I think he will trump Otunba Iyiola Omi­sore, the PDP's candidate.
Iyiola Omisore is not Peter Ayodele Fayose. He lacks the cha­risma of Fayose. He is not a Jimi Agbaje. He lacks the character of Agbaje. He doesn't have the mass appeal. You cannot deny that he has a semblance of structure hav­ing been the Deputy Governor of the State and also a Senator of the Federal Republic of Nigeria.
In addition, his campaign is a poor caricature of Ayodele Fay­ose's. Whoever is his campaign director needs to get fired as he has run one of the most bizarre and lacklustre campaigns ever. His efforts to align with the mass­es fell flat- his handling of two roasted corn cobs in both hands, his ride to a campaign venue on an 'okada' and his absurd combi­nation of two different 'Ankara' materials as cloth, are images that have defined his campaign. He has not successfully exploited Rauf Aregbesola's obvious weak­nesses.
When it was time to debate Og­beni, he didn't show up. That was an opportunity to redeem himself but he failed to utilize it. Ayo Fay­ose challenged Kayode Fayemi for a walk on the streets of Ado-Ekiti but Iyiola Omisore claimed he didn't come for the debate be­cause he didn't want Ogbeni to beat him up.
In fact, Ogbeni will be gifted this election not because of his superlative performance but pri­marily because of Omisore's can­didature.
No situation exacerbated the looming disunity in Osun State PDP than the statement credited to the Minister for Police Affairs that he will beat Senator Isiaka Adeleke when he leaves office. Adeleke claimed he was assaulted during a party meeting and he subsequently defected to APC. Fatai Akinbade, a former Chair­man of the State PDP and a man who served three different times as Commissioner under three dif­ferent military regimes, also de­fected to the Labour Party.
Former Governor Olagunsoye Oyinlola has not come out openly in support of Iyiola Omisore de­spite belonging to the same party. In fact, he was even courted by the top echelon of the APC. As a former National Secretary of the party and also a former Governor of the State, his body language speaks volumes. Oyinlola is a Prince of Okuku, the capital of Odo-Otin Local Government, one of the 30 Local Government areas in Osun State. It is instructive to note that Odo-Otin is one of the three local government council areas with the highest number of 15 wards in the state after Osogbo and Iwo.
In spite of his controversies, only a blind man will ignore Og­beni's performance. He has built mega schools, many of them super infrastructures with com­mendable appurtenances. He has constructed over 20 intercity roads and more than 15 intra-city roads. This is apart from some very ambitious dualization proj­ects embarked upon. The free festive inter-city train ride from Lagos to Osogbo has become a constant feature of his administra­tion. I was informed that he has built 74 primary health Centres all over Osun State. He has increased IGR in Osun from N300m to N1.6b and has not been known to borrow from any financial insti­tution, save for the Islamic bond he took. His O'Meals project is laudable. Love him or hate him, there's no denying the fact that he has improved the face of gover­nance in the state.
Ogbeni has embarked on a blitzkrieg of a campaign. Maybe due to the lessons learnt from Ekiti's recent election, he has left no stone unturned. This is the first time I'm seeing an incumbent campaign as if he's the underdog. He has run a very good campaign so far- both terrestrially and on so­cial media. Going by his student unionism antecedents, one is not too surprised that he has at least two former student leaders in his cabinet and they are both active in running his campaign. Most of the controversial issues raised have been either effectively addressed or well mitigated by this team.
When the issue of religious fundamentalism came up, they re­leased the video of Bishop David Oyedepo's visit. Ogbeni has been photographed genuflecting to Pas­tor Enoch Adejare Adeboye. He attended a major night vigil orga­nized by a white garment church. He has been dancing 'skelewu' at all rallies to show he can connect with the populace.
He has run his campaign with­out Bola Tinubu being visible so the issue of the overbearing influ­ence of the APC leader has been largely well managed. Ogbeni runs the best propaganda machin­ery in the South West and the ef­fect can be seen in how he has successfully diverted attention from his controversies.
I therefore have no doubt that he is going to win the governor­ship election of August 9 in a landslide.
Adeyinka writes from Lagos.
S