Osun Is Ebola-free, Says Ilori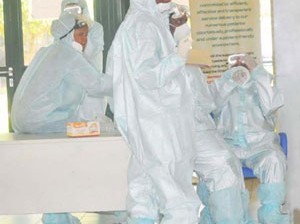 Osun State Commissioner for Health, Dr. Temitope Ilori, has reiterated that Osun State is free of the deadly Ebola Virus Disease.
She disclosed this at an Ebola sensitization workshop organised by the State Ebola Virus prevention committee for religious groups in the state at the Local Government Service Commission Hall in the State Secretariat.
She disclosed that the suspected case of a student at Obafemi Awolowo University campus was negative after undergoing medical screening, adding that presently, the country has no single case of victim undergoing treatment for the virus.
According to her, the disease is deadly but preventable, hence the decision of the state to set up a committee to ensure regular creation of awareness among the populace.
In her address, the Commissioner for Environment and Sanitation, Professor Olubukola Oyawoye, urged religious leaders to see themselves as stakeholders in the fight against the deadly scourge.
She hinted that the essence of the workshop was for the religious leaders to help spread the gospel of the fight against the disease among their various congregations.
She disclosed that government is being pro-active in its campaign on prevention, because the resources at its disposal are not sufficient, less spending it on curbing the spread of an endemic viral disease.
In his address, the Director of Primary Healthcare and Disease Control, Dr Kayode Ogunniyi, emphasized the need for regular washing of hands and hygienic living as the most potent way of preventing contacting the virus.
In their separate interviews, the religious leaders at the workshop commended the state government for taking proactive measures against the disease, saying everyone has a role to play by sensitizing their neighbours and immediate family members.