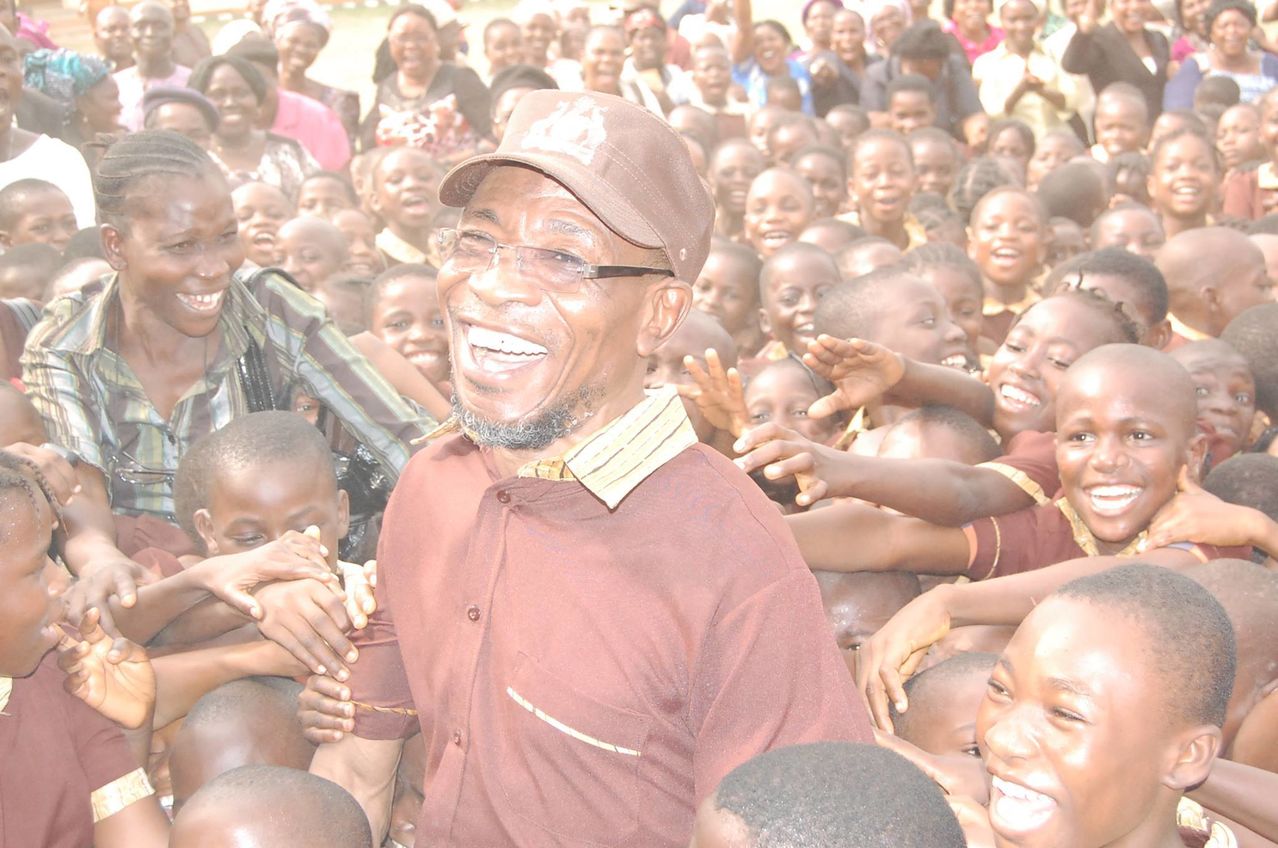 SPEECH: 'Education As A Panacea To National Insecurity And Developmental Challenges' – Aregbesola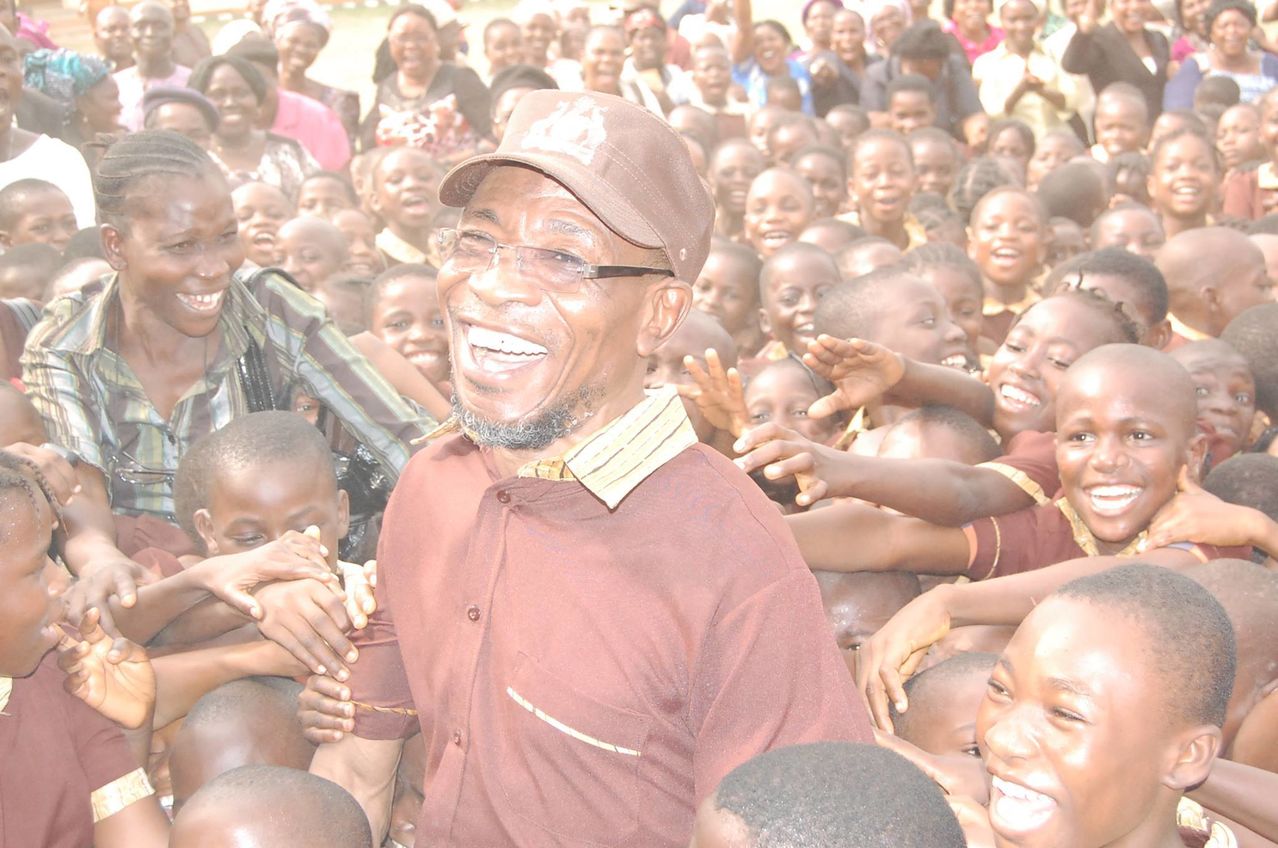 SPEECH DELIVERED BY THE GOVERNOR OF THE STATE OF OSUN, OGBENI RAUF AREGBESOLA, AS THE GUEST LECTURER AT THE 6TH PRINCE BOLA AJIBOLA ANNUAL LECTURE SERIES, ORGANISED BY THE MAGNA CURIA CHAMBERS OF OBAFEMI AWOLOWO UNIVERSITY, HELD AT THE UNIVERSITY'S ODUDUWA HALL, ILE-IFE, ON WEDNESDAY OCTOBER 15, 2014

Protocols,
'EDUCATION AS A PANACEA TO NATIONAL INSECURITY AND DEVELOPMENTAL CHALLENGES'
It is with heartfelt gladness that I join you today for the 6th Prince Bola Adesumbo Ajibola Annual Lecture Series. I should thank the staff and students of the Faculty of Law, particularly those of the Magna Curia Chambers, for choosing me as the Guest Lecturer for this all-important celebratory event. I am immensely grateful to you for this honour.
I must also acknowledge that instituting this lecture series in honour of Prince Bola Ajibola is quite in order. Beyond being an octogenarian of reputable standing, our revered father is one of those foremost Nigerians who have enormously invested in the service of humanity in contemporary times.
Both at home and abroad, Prince Ajibola's contributions to the law profession are staggering. Unmistakably bold and inspiring are his footprints on the plain of human progress through the instrumentality of the law.
In every way, Prince Ajibola deserves to be celebrated. Wherever and whenever the names of men of honour, integrity, compassion, selflessness, and vision are referenced as worthy examples, our respected elder statesman will not be absent.
In this he remains a useful example to the young on how, through the appropriation of the values of diligence, perseverance, credibility, honesty, humility, and humanity, they can attain the lofty heights of greatness in their chosen careers. All of these values aided him in his numberless national and international legal undertakings and arbitrations.
Surely, for the Magna Curia Chambers and the entire law students of Nigeria, and indeed the law profession, Prince Ajibola is an undiminishing asset. His well-detailed memoirs entitled, Tribulations and Trophies: Memoirs of Judge Bola Ajibola, provides a revealingly illuminating proof of this assertion.
Distinguished audience, an annual lecture in the name of this eminent jurist provides another platform through which we can contribute to ongoing debates on topical issues of national importance. Interestingly, this year's lecture aptly locates one of the most pressing issues that Nigeria needs to decisively engage and put in proper shape – education.
So, in discussing 'Education as a Panacea to National Insecurity and Developmental Challenges', being the focus of this year's lecture, we join the subsisting debate on how we can employ education as one of the indispensable drivers of attaining national security and achieving sustainable human and material development.
We must therefore ask ourselves these crucial questions: Can education provide the healing balm to the festering wound of insecurity that is relentlessly threatening the continuous coexistence of Nigerians? Can education vouchsafe soothing relief from the excruciating pains of underdevelopment that currently limits the full attainment and expression of human capacity in Nigeria?
My immediate response to the foregoing posers is a loud yes. I am completely sold to the view that education is a vital means through which individual and national socio-economic aspirations can be actualised. Education is very critical to the realisation of sustainable national development and the achievement of national security.
Mark it, for any society to achieve enduring progress, education must be the unavoidable bedrock of its efforts. Therefore, if we in Nigeria are to develop human capacity for the kind of productivity that will impact national socio-economic development, the path to traverse is the education track.
In engaging with the issue of education as a remedy for national insecurity and developmental challenges, I wish to contend that a conception of education as a process rather than as a tool will do us a whole world of good.
To conceive education as an instrument meant to be deployed in achieving certain practical ends is to conclude that education is all about physical development of people. Education of that construct will more often than not limit the capacity of those given to it.
But seeing it as a process is to aim for the kind of education that will richly empower people to be ever ready to impact national development. Such education is functional and makes life more meaningful and liveable. As the scholar, S. Wehmeier, informs, a 'process is a series of things that are done in order to achieve a particular result'.
Education as a process aims for an all-encompassing development, which in this case substantially concerns the physical/material, moral/spiritual, and emotional/psychological of the human person. It is those whose human make-ups are developed to the fullest capacity that can work to engender security and contribute robustly to national development.
In one of his contributions to the debate on education as a process through which personal and national development can be attained, the well-regarded Chief Obafemi Awolowo insightfully argues in The Voice of Reason that,
A man whose personality is fully developed never fears anything … and never feels inferior to anyone … and will resist any form of enslavement until the last breath in him is exhausted. […] His breadth of mind enables him to exercise his freedom in such a manner as not to endanger the interests and freedom of others.
Sadly, the Nigerian state today is horrifically assailed by manifold layers of insecurity and its progress is hampered by a myriad of developmental challenges all because of the continual erosion in the quality and standard of its educational system on one hand, and the unresponsiveness of its educational system to current realities on the other hand.
Through lack of fairly adequate investment in education, successive administrations in the national space have crippled our educational system to such an appalling extent that what seems to matter is the acquisition of certificates.
The full development of the mind, body and brain, which education that will inspire national development enables, is rapidly on a downward course across all levels of our educational system.
Yet, we have a growing population of unemployed graduate youths whose education avail little or nothing for national development. Worst still, their conducts raise serious questions about their claim to education. Why then should we be surprised by the pockets of insecurity that increasingly degrade lives and destroy our country?
If human beings are the agency through which sustainable development can be attained, then the process through which they are empowered must be accorded quality attention. That process, as evident in the focus of this lecture, is education.
Here I repeat the familiar refrain of most contributors to the debate on our educational system: our educational system needs a coordinated surgical restructuring to not only empower our children to respond positively to developmental challenges, but to also achieve full personality development.
Our present national condition makes this call imperative and a response to it even more urgent. From the elementary to the tertiary level of education, a comprehensively organised restructuring is necessary if education is to lead us out of the woods. In the State of Osun, I must note, this is the path we are already walking.
Part of the restructuring to be systematically effected nationally must redress the manifest imbalance observable in different parts of this country.
I contend that without this corrective restructuring, we will continue to have the torturing situation in which some parts of the country aim and work for development and some others reverse it or delay the quest for development.
For instance, there is no reason why the children and youths in parts of the North and the Niger Delta of this country should not have the same quality education as their mates in other parts of the country.
Even in the South West, where we used to have a 50 years education head start, it is no longer a bed of roses. When our administration came in 2010, we discovered to our chagrin, from the SSSCE result of that year, that just about five percent of the candidates from Osun had the requisite pass needed for matriculation into higher institutions.
Already, the social combustion in the North, especially the north-eastern region of our country, should drive home the important lesson on the harsh consequences of uneven socio-economic development in multi-ethnic configurations like Nigeria.
The Nigerian leadership must heed and lead the response to the voices urging restructuring of the country's educational system.
In addition, the restructuring of our educational system must be one that makes it possible for our youths to develop their natural abilities to the highest extent feasible. They must be trained to be self-reliant, creative and productive.
If the youth of a country are fully trained and have the right environments to demonstrate the possibility of their human capacities, the insecurity that unemployment triggers and feeds on will be considerably minimal and manageable.
Such youths will be active agents of development and will never sit idly by while developmental challenges erode their human dignity and make them terror to society.
The developed countries of America, Europe, and Asia achieved their enviable development feats through their vibrant, energetic, creative, and productive youths. In Nigeria, we also have the advantage of a surging vivacious, energetic youth population.
We must give them the full mind, body and brain development to enable them perform productively in matters regarding development. We can engage them productively in different areas of our national life. We must create for them or empower them to create the environment necessary for achieving enduring development.
What this presupposes, therefore, is that we must be ready to make substantial investment in education and research. We must not be a country which loves the wonderful things of life but does not know or contribute to the process of realising them.
We must fund education without considering whether we will be insolvent, for it is impossible, as Confucius assures, for a country to go bankrupt in educating its people. Investment in education will always yield the highest dividends.
Our politics will not benefit our youths if it does little to empower them. Our policies will be sullied in the sewage of social unrest if the process that will make our youths agents of development is barely or not seriously minded.
As Chief Awolowo reveals in his words quoted earlier, the youths who are products of barren educational system and as such of vacant personality development will not exercise their freedom in such a manner as not to endanger the interests and freedom of others.
Such uncultured minds, he explains further, will have the 'sorry figure of a religious fanatic who condemns everything, and everybody but himself, and whose only prophecy is one of pessimism, catastrophe and gloom for mankind …'
I believe we can all find concrete examples of these minds across the length and breadth of this country. In the South, where we do not have uneducated youths as waiting recruits of misguided, murderous and nihilistic fanatics, we have on our campuses, and have even spilled to the streets, a large army of gangsters operating as freelance terrorists, perpetrating with impunity, rape, murder, armed banditry, extortion, contract killing and any kind of imaginable vice.
That is why quality and stout investment in qualitative and functional education becomes all the more an imperative.
Distinguished audience, to get our educational system in good shape and develop the human mind, body and brain for lasting national socio-economic development, we need visionary, compassionate, disciplined, and unselfish leadership at all levels, more particularly at the national level of governance.
It is this leadership that can inspire the restructuring of our educational system in a way that will make education impact socio-economic development in our country.
I take refuge in the well-articulated view of Dean Kennedy that real leadership is about 'mobilizing people to confront their predicament and solve their most pressing problems. The focus is not getting people to follow but on getting people to face reality and think and act responsibly, thereby enabling their organisations and communities to address their toughest challenges and make meaningful progress'.
We need people who can provide this form of leadership both in our political and educational spaces.
When we conceived of Opon Imo, the stand-alone e-leaning tablet, it was not because our state was awash with cash. Rather, it was because we envisaged the future of mankind as digitally driven and the need to prepare our children for that future. While some CEOs still have to present cheques to bank cashiers in order to obtain cash to pay for goods and services, I can now pay for my flight ticket from my mobile phone and print my boarding pass in the convenience of my bedroom or download it to my phone. One terabyte of hard disc space weighing less than 100 gram can contain digital versions of books that can fill a big library equivalent of Library of Congress or even the library of this university. We are therefore doomed if our children are not connected to the digital world. We will never catch up if we are trying to do catch up.
Also, I have made the case in the past and I want to make it now: that a good education does not only provide enlightenment, it must equip the graduate with a vocational skill. Nobody must claim to be educated without having acquired some skill with which he can be engaged in a productive activity that will put food on his table, without having to look for formal employment. Theoretically, there will be shortage of manpower if every graduate is in a position to employ one or two other persons after completing his or her studies.
Our present course system was designed at a time when anybody with a certificate was assured of a job, irrespective of discipline of study. It is not so anymore. The courses should now be tailored, one, in the direction of national needs and secondly, for individual empowerment.
I should like to conclude on a note of appreciation. And this has to do with the special award that I am to be honoured with at this event. I thank the minds who conceived of it and found me worthy of such a great honour.
I promise to be more steadfast in my commitment to the development of the people of Osun and by extension Nigeria. I will continue to work for the deepening of good governance and faithfully discharge the responsibilities of my position.
Ultimately, our aim in Osun is to provide functional education and establish a viable education sector that will be able to put our students on a comparable footing with their counterparts anywhere in the world.
We are unrelenting in our efforts, resolute in our purpose, and unwaveringly focused on our goals.
I will also like to thank members of this university community and by extension the ancient city of Ife, for your support to me during the August 9, governorship election. You withstood the terror machine of the state and its intimidations. You refused to be cowed, intimidated or provoked, but calmly and confidently trooped out to cast your vote. I treasure your support and I will be eternal grateful.
Once again, I thank the organisers of this lecture for their kind invitation and the honour of the special award.
I thank you all for your reassuring audience.