Aregbesola, Fayose Call for Unity Among Yorubas… Charge Colleagues on real Economic Diversification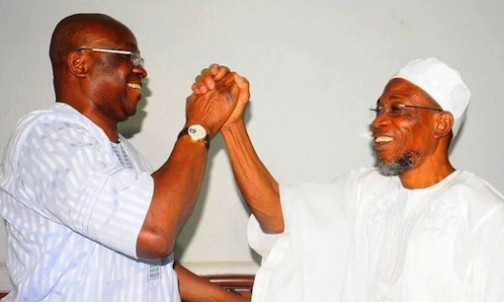 Ekiti State Governor,  Mr Ayodele Fayose,  yesterday called for the unity of Yoruba,s nation for meaningful development.

He also identified the need for State Governors to collectively address the nation's dwindling economy.
Governor Fayose stated this in Osogbo when he paid a visit to his counterpart in Osun State,Mr Rauf Aregbesola.
The Governor who said his visit to the state was about the future of Yoruba nation maintained that efforts of past Yoruba leaders must not be in vain.
According to him, the visit of the Ooni of Ife, Oba Adeyeye Ogunwusi to the Alaafin Of Oyo more than a week ago sends a strong signal on the need for unity and cooperation.
He remarked that Governors should also look beyond political parties and politics for proper development of the region.
Governor Fayose equally stressed that governors should tap from available opportunities from Agriculture to reduce economic problem in their respective states.
On weither Fayose would quit PDP he noted that "I won't quit but time will tell if PDP is dead or not'.
Responding, Governor State of Osun, Ogbeni Rauf Aregbesola who commended Governor Fayose for the visit stressed the need to create economic bond that would rescue people from level of poverty and live a modern live.
He noted that since oil had lost its position as the biggest source of revenue generation for the country, said there is the need to shift attention to Agriculture.
Aregbesola added that Governors in the southwestern part of Nigeria had concluded plans to reposition Oodua Investment Company Limited conglomerate as the engine room of Yoruba economy.
Governor Aregbesola who described peace and unity as indispensable instrument to greatness, success and progress said it is time for Yorubas to strengthen the existing peace for all round development.