A Good Piece Of Law – Aregbesola's Full Speech At The Signing Of Public Procurement Bill Into Law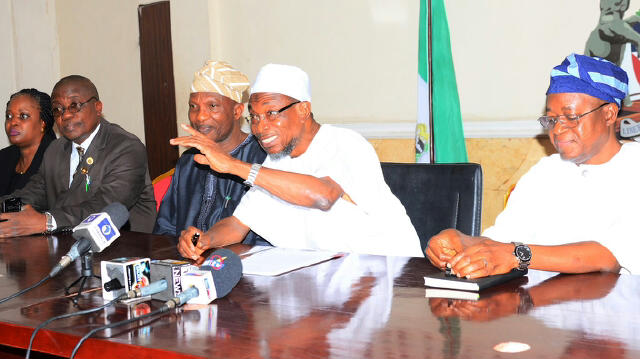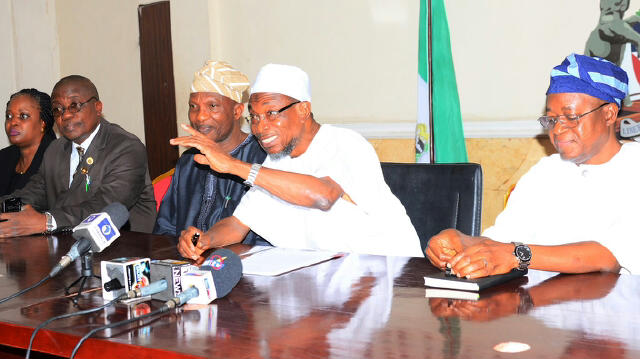 SPEECH BY THE GOVERNOR OF THE STATE OF OSUN, OGBENI RAUF AREGBESOLA, AT THE SIGNING INTO LAW OF THE STATE OF OSUN PUBLIC PROCUREMENT LAW, 2015 AT THE EXCO LOUNGE OF THE OFFICE OF THE GOVERNOR, ABERE, ON FEBRUARY 10, 2016

Protocols,
A GOOD PIECE OF LAW
It gives me great pleasure to welcome you all to this occasion, the signing into law of the State of Osun Public Procurement Law, 2015.
Since the modern government provides wide ranging services to the people and sustains itself, procurement has been its major feature. From the office pin to heavy machinery, government is constantly in the business of buying. At any time, government does not spend less than 30 per cent of its revenue on procurement of goods and services. This is huge, if we consider the amount involved. Procurement is also one way in which the government interfaces with the people and reinflate its domestic economy.
It is important therefore that the resources of government be managed judiciously and the procurement process also be seen to be transparent and equitable. As stewards of public funds, we must be accountable and be seen to have got the best deal for the people with public funds.
Just today, a report in one of the newspapers compared the airport we are building in Osun to similar ones built by other states and concluded that ours is the cheapest, even when we have the longest runway.
A recent similar comparison on the mega-schools we are constructing was done with that of a neighbouring state and also gave us a favourable rating, not just in cost but in quality. It is stuff like this that separates us from the rest.
It is the need to have these values codified into law and make it bounding principles of governance for whoever is in government that motivated us to make this law.
In all, the State of Osun Public Procurement Law, 2015 consists of 81 sections and I will highlight the most interesting parts.
The piece of legislation we are signing into Law today provides for public dissemination of information on government procurement. This guarantees all the citizens, particularly small and medium scale enterprises, ample opportunities to participate in the economic opportunities and benefits embedded in public procurement, among others. It will also ensure probity, accountability, transparency, value for money as well as establish fair pricing standards and benchmarks.
Section 23(1)-(27) of the Law which provides for the Governing Rules on public procurement, encapsulate core foundation of the law. This Section is the result of scientific and well-grounded research into why procurement sanctity has eluded many governments and their agencies as it is no gain saying that where there are no adequate guidelines and safeguards, no matter how well intentioned any policy of government is, it is bound to be abused by unscrupulous elements saddled with its operation. Hence, the Section is coined in line with best global practices in procurement and even modelled to suit our own peculiarities in the State of Osun so as to forestall any act of sabotage right from the outset of any procurement process.
Section 24 compliments Section 23 by providing for Warranties for all procurement contracts. This provision is designed to ensure that requisite skill in service provision is employed and also that genuine materials and other inputs are used in any given procurement.
With this new State of Osun Public Procurement Law, Section 25 makes it mandatory that all procuring entities must have a procuring Office whose functions shall, among others, be:
initiate the entity's procurement process;
carry out appropriate market and statistical surveys and prepare analysis of cost implication of a proposed procurement;
iii.     conduct pre-qualification exercise for suppliers, contractors or consultants based on requisite expression of interest; and
evaluate expression of interest by suppliers, contractors or consultants and forward lists of qualified submissions to the Board.
Section 32 makes it mandatory that the procurement of works, goods and services by all procuring entities shall be conducted by Open Competitive Bidding, except where otherwise expressly provided in the Procurement Law.
Perhaps the most innovative provision in the new State of Osun Procurement Law, 2015 is the provision for E-procurement as contained in Section 61. The Section provides that the Board shall design and set up a secure electronic portal to be known as the Osun Government Electronic Procurement System, not later than 12 months from the enactment of this Law or at such time that the Governor may consider appropriate. The Portal shall be the primary source of information for all public procurement matters and opportunities within the purview of this Law and Regulations issued hereunder.
The special time that we are in demands financial engineering ingenuity.  We must not only squeeze the financial water out of stone, so to speak, we must get so much out of little. The Public Procurement Law, 2015 we are signing into law is therefore within the larger framework of public finance management policy of the government which is aimed at reducing the cost of governance, bringing transparency into the procurement process, reducing waste, and ensure value for money.
We have sent other pieces of law to the House of Assembly for consideration and passage into law. These include the Revenue Administration Law, which is meant to set up an autonomous agency for revenue collection. There is the Fiscal Responsibility Commission Law which is designed to ensure fiscal discipline and prudence by the Ministries, Departments and Agencies of government.
There is also Land Use Charge Law, which has just been passed into law by the House of Assembly, to harmonise all property tax laws, including tenement rate, for the purpose of ease of collection.
These legal instruments will assist in a great deal to turn around the financial fortunes of Osun and enable us to get the best out of our resources and our people, for the good governance of the state and the best service of our people.
I want to assure the people of the state that the challenge we face is not beyond our capability and God has given us the means to surmount them.
Let me reiterate once again the need for productivity and hard work by our people. Let all the young people find something productive to do, especially in agriculture. Let every person engaged in any endeavour, be it public or private, add value to his or her work and let us all pay our taxes as and when due.
Let me thank those who helped in the making of this law, beginning from the officials of the Ministry of Justice, the honourable members of the State of Osun House of Assembly, Honourable Bashir Ajibola and other men (and women) of goodwill.
I thank you all for your kind attention.