Ikirun Residents Commend Aregbesola For Equipping Police, Making State Crime Free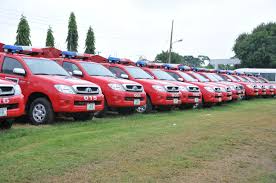 Residents of Ikirun, the headquarters of Ifelodun Local Government Area on Saturday February 13, 2016, commended Governor Rauf Aregbesola for security measures put in place to reduce crime rate in the state.
A cross section of the people sojourning in the sleepy community also expressed their gratitude to the police for the work well done during a bank robbery attack on Friday where 5 suspected armed robbers were gunned down. The sojourners eulogized Aregbesola for boosting security in the state.
Speaking with our correspondents at the scene of the incident on Saturday, Mr Bola Olaifa said if not for the quick intervention of the Armored Personnel Carrier APC, the robbers would have succeeded in their operation.
Olaifa noted that the robbers in their previous attacks on the bank; succeeded about two times, carting away millions of naira and killing innocent people.
He therefore appealed to the state governor to continue investing on security so the state can remain crime free.
Echoing a similar view, Mr Wahab also known as Olo, lauded the quick intervention of policemen.
Olo further explained it is now that they know the usefulness and the important Armored Personnel Carriers placed in some strategy places in the state.
"When Governor Aregbesola was donating the APCs some of the residents of the state especially those who didn't appreciate the good work of the governor were condemning the gesture tagging it as an avenue to loot the state treasury but we can now see the usefulness of the APCs and its effectiveness". He said.


He however charged the governor on the need for him not to relent in his effort in making the state crime free.
He also sympathized with the family of the police man who lost his life during the gun battle and urged the Nigeria Police to redouble their effort in ensuring security of lives and properties.
It would be recalled that Governor Aregbesola in 2013 donated Armored Personnel Carriers and hundreds of patrol vehicles to security agencies such as army, FRSC, NDLEA and the Civil Defence to enhance security of lives and properties in the state.