Oluwo Salutes Osun Police Gallantry, Congratulates Aregbesola On Security Investments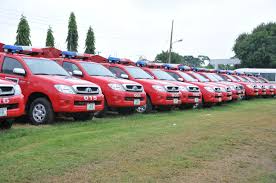 The Oluwo of Iwo, Oba AbdulRasheed Adewale Akanbi,
on Saturday
commended what he called the gallantry of the men of the Nigeria Police Force Osun command while armed robbers made attempt to rob banks in Ikirun
on Friday
.
Oba Akanbi also congratulated Governor Rauf Aregbesola for having the foresight to consider security as the first major thing to be put in place ahead of everything adding that if not for the adequate provisions made for the police by the Aregbesola Administration robberies such as this would have been carried out with law enforcement agencies looking helpless.
The monarch, in a statement
on Saturday
which was signed by Spokesman for the Palace, Prince Dauda Abimbola, said without adequate security, investments either local or foreign, would remain a mirage.
"There is no doubt that Osun is impregnable for criminals and this is commendable. This can easily be attributed to the foresight of Governor Aregbesola in considering security most paramount. I am aware of the state's heavy investments in security equipment. I am aware of about 25 highly sophisticated Armoured Personnel Carriers provided the police which are so common on our roads in Osun. I am ware of the many patrol vans. Everywhere you, there is a sense of security because you see these highly motivated men and women of the police and other agencies prepared for their jobs.
"What happened in our state
on Friday
was test case again on the preparedness of our security agencies to combat crime. We must congratulate the government for this and we most salute the gallantry of the officers who showed confidence and prevented the men from their evil plot," the Oluwo Said.
While congratulating both the Police and the state government, the Oluwo urged them not to relent adding that criminals of today employ new tactics to overwhelm their victims.
He added, "I want to urge the government and the police to intensify efforts in the area of security. Our attempt to promote our culture through tourism would be a mirage if visitors feel unsafe. I also urge residents of the state to be vigilant while cooperating with the law enforcement agencies in the efforts to make Osun uncomfortable for criminal activities."