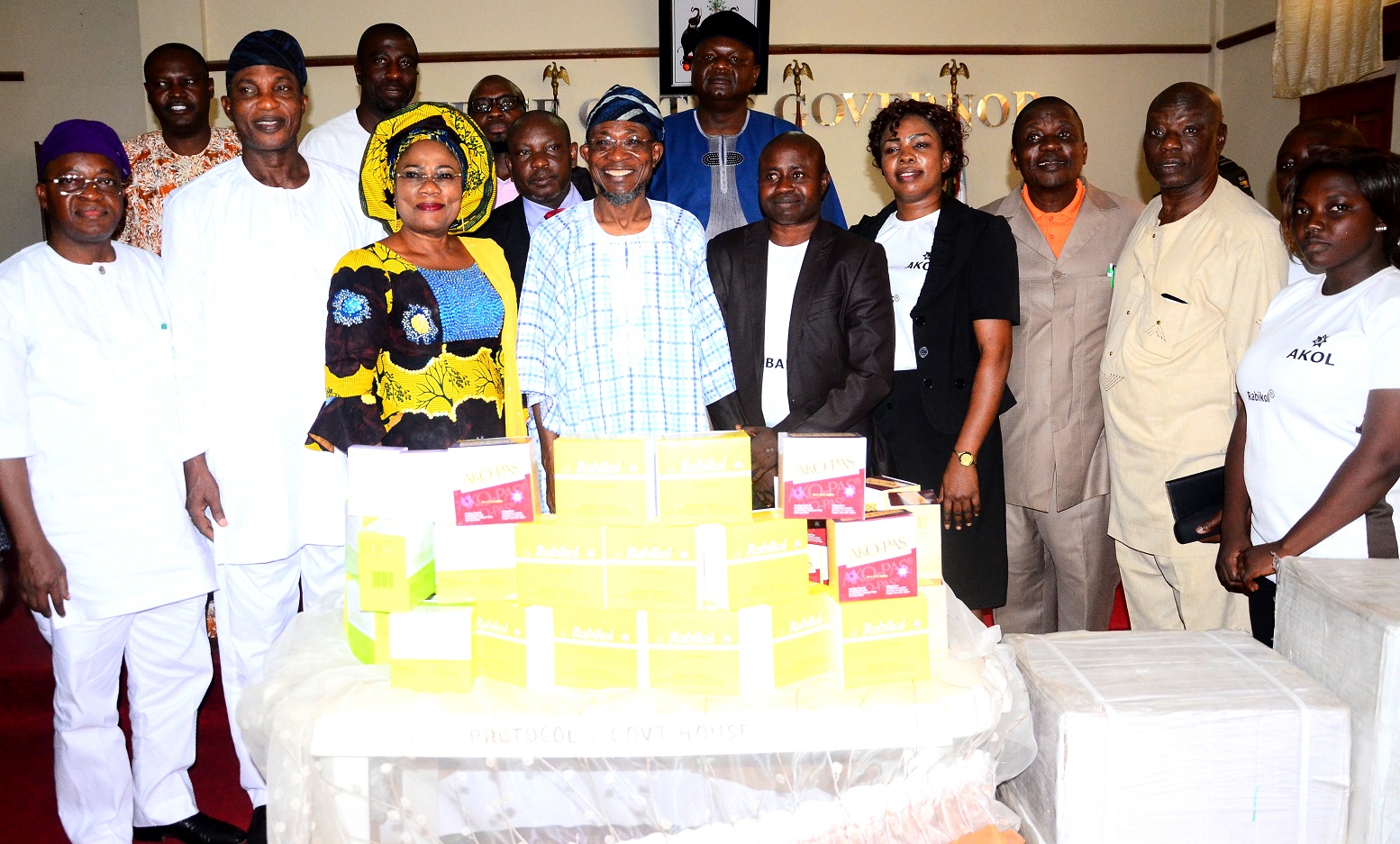 Government Needs Assistance From Successful Corporate Entities -Aregbesola
The governor of Osun, Ogbeni Rauf Aregbesola, has called on well-meaning Nigerians to come to the support of governments at all tiers in the face of the present economic challenges the nation is going through.
Aregbesola made this call during a presentation of drugs to the state government by Akol Pharmaceutical Company at the Executive Chamber hall of the Governor's Office in Osogbo.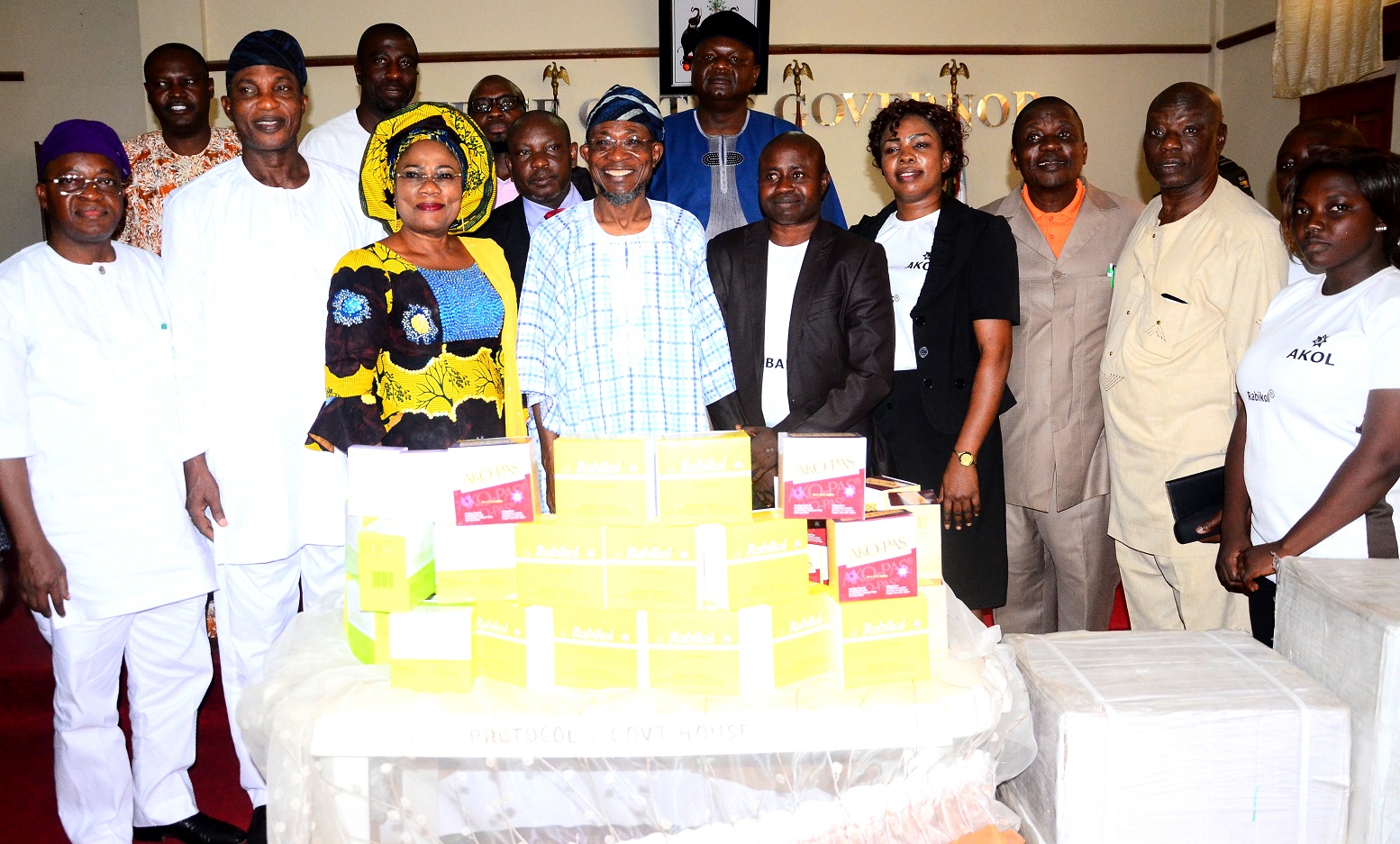 The governor said the call is necessary because the nation is going through a lot of hardship, which require that supports should come in other that government may meet its obligations to the citizens.
He stated that the situation is so bad that what the Federal government used to take from the federation accounts as its own monthly revenue about 18 months ago is even more than what is being shared by the three tiers of government.
He averred that what Akol Pharmaceutical Company did was worth commending in this time and period.
"What this company did is a demonstration of hands of fellowship. We celebrate this because we need such support and we will appreciate it as this will also encourage other donors to follow the footstep of Akol Pharmacy.
"We are in real hardship, in a period of emergency even though it has not been declared.
"With this phase of hardship, we believe it can't be worse than this for any country. It is based on this that we solicit assistance form those that God has blessed," Aregbesola said.
He called on every citizen in the state to pay their taxes, levies and rates, which form bulk of revenue with which government discharges it's responsibilities to the people.
He commended Akol Pharmaceutical on behalf of the Government and those that will be the beneficiaries of the drugs.
In his opening remarks, the former Special Adviser to the Governor on Health, Dr. Rafiu Isamotu said despite the harsh economic conditions, some well-meaning individuals still want the governor to succeed in its six-point integral action plan particularly on health.
Commending Akol Pharmacy, Isamotu promised that the drugs would be judiciously used to the benefit of patients and good people of Osun.
"I want to assure you that we would make judicious use of the drugs donated to us and it shall surely be for the benefits of our patients and the good people of the State of Osun.
"On our part from the Ministry of Health and Hospitals' Management Board, we are working hard to partner with International Agencies and Donors to make available to us appropriate Medical instruments and Equipment for our hospitals, especially the Primary Health Care centres which will be our focus in making Health care accessible to our people.
"In no distant future, Medical instruments donated by Oranmiyan Ireland to the State of Osun will equally arrive Nigeria, Isamotu said.
Managing Director and Chief Executive Officer of Akol, Dr. Siji Olamiju in his remarks said the donation was as a result of the purposeful and responsive governance of Aregbesola that prompted his company.
He said he had observed the government of Aregbesola for more than four years and so has come to believe in his (Aregbesola's) leadership style.
"We believe in your leadership style. That is will we donated this drug worth N6 million. This is our little contribution to the course of progress of our state.
"This donation is part of our humanitarian policy to the people, which is that our impact must be felt by our people," Olamiju said.