Past Osun Leaders Laud Governor Aregbesola's Leadership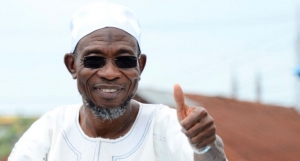 Past military administrators and former civilian governors in Osun State have lauded Governor Rauf Aregbesola on the trend of development in the state.
They said that the Governor had kept the dream of the forefathers of the state alive.
Colonel Theophilus Bamigboye (rtd), who governed Osun State from August 1998 to May 1999 and Captain Anthony Udofia (rtd), who also ruled the state from December 1993 to August 22,1996, said that they were proud of the Governor on his achievements so far.
The two former military governors spoke at the 25th Anniversary of the state which was celebrated with calisthenics display at the Osogbo township stadium, on Saturday, August 27, 2016.
On behalf of past governors of Osun state, Colonel Bamigboye said: "I left Osun in peace and I am happy to be here in peace too.
"Clearly, Osun is moving and developing. Everybody can see that.
"I want to congratulate Governor Rauf Aregbesola on the 25th Anniversary of the state.
"I have never witnessed a colourful celebration like this. Even the military parade is not as beautiful as this. This is marvellous, fantastic and awesome.
Osun is lucky to have a Governor like Aregbesola. The Governor is working. Osun is moving forward. I want to say that you [Aregbesola] are working, keep it up. I am proud of you".
In his address, Captain Udofia said: "We give glory to God for making us witnessing the 25th Anniversary of the state.
"No doubt, Osun is developing and I give kudos to past governors.
"Specifically, I want to commend Governor Rauf Aregbesola on his achievements. Osun is gradually becoming what the founders of the state wanted it to be.
"In the past, there was little or nothing to show that Osogbo is a state capital. I am so much impressed by the Aregbesola's achievements and projects.
"Specifically, I commend Aregbesola on the education sector. The modern schools he is building are superb. I am happy to see the modern Anthonia Udofia School built by Aregbesola. When I got to the school, I thought it was a polytechnic.
"The calisthenics display is wonderful. This is a very laudable programme. I congratulate the children and youths of the state".
The Deputy Governor of Ogun State, Mrs Yetunde Onanuga, who represented Governor Ibikunle Amosun, pointed out that Governor Aregbesola had taken the development of the state far, with developmental projects spreading across the sphere of governance.
"There is government presence in all the nooks and crannies of the state.
"I commend Aregbesola for the good work he is doing. The infrastructural development of the state is commendable. Aregbesola has positively transformed the state," Mrs Onanuga added.