12 Communities Join Govt To Eradicate Female Circumcision In Osun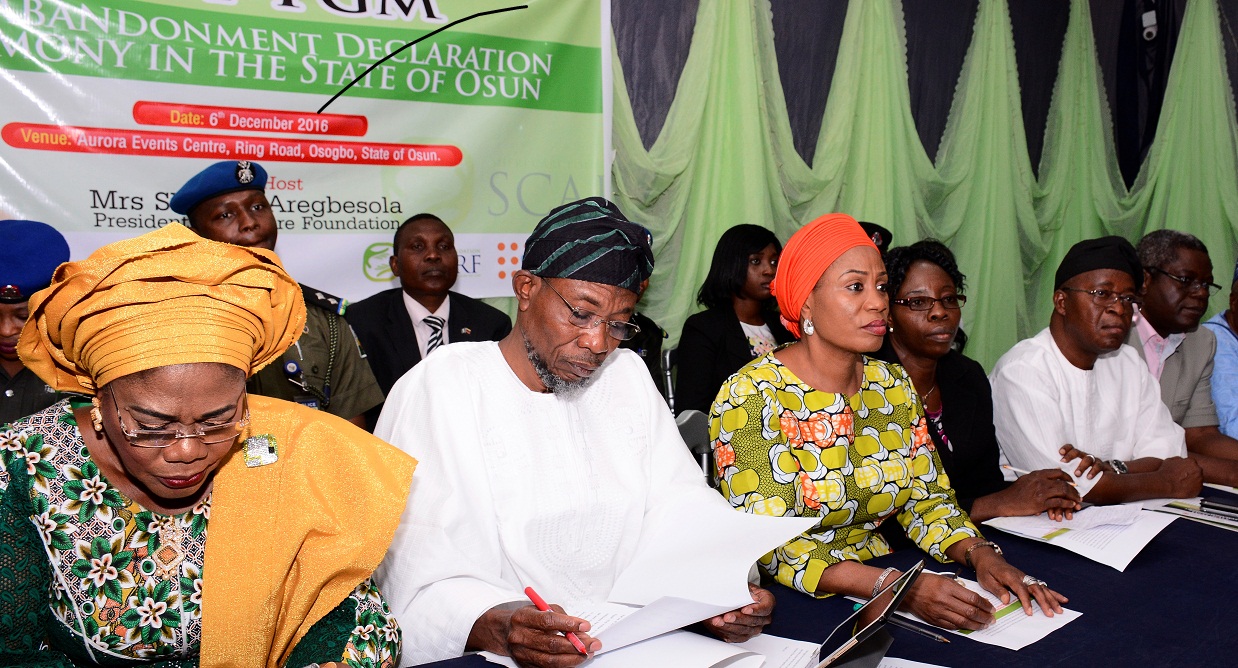 Moves to eradicate genital mutilation (FGM) in Osun received a boost on Tuesday as 16 communities across four local governments declared their intentions to stop altogether female circumcision in their domains.
This was as the Governor, Ogbeni Rauf Aregbesola, disclosed that the state must do everything possible to come out of its unfavourable highest ranking on the ladder of Female Genital Mutilation in Nigeria.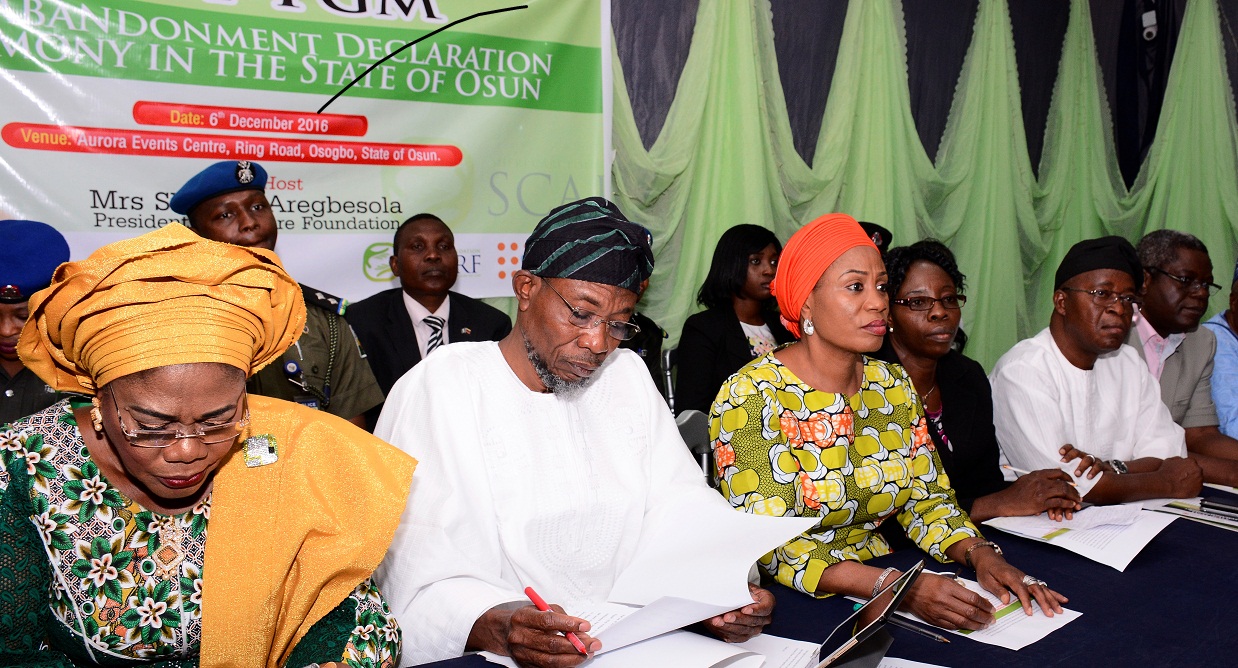 Aregbesola revealed this at the Female Genital Mutilation Abandonment Declaration Ceremony organised by the Shericare Foundation (SCARF), an initiative of the wife of the Governor, Mrs Sherifat Aregbesola.
The communities that declared against FMG include Eko Ende, Eko Ajala, Iba, Asa, Iwo Oke, Ajagunlase, Alapata, Owode, Araromi in Ifelodun, Olaoluwa, Ede North and Orolu Logal Governments of the state.
The governor described Female Genital Mutilation (FGM), a cultural practice of removing part of the female genital either as a customary rite of initiation into womanhood or as a check against promiscuity as harmful.
He stated that the harmful practice according to UNICEF is prevalent in developing countries, especially in Africa and Asia.
He said, "According to a February 2016 report by United Nations Children Fund (UNICEF), there are records for 27 countries in Africa, including Somalia (96 per cent), Guinea (97 per cent), Djibouti (93 per cent), Egypt (91 per cent) and Sierra Leone (90 per cent) still practising FGM. From this same report, we learnt that as of 2013, 27.2 million women had undergone FGM in Egypt, 23.8 million in Ethiopia, and 20 million in Nigeria. In Indonesia, the prevalence rate for children under 11 years is 49 per cent, translating to 13.4 million.
"In Nigeria, six states top the list of where the practice is prevalent. These are Osun, Ekiti, Oyo, Ebonyi, Imo and Lagos. FGM is deeply rooted in culture but flies in the face of common sense, decency, basic health and human right.
"The crux of this advocacy is to expunge it from our belief system. I am glad that we have the cooperation of our traditional rulers, religious leaders, community leaders and aficionados of arts and culture.
"The core changes must include that: one, it is no longer necessary as a cultural requirement, two, that it is indeed harmful and cruel physically and psychologically. The victims, we must note, are our daughters, sisters, aunties, cousins, nieces, wives and mothers.
"I do not see any other category closer and dearer to us than these and therefore do not deserve to be subjected to this hurtful practice any longer."
In her welcome address, the wife of Osun Governor and President Sheri Care Foundation, Alhaja Sherifat Aregbesola, reaffirmed the Foundation's commitment to achieving zero tolerance on Female Genital Mutilation/Circumcision in the state.
She said the Foundation has engaged in many activities towards boosting the awareness campaigns to end the harmful effects of Female Genital Mutilation and Circumcision in every nook and cranny of the state.
Alhaja Aregbesola disclosed that the Foundation has also committed itself to intensive advocacy to eradicate the traditional practice of FGM in the state through regular interface with a number of communities, public sensitisation,  jingles sponsorship on radio, television stations as well as printing and circulation of the state law which makes it illegal for anyone to circumcise any female child or any woman in the state.
According to her, "The journey to today's event started early 2015 when a team of the United Nations Fund for Population Activities (UNFPA) officials visited our state as the meeting afforded us the opportunity to appreciate the necessity of collective efforts to wage an intensive and comprehensive awareness campaign on the dangers that continued practice of female circumcision bear for our female children, our women and our people in general.
"It is true that the practice of female circumcision was rooted in traditional and religious beliefs, but scientific findings have revealed that such beliefs are injurious to life", she added.
Aregbesola attributed the public declaration of abandonment of FGM by twelve communities in the state as a manifestation of the efforts being made by the Foundation to abolish the  menace.
She therefore appealed to the residents in the state to always abstain from the acts, saying female circumcision does not bear any positive fruit but rather a basket of dangers and sometimes death to the women.
Earlier, the Guest Speaker and the Head of Lagos Liaison Office, United Nations Population Fund (UNFPA), Dr. Omolaso Omosehin, commended Governor Aregbesola for his continued support towards eradication of Female Genital Mutilation in the state.
He said the contribution of the state government has impacted positively towards putting an end to Female Genital Mutilation.
Describing the occasion as a timely, Omosehin said the forum was a reflection of symbolic commitment demonstrated by the state government of Osun to end Female Genital Mutilation and other forms of harmful traditional practices that impact negatively on women and girls and as well deprive them of reaching their maximum potential and contributing to the development of the state.
He said, "We recognise the ongoing efforts that the state government and other development actors are undertaking to accelerate the abandonment of Female Genital Mutilation and Circumcision as these efforts are beginning to yield positive results.
"One of such is the abandonment of this harmful traditional practice in over twelve communities across four local governments that account for highest prevalence of FGM in the state. The reason for which this public declaration of abandonment ceremony was convened.
"We commend the efforts of leaders in championing the end of FGM campaign across the high burdened states in South-west Nigeria as we are aware that over 250 female babies born in these communities from April 2015 till date in Osun were not circumcised".