Chief Bisi Akande At 78: We're Celebrating Courage, Selfless Service -Aregbesola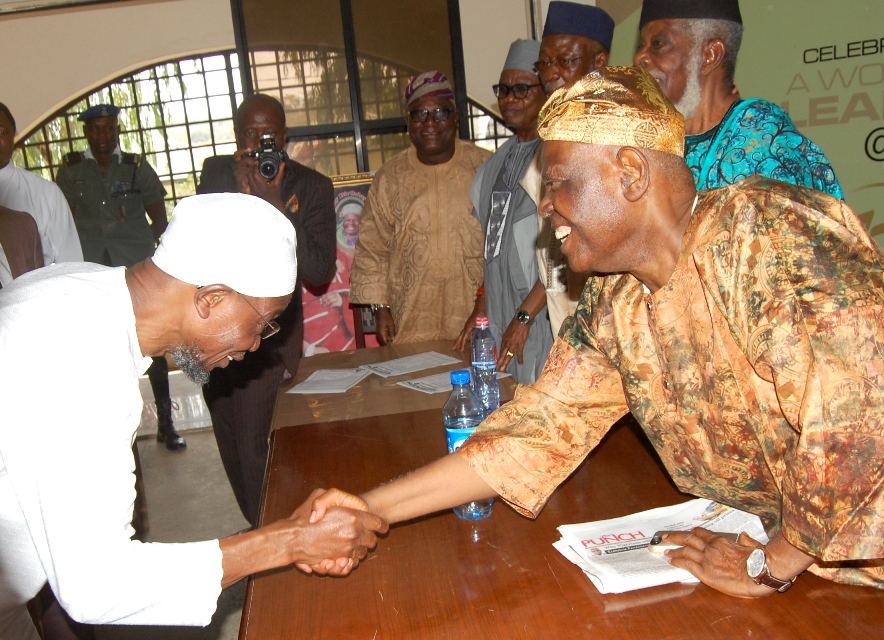 The Governor of Osun, Ogbeni Rauf Aregbesola

on Sunday

described former interim Chairman of the All Progressives Congress Chief Bisi Akande, as an exemplary leader whose courage in public service has helped Nigeria in so many dimensions.

Governor Aregbesola, on the occasion of Akande's 78th birthday, said Nigeria's political history would be incomplete without adequate chronicling of the eminent roles played by the former Governor of Osun.

The Governor, through a statement by the Director, Bureau of Communication and Strategy, Mr. Semiu Okanlawon, said Chief Akande brought transparency into governance adding that his tenure as governor of Osun is mostly remembered for the selfless service to the people and the courage he brought into governance.

"Chief Bisi Akande is a democrat if no small status when the history of democratic struggles in Nigeria is written. He was one of those who fought to ensure that the military retreated back to the barracks and he never looked back while the struggle lasted. 

"His emergence as the Governor of Osun in 1999 proved to be one of the best things to have happened to our state. Since the creation of Osun, his administration was the first to give a sense of direction to the future development plans for the state. He might have encountered challenges along the line, but it is worthy of note that Chief Adebisi Akande demonstrated uncommon courage in handling state matters as long as they mattered to the future survival and growth of the state. Today, history has proved Chief Akande's actions in office as very painful but courageous."

Aregbesola also recalled the stabilising roles the Ila-born politician played in the formation and nurturing of the All Progressives Congress which he said bailed Nigeria out of the 16 years of the stranglehold of the Peoples Democratic Party.

He added, "In saluting the courage of this eminent elder statesman, we must not fail to recognize his roles in the conception and actual formation of our party, the APC. Chief Akande demonstrated an uncommon agility and vigor in all the activities leading to the successful birth of our party. Today, Nigerians can heave a sigh of relief from the 16 years of misrule that the PDP represented. "

The Governor, while praying for longer life for the politician, said his experience is still very much required for the task of building a virile Nigeria.