Ogbeni Rauf Aregbesola Is Uhuru Times 'Man Of The Year' 2016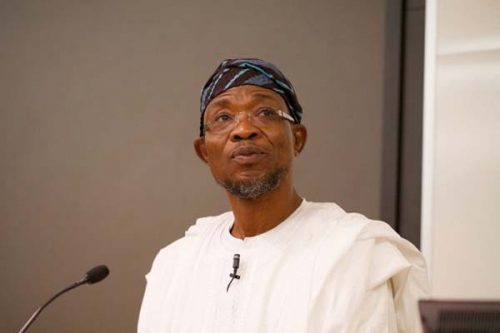 Nigeria's is a young democracy by any standard. The institutions that serve to nurture and protect due process in a participatory system of government, which ours was designed to be, are very weak, not non-existent. The presidential system of government we run has the Judiciary, Legislature and Executive as its branches. The Mass Media, aptly described as the Fourth Estate of the Realm, is expected to perform oversight functions on our three arms of government.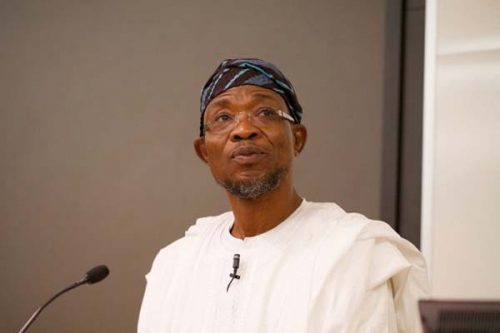 Recent developments since the advent of President Muhammadu Buhari's Administration have provided irrefutable evidence that the Judiciary is not what it was meant to be. Corruption at its highest echelon has rendered it prostrate to a very large extent. The Legislature at the national level has been established since 1999 to be a haven of persons, who ordinarily should not hold political offices. At the state levels, legislators are more or less glorified errand boys of their respective Governors. They hardly query anything done by the Executive in the manner expected of them by the 1999 Constitution, which they took an oath to uphold. Local Government Councillors are worse.

The Presidency is not better. Official instruments of governance are regularly deployed for personal reasons. Excerpts from a book by the Awujale of Ijebuland, Oba Sikiru Kayode Adetona, detailed as much about former President Olusegun Obasanjo's serial abuse of power. Buhari's is not different despite claims about an anti-corruption war. Petitions and claims against persons serving in close proximity of Mr. President have either being ignored or treated shabbily. Almost all the 36 state Governors control their legislators in a manner suggestive of dictatorship.

We do not intend to curse the darkness Nigeria has found itself in. To borrow the words of Moral Rearmament, a group that was active in Nigeria in the 1980s, ours is to light a candle in the prevailing darkness, and hope that by doing so, others will follow suit in their respective areas of competence. It is the Governors we beamed our searchlight on, being possible agents of change in a system, where almost everything depend on Government. In their respective states, these Governors literally hold the power of life and death over residents of their respective states.

For us, four issues are important in a society like Nigeria, where life expectancy still remain very low due to a nonchalant attitude by political leaders to the real needs of the people. These are,
  Education – accessible and affordable, especially for the downtrodden aged between 5 – 18 years.

 Healthcare services (preventive and curative) – As above.
 Gainful employment – For persons aged 25 – 35 years.
 Infrastructural development – Especially rural roads and potable water.

The foundation of Uhuru Times vision rests on late Chief Obafemi Awolowo's political philosophy about the place of man in the society, and how those in positions of leadership ought to behave while in office. Of the five Governors picked as possible winner of the 'Man of the year 2016' only Osun State's Ogbeni Rauf Aregbesola and Lagos State's Mr. Akinwunmi Ambode met our standards.
In Lagos State, urban renewal has continued since Ambode got into office, especially in the area of roads, street lighting and the like. But potable water remains a problem, not just in the rural areas, where we are most concerned about, but in the urban centres as well. There have been no significant new ideas about education and schools for the ages we considered. It is the same for Healthcare services in the rural areas. But roads in the rural parts of Lagos East (Epe and Ikorodu) along with the same sections in Lagos West (Badagry) have been receiving a well-deserved attention from Ambode, unlike when Babatunde Raji Fashola was Governor.
Ambode scored an A+ in his initiatives against unemployment, as he realised early enough that employing people into the civil service is not a solution. Of course, Lagos State continues to employ people into its civil service. But efforts to boost the presence of small, medium and large-scale private sector businesses in the state is a welcome departure from that of the immediate past administration in the state. A Fund created for young entrepreneurs and the self-employed is noble in all respects.
But, in our estimation, Ambode, lost the first position to Aregbesola given the amount of financial resources available to both state Governors and the amount of projects done thus far. Of course, Ambode's administration is young. But an Osun State with the same Internally Generated Revenue (IGR) and Federal Allocation as Lagos State in the hands of Aregbesola would have moved beyond where it is today.


Education:
For the ages considered, education is not only free in Osun State, a deliberate effort is being made to encourage enrolment into public schools through free feeding for Elementary School pupils along with free uniforms. This is a big boost for poor parents in this rural state, who would have, due to economic reasons, stopped their children from going to school.


Records show that the free school feeding programme now takes care of 252,000 pupils daily throughout the state. Caterers, who provide the food number 3,007 and are community based. Since the food consumed is sourced locally, farmers, traders and others involved in the supply chain should in time boost the local economy with agriculture being encouraged to develop substantially.


It is also certain that these children will eat a balanced diet once a day, being mainly from poor backgrounds, where it is often a luxury. This balanced diet should positively affect their health, thus reducing incidence of sickness caused by malnutrition. Above all, parents gain more no matter the number of children they have as they will spend less in sending their wards to school.


We are also aware that no fewer than 100 newly built schools with modern facilities are currently in operation across Osun State. A conducive environment for learning will not only encourage students, teachers and administrators are also beneficiaries. We must not forget the stand alone electronic learning tablet; Tablet Of Knowledge (Opon Imo ), given to 50,000 final year public High School Students, in the state. Besides the ease of learning, it also exposes the students to modern technology; a veritable tool for integration into 21st century life.

Healthcare services:
For majority of the ages considered, a preventive approach has already been adopted through the free school feeding programme. Availability of a balanced diet taken at the right time by young people always has a salutary effect on their health. Health Centres across all the local governments in the state are functional.

The state has a well-organised grassroots system through which national programmes on health always get to the most rural people, especially in the farm settlements that border Ogun and Ondo states. A preference for Yoruba language in promoting public health issues may have also assisted tremendously to ensure that important programmes take root in the rural areas.

Gainful Employment:
Compared with others states, unemployment is very low in Osun State. But Aregbesola's initiative in this area revolve mainly around Agriculture. The O'YES programme is more of a volunteer scheme than full employment, with allowances being paid. Persons interested in being self-employed through artisanship get trained as well.

Infrastructural development:
All the 30 Local Government Areas in Osun State have been touched by Aregbesola in terms of roads. But the Governor's preference for roads in areas deemed to be 'inside' of towns and villages formed one of the major reasons for being picked as 'Uhuru Times Man of the year 2016'. Most Governors concentrate on urban areas, where media attention is always focussed with the elites, who are major beneficiaries forgetting that majority of the people live in rural areas.

It is the same story about potable water. Of course, countless boreholes have been sunk and many rehabilitated. But Aregbesola has positively intervened in all the waterworks across the Osun State in a deliberate effort to ensure that potable water is available. Ede Waterworks has received quality support. Same goes for the Ilesa water project. Oyan among others with power issues now have generating sets. Rural electrification projects are huge and effective. Environmental sanitation and security are not neglected.

Moving forward:
Ambode should work on potable water. More than any other causes of diseases, lack of access to quality drinking water is a major challenge in Healthcare Services. Although not perfect, there was water when Fashola was in office. It is even bad that a state surrounded on all sides by water is having drinking water problems.
Ambode needs to borrow a leaf from former Lagos State Governor, Alhaji Lateef Kayode Jakande, on how to extend helping hands to neighbouring states. Heavy social burdens will be lifted off the shoulders of Lagos if states in its immediate vicinity get better. Economic migrants will reduce, thus the number of persons pouring into Lagos everyday in search of the Golden Fleece.
Aregbesola is in a hurry to develop Osun State, thus his multiple projects. But the financial base of the state is very weak. Dependence on allocations from Abuja is very bad for a state with a visionary Governor like Aregbesola. It should stop. There is an immediate need to set an IGR target at a minimum of five billion naira monthly, beginning from June 2017, if not earlier. Within two years Osun State can enter the league of N10 billion IGR states with the right attitude by those involved. Osun is an agrarian state, with many quietly making money from the farms. The Governor needs to copy the Ogun State model of Senator Ibikunle Amosun and the earlier one of Lagos State. He should improve on same for him to realise that taxes being paid by farmers do not end up in private pockets. Its operations must be computerised.