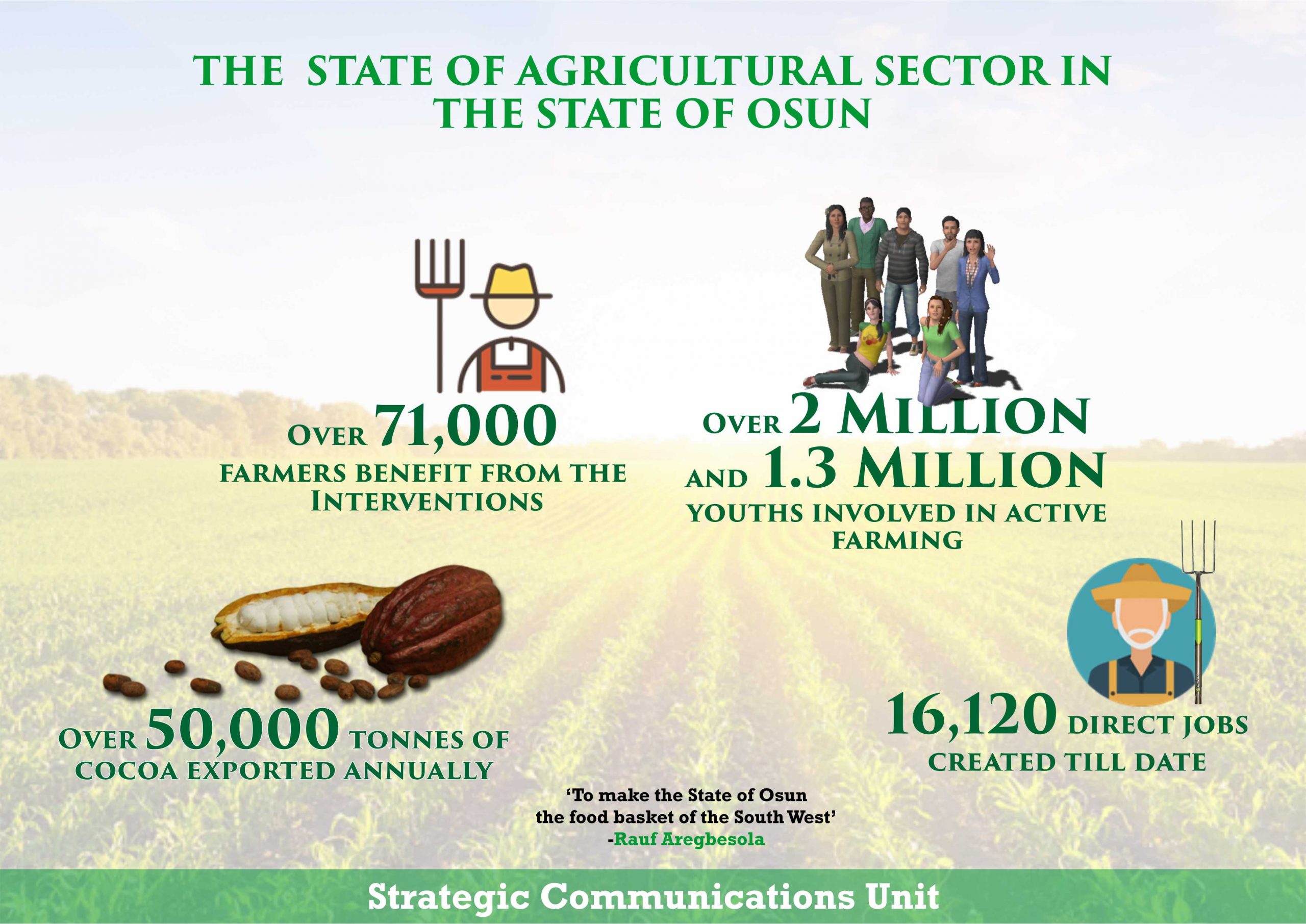 Eight Facts About Agricultural Sector In Osun


With a vision "to make Osun the food basket of the South West", Governor of the State, Ogbeni Rauf Aregbesola has so far achieved 8 major things in the vision he laid out six years ago when he took mantle of power on November 27, 2010.
A holistic agricultural policy taken by the government has placed the state on the green map of the South West in a space of 6 years; making it one of the major suppliers of agricultural produce to markets in Lagos and other South Western states. The governor, his deputy and other members of his team were recently seen in one of the major rice farms collaborating with the state government to produce Ofada Osun Rice.
Also, recall that Ogbeni Aregbesola recently led an official government delegation to Germany in search of new insights on modern agriculture in order to further realise the dream of making Osun the food basket of the South West. Germany has in the past four years trained over 40 young people from Osun in modern agriculture techniques such as '40days Goat Fattening' etc.
We present to you, eight (8) facts on the agricultural sector in Osun:
Over 50,000 tonnes of cocoa exported annually.
Over 16,000 jobs created for the indigenes of the State of Osun.
Over 700km of rural roads built to reduce cost of transportation for farmers and increase access to markets.
30 bridges constructed, with access given to areas cut-off from civilization.
Over 2.8 billion naira given to farmers as loans.
Over 11,000 farmers have been supported with direct cash transfers.
5,000 farmers' co-operatives registered.
Over 71,000 farmers have benefitted from the Governments interventions.