Madam Alakija's death, a huge loss to the Nation- Aregbesola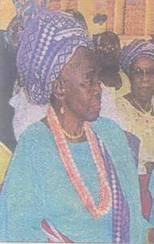 The Governor of Osun, Ogbeni Rauf Aregbesola, has described the death of the veteran administrator and former Head of Service of Old Oyo state, PrincessTejumade Alakija, as a huge loss to the South-West and the Nation at large.
Aregbesola said Alakija's death signals the end of several decades of service to father land and the mankind.
In a statement by the Director, Bureau of Communications and Strategy, Office of the Governor, Mr. Semiu Okanlawon, Aregbesola affirmed that the octogenarian who was the first female Head of Service in the old Oyo state will be missed for her administrative and scholarly experience.
The Governor said Alakija, a prominent educationist and a princess who served as Head of Service of the Old Oyo State in the second republic will be missed in the public service.
Aregbesola said, "Mama had done her part for the country,mama as the Assistant Secretary in the Ministry of Trade and Industries in the Region between 1962 and 64 did her best before she was later appointed Secretary of Committee on Development of Training in the Western Region Civil Service; and also Committee on Technical Education in Western Nigeria.
"The contribution of mama to the growth of public service, education and industry can't go unnoticed. That was why we honored her while she was still alive at the 9th Osun Award for distinguished sons and daughters of the state" the governor stressed.
Aregbesola held that the death of the first female Head of Service in the Old Oyo state brings to mind the transient nature of man's sojourn on earth.
According to the governor, "Her death however affects us all for she has impacted on us the culture to serve humanity through diligence.
"On behalf of myself, government and the people of Osun, I condole with the immediate family, most especially the Aderemi Royal family of Ile-Ife and the extended families of the deceased . May God grant Mama eternal rest," Aregbesola said.