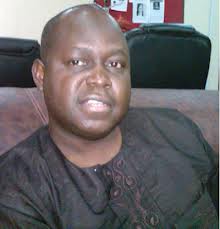 TODAY'S FEATURE: 'Osun is not in debt' – Dr. Wale Bolorunduro

It is no doubt that the pace of development in the state of Osun is what oppositions find difficult to believe, this explains why they put the state of finance in Osun State on a controversial path. The N30billion Bond the state took from the Nigeria Stock of Exchange (NSE) for developmental projects brought heavy shock to many of them. The State Commissioner for Finance, Budget and Economic Planning, Dr. Wale Bolorunduro, in this interview clears the air on the bond and the state federal allocation share. He also spoke on other matters affecting the finances of the State. Excerpts;


There was an insinuation that former Chairman of the Senate Committee on Finance and Appropriation, Senator Iyiola Omisore influenced an improved revenue allocation from the federation account to the State. What is your reaction to this?
The State of Osun is known to be one of the least states in terms of federal allocation. From 2003 to date, it has always been on number 34 on the federal allocation table. Before Ogbeni came in as governor, the Internal General Revenue (IGR) was barely N250m. While Ogbeni Rauf Aregbesola does not have the power to change the federal allocation, he has consistently improved on the collection system of the state such as implementation of the automation of our revenue; all revenue and tax payers pay directly to the banks, making the funds available directly for use thereby increasing the Internally Generated Revenue (IGR) of the state to about 1billion monthly. We knew that opposition had attributed the increase in revenue of the state to efforts of the former Chairman of the Senate Committee on Appropriations, Senator Iyiola Omisore, which is not true. During his time in the office, he could have influenced the federal allocation but he did not. More so, there was no way he could influence it because the federal system is handled by Revenue and Fiscal Mobilization Commission. The last exercise carried out by this federal agency was about 10years ago. So there was no way Senator Omisore could have influenced their decision or to influence them. It actually amounts to the usual shenanigan from someone who claimed to know finance or accounting; that is the person of former Commissioner for Finance and Economic Planning in the state, Mr. Adetoyese Ojo. Certain parameters would be required to increase the revenue of the states by Revenue Mobilisation Commission; parameters such as the population of the state and enrolment of school children. Remember, from 2003 to 2010 the enrolment of children in schools in the state was actually decreasing because the schools were dilapidated. The schools were being run on subvention from parents; all kinds of illegal fees were paid by parents, acts of fallen standard of education forcing parents to withdraw their children from public schools to private schools. There were over 2,000 private schools in the State of Osun, but now that Governor Aregbesola is there, there has been an increase in the enrolment of children in public schools. Education in the State of Osun is now top on the list of review on the pages of national newspapers in the country. Apart from the enrolment of children in public schools, the number of hospitals and hospital beds is a also determinant while estimating the revenue of any state, and this exercise has not been carried out in the last ten years. There were no improvement then and all the states were heading downwards, but now we are renovating and equipping the hospitals and building more primary health centres. Also I will like to take a comparison of what the state was getting from the federal government in terms of grants (such as the UBEC grant): Before Ogbeni came, the state was always lagging behind, either as a result of ineptitude or as a result of laziness under the PDP administration, but currently we have collected grants for 2010, 2011, 2012, and have data for 2013 which we are going to declare. So, in term of efficient utilization of free money, there has been significant improvement.
What about the Ecology Funds for the State?
It is a blatant lie going by the claim of former Commissioner for Finance, Mr. Adetoyese Ojo, that Senator Omisore assisted the state to collect ecology funds. From the record of the Accountant General and Treasury Office, the state, during the time of Mr. Oyinlola, did not receive any ecological funds different from the statutory allocation.
As the man in charge of finance, what is the state of indebtedness of the state?
Speaking on the status of indebtedness of the state, there are two federal agencies that have the constitutional power and responsibility of monitoring debts; which are Debt Management Office (DMO – a federal agency) and Central Bank of Nigeria (CBN). CBN is a banking regulator. Recently they published the indebtedness of states, and Osun was not featured in the top or middle or average position. It was made a public document and it is there for anybody who wants to check.  Three weeks ago, DMO published another one, Osun was not featured. Now for the N30billion borrowing that PDP are always talking about, let them show it us. No rational human being would mention such figure or level of indebtedness in the current banking or financial system that Nigeria has now. You have about 18 banks, these 18 banks have different capacity of the amount of money they can lend out to a single entity. No rational human-being would claim N300billion indebtedness for one state, because the current financial market or the banking system does not have such capacity to lend. Also, each of the 18 banks has a specific capacity to lend and all the capacities put together do not sum up to N200billion. So, what I am saying is that the market does not have such financial capacity to the tune of N300billion. Secondly, these banks are regulated by the CBN. For instance, we say the first ten banks can give N10billion each, which will amount to N100billion, the regulator will not allow any of these banks go beyond their limit based on 'single obligor limit'. The banks have a maximum amount they can give to any entity, be it government or other organizations and this is a strong regulation to the banks. So, the N300billion they are talking about is way out of it, it is abnormal, absurd and can only come from someone with evil.
For any bank or banks to give out N300billion as loan to a single entity is just unthinkable, be it a state or an organization. We sent our own quarterly reports to DMO. CBN collects data from all the banking branches so where can they get that kind of level of indebtedness? We are not dumb like them because we know what debt service coverage is and it is a plan that we must always follow. It is a function of cash that is available to service those debts and I am sure they do not know how to calculate those things or make it work. You just don't borrow recklessly. When we came in, we could also go on lunacy by borrowing like them; like they did borrowing recklessly from commercial banks but we chose to be cautious, had ways of raising funds which is the bond issuance programme. The bond issuance programme is public information. Today if you go to the Nigerian Stock Exchange (NSE) you will see what concerns Osun there. So what else do we need to show to them about the state's status on finances that is not already in the public domain? Do we need to show to them what is not available in the public domain? Our bond issuance programme when we raise N30billion was published; currently it is in public space, what we are going to spend it on is known and they are published.
But the opposition has always insisted that the state is broke?
The indebtedness allegation is not true. I would like to take it philosophically that it is an attempt by the PDP to confuse the entire people of Ipinle Omoluabi and the whole nation; honestly speaking they are laying the foundation for them to plunge the state into trouble so that they could say the state is indebted when the ACN administration was there. They thought they would win election, so that they would come back and tell lies that we inherited debts. One, they would not win election and two, nobody would plunge Osun into backwardness again by the grace of God. Having said that we know them, we know their antecedents most of their leaders that are now hanging around to become the governor of Osun were sustaining their life style through  debt even before they came into government. They were known to be living large on loans and lease of cars, some of those facilities they refused to pay back and now turn to bad loans for the banking industry are now quarantine in Access Management Company of Nigeria (AMCOM) for the banking industry (bad loans).
What is the plan of government to give compensation to those whose buildings are affected under urban renewal programme and how much has actually been paid as compensation?
On compensation, we have said it severally; early this year precisely in May we have paid compensation to people with genuine claims and papers. You realised that from Abere to Olaiya axis that is supposed to be a gateway into the state and the separation of illegal structures from the roads and physical infrastructures going on in the state is being done to give way to sidewalk and to properly establish building lines and proper planning. Anybody with genuine claim along that line will be compensated, we have told them to support their claims with relevant documents and bring it up to the Ministry of Land and Physical Planning for submission of their claims and I want to assure everybody that the state government will treat them and give them due compensation. The previous ones we did at Old Garage to Ayetoro, compensation was paid by the government and we will continue to ameliorate the suffering of the people when there is need for us to do so. But for people with containers and all sorts of obstacles on the side way, those are being separated and it is part of government planning and the planning committee has the responsibility to establish planning permits.
We have said severally that the urban renewal programme is not only to plant trees but to give identity to cities as an impetus for social economy development. No investors would like to come into a city described as a shamble. Europe is known for identity; Singapore is known for its identity and many other cities in the world just like Lagos and Ibadan are being reconstructed to have identity, so also we want Osun to have its identity under this present administration. Even if it is retail shops that will be on the major road, it should be arranged orderly and not extending to the roads; because fatal accidents have occurred in some cases in which vehicles have run over people along the main roads selling goods. We are not happy at such situations and we cannot continue to watch for such incident to repeat itself.