3 YEARS IN OFFICE: Aregbesola Marks Third Anniversary In Office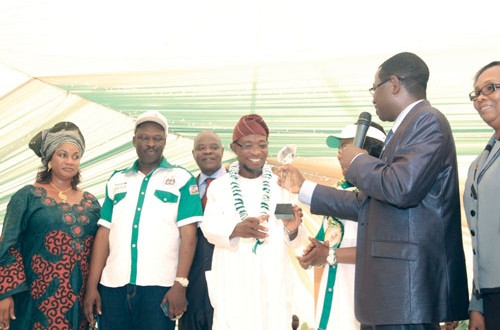 A massive crowd gathered yesterday at the Freedom Park in Osogbo, the Osun State capital, to mark the third anniversary of the Governor Rauf Aregbesola administration.
Aregbesola said he has delivered on his electioneering promises and pledged to continue to make life better for the people.
At the rally were Ekiti State Governor Kayode Fayemi; Osun State Deputy Governor Mrs. Titilayo Laoye-Tomori; Aregbesola's wife, Serifat; Ekiti State Commissioner for Integration and Intergovernmental Affairs Funminiyi Afuye; top government officials and chieftains of the All Progressives Congress (APC).
Fayemi said the defection of the Alhaji Kawu Baraje-led faction of the Peoples Democratic Party (PDP) to the All Progressives Congress (APC) was a signal that the alternation of power at the federal level is imminent.
He said democracy without alternation of power was "elected dictatorship", hence the need to alternate power to make it meaningful.
Fayemi said APC was not the same with PDP. He described APC as a party of progress, development and revolution, adding that this led the aggrieved PDP leaders to the party.
He said their defection was "a political earthquake".
Congratulating Aregbesola on his third anniversary in office, Fayemi described him (Aregbesola) as "a visionary leader, who has made positive development in all sectors".
He said Aregbesola deserved another term to complete his people-oriented programmes and urged the people to re-elect him.
Fayemi said he was not "unaware that the PDP is scheming and targeting" next year's governorship polls in Osun and Ekiti states, adding that he and Aregbesola believed in the support of the people and would not accept a replication of the "anambracadabra election" that the Independent National Electoral Commission (INEC) conducted in Anambra in their states.
THENATION