ARTS & CULTURE: Osun Assembly Celebrates Alhaji Kareem Adepoju 'Baba Wande'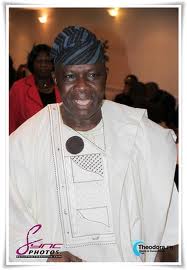 The Osun House of Assembly on Friday in Osogbo held a special session for a veteran Yoruba Nollywood actor, Alhaji Kareem Adepoju, who clocked 50 years on stage.
Adepoju, popularly known as Baba Wande and who hails from Olorunda Local Government Area of Osun state, received encomium from the lawmakers for his consistency in the Nollywood industry.
In his remarks, the Speaker of the assembly, Hon. Najeem Salaam, said Adepoju was celebrated because of his positive impact on the society through theatre.
Najeem, who said the actor was the first to be honoured with a special session, described him as a role model.
He said: "We are celebrating Adepoju today because of his successful career in the film industry in the last 50 years. He has used theatre to promote our culture, language, dressing and there is need to celebrate him. He is a pride to the state and the country at large and others should emulate his good virtues. It is because of his good deeds that we are celebrating him today and this is a virtue others should emulate. We don't want to be celebrating great people after their death and that is why we are celebrating Adepoju in his life time."
Also speaking, the state Commissioner for Youths and Sports, Stephen Kola-Balogun, said Adepoju was one of the role models the youths should emulate. Kola-Balogun, however, urged the actor not to relent in impacting positively on the people through theatre.
In his response, Adepoju thanked the assembly for celebrating him with a special session and described it as a thing of joy.
THEEAGLEONLINE