Osun Airport To Have Longest Runway In Nigeria – Project Engineers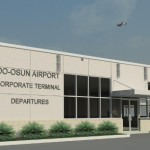 By the time it is completed and delivered in May next year, the MKO International Airport, Ido Osun, in Osun will emerge as the airport with the longest runway in the country.
With 3.5 kilometres runway, the airport under construction beats the Murtala Mohammed International Airport and the Nnamdi Azikiwe International Airport, Abuja with three kilometre and Abuja 2.8 kilometre and 2.8 respectively.
This was the promise made by the project engineers on site on Monday when Governor Rauf Aregbesola paid an unscheduled visit to the site of the project in Ido Osun.
Aregbesola, who was conducted round the airport by the Project Supervisor of the company handling the project, Aeronautical Engineering and Technical Services, Eng. Abubakar Abuyaro, inspected the runway for aircraft which is under construction and other facilities at the airport.
Speaking during the inspection, Abuyaro said that largest part of the work on the airport is on the runway, which progress has been slowed by the heavy rain witnessed so far in the year.
According to Abuyaro, that majority of the excavation work that needed to be done could not be carried out during the rainy season in order to ensure a quality job.
"Fifty percent of the earthwork on the runway, which is the most important part of the job, has been achieved. Rainy season is gradually going to an end.
"As soon as rainfall subsides, work will definitely go at a high speed in the airport, which after completion, is going to be one of the best airports in the country," Abuyari said.
The engineer explained that a solid base is needed for the 3.5 kilometres runway, which he said will be the longest in the country.

He disclosed that all the hydraulic structures, which form the drainages and culverts for the runway, are being constructed now in other to speed up the job.
He stated further that the form work for the precast drainages are already on ground and casting work is going on everyday so as to speed up job when the rain stops.
Engr. Abuyaro noted that when completed, the airport will be one of the best and one with the longest runway in the country, saying that the length of the runway of an airport determines the aircraft the airport can accommodate.
He said that the MKO International Airport is being built to accommodate the Boeing 737 aircraft series.
He assured government that the airport, which will also accommodate cargo air crafts, will be completed and delivered by May 2014.
Reacting, Governor Aregbesola commended the company for its diligence to work.
In an effort to ensure that contractors handling various projects in the state carry out quality jobs and complete the projects at the stipulated time, the Governor had earlier inspected the East By-pass Road where the Governor inspected one of the major bridges still under construction.
The project being handled by a Turkish company, Slava Yeditepe, is to complete the circle of rings around the state capital and ensure no traffic bottlenecks are created as the state capital witnesses rapid developments.
GAZELLE NEWS