Aregbesola: "The Glory Of Public Schools Will Be Restored In Osun State"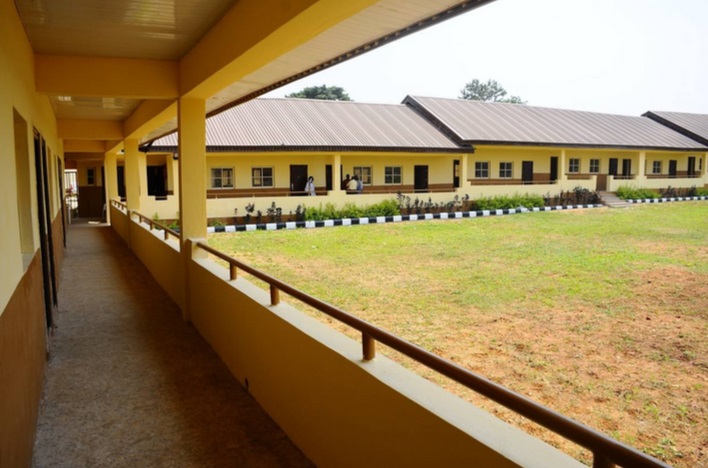 Governor Rauf Aregbesola has stated that he will not renege on his efforts to restore the glory of public schools in Osun state and make it the citadel of learning. "Our pioneer leaders went to public school and they did well."
He said that work is still going on in Osun and will not stop until his administration achieve her goal of making public schools in Osun places where pupils can get the kind of education that will place them at par with the very best in the world. "This is our ultimate aim, and by the grace of God, and your support and understanding, we will realise this objective to the greater future of our children and our state," Aregbesola told the people of Osun at the official commissioning of Baptist Central Elementary School, Ilare, Ile-Ife.
He said, "What we have brought to education in Osun, if we will not sound imodest, amounts to a revolution. Critics who will be honest should compare this new school and its facilities to what obtained when they went to school and what public schools have become of recent.
" I am sure very few, if any private school can compare favourably with the schools we are building. Yet we are not competing with private schools."
According to him, the role of private school is to complement and not displace government in the provision of certain essential services, stressing that our society has to do away with the notion that the government must necessarily fail in certain endeavours which must then be yielded to the private sector. Moreover, while insisting on quality education and conducive learning environment for students, the governor reiterated that pioneer leaders who went to public schools did well in its ramifications.


He noted that preparing our children for the future is a responsibility that we must fulfill, adding that leaders will never be forgiven if they fail in their responsibilities. According to him, the world around us is moving on; and at a pace that leaves no room for lack of seriousness or half-measures, especially with regard to education.
The education of our children, he warned, should not be a subject for petty squabbles or unhealthy politics about our narrow interests, adding, "if we are genuinely interested in the future of our children, we should bury our narrow concerns of today in order to assure for them a glorious tomorrow." Upon this, he stated, "we will not be distracted from this objective even if it means stepping on toes, we are unstopable"
For the benefit of doubt, Aregbesola, however disclosed that the new school buildings are not for Muslims or for Christians, neither are they for adherents of any other religion, adding that they are for all children of Osun, regardless of their circumstances of birth.
On issue of religion, the governor said his efforts at revamping education never had a religious motive, but that he is motivated by the highest ideal of developing a complete personality who will be an asset to society as he would be for himself. "We are clearly neutral on religious observances," he added.
Recalling his administration's investment in education, Aregbesola said, "We have added 10,407 new teachers to the list of public school teaching staff in Osun. Thus, we now have 12,715 teachers in our primary schools and 7,848 teachers in our secondary schools. This amounts to a 54.8 per cent increase in the number of public school teachers we inherited. The same applies to non-teaching staff whose number has also increased by 564.
"As a result, the salaries and pensions of our primary and secondary school teachers now cost the government N16.8 billion and N10.3 billion respectively on an annual basis. On the free school uniforms, we expended N900 million, while the elementary school feeding programme costs N3.6 billion every year.
"On the supply of furniture to our schools, we have committed N2.5 billion so far, while we have spent N503 million on instructional materials which were not part of public school education before we assumed office. We have similarly increased school grants from N122 million to N856 million. Under our administration, WAEC fees have also shot up from N38 million to N400 million. We have also expended N1.2 billion on our pace-setting e-learning tablet, Opon-Imo.
"Along with building new schools, we are also renovating and upgrading some of the existing ones. On this we have spent N1.6 billion. On the new schools, we have committed N14.4 billion on capital projects, while our recurrent annual expenditure is N21 billion on elementary schools, and N13.43 billion on secondary schools. This amounts to per capita spending of N84,000 per elementary school pupil, and N30,000 per secondary school pupil. The total capital expenditure on all schools in the last three years outside new schools is N31.31 billion."
VANGAURD