INEC Holds Talks With Osun State Council Of Traditional Rulers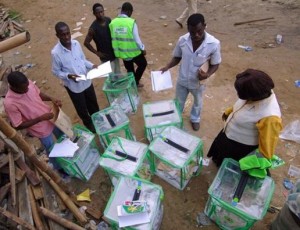 The Independent National Electoral Commission (INEC) on Thursday met with the Osun State council Of Traditional Rulers to solicit support towards the forthcoming elections.
At the meeting which held in Ile-Ife in Osun state, the State INEC Resident Electoral Commissioner, Rufus Akeju, said that the idea of the meeting was to appeal to the royal fathers, as custodians of culture and traditions at the grassroot level, to create awareness in their respective communities and educate the electorates to exercise their civic responsibilities in a peaceful and non-violent manner, to strengthen democratic culture in the state.
At the meeting which held at the palace of the Ooni of Ife, Oba Okunade Sijuade, Olubuse II, traditional rulers raised  several issues  ranging from logistics to voter education and awareness to operations to ensure that the challenges of the past are adequately addressed for a successful conduct.
Although the Osun State governorship election is months away, the Commission in the state said that there was no better time to start preparations than now, and the meeting with the Osun State Council of Traditional Rulers as one of the major stakeholders was the first step.
The State Resident Electoral Commissioner, Rufus Akeju, while addressing the Royal fathers, pointed out the essence of the meeting, and assured them that the commission was determined to conduct a free and fair election, devoid of malpractice.