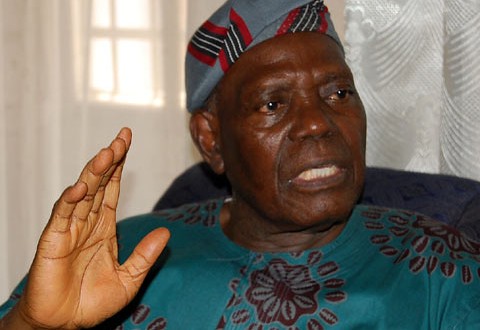 OPINION: INEC's Voters' Register Faulty, Says APC
The All Progressives Congress (APC) may reject the voter's register which the Independent National Electoral Commission (INEC) wants to use for the governorship elections in Ekiti and Osun states as well as the 2015 general elections.
The party's Interim National Chairman, Chief Bisi Akande, who spoke with reporters yesterday in Ila-Orangun, his Osun State home town, after collecting his permanent voter card at Unit 12, Obalumo Compound, Atewogbade Street, Isedo 1, Ward 4, alleged that INEC's records had been manipulated.
Akande said the party would test the process to determine if the register could be used for election or advise the commission to conduct a fresh registration.
He described his experience in Ila-Orangun as "very uncomfortable" because of so many "irregularities".
Akande said though he collected his card with ease, the story was different for many others who registered in 2011 but could not find their names in the register. Many people found their names appearing twice, according to him.
He said he would inform his party about "what I saw and we are going to look at what to do; if to reject the INEC's record or not". "With what I saw, INEC has no credible register to conduct elections. The margin of error is so high; it's about 60 per cent. If it was two per cent we could say it should be overlooked.
"With what I saw today, INEC has no credible register. They have a manipulated register. They have a fraudulent register. If the margin of error is two per cent, we say 'oh! How does this happen?'
"My assessment on the collection of permanent voter card is uncomfortable. I came today for the validation of my voter card where I registered and voted in 2011. I was able to collect my card, but some of the people that came after me could not find their names on the list.
"Some names, which appeared once on the voters' register in 2011, appeared twice. Some names that appeared in 2011 are not appearing again on the list for the collection of the PVC, which makes me to become worried and I began to ask questions. Even in some units where INEC registered 100 people, the register never covered 60 per cent success in such areas.
"This makes me to doubt INEC which smuggled 100, 000 names into the voters' register in Ondo State and used it to rig election. If we don't act now and let the world know that INEC is inefficient and fraudulent and that INEC has started the manipulation of Osun State election with this exercise, we will be doing a disservice to Nigeria.
"INEC deceived us in 2011 that it was going to register us with biometric control. It captured our 10 fingers, but in 2011 election, there was no control. I am not certain if there is going to be a control for this card too. This card has no control at all and the INEC that can not give you a biometric control like they do in Ghana can not claim to be able to give you a free, fair and credible election.
"Funny enough, I heard INEC saying it wants to conduct biometric election, but what Nigerians want is for the voters' register to be valid and credible. But this register can never be credible at the rate they are doing it. It is what I saw."
On the alleged attempt by members of the Peoples Democratic Party (PDP) to collect some cards by proxy in Ikirun on Saturday, the APC chieftain said: " The PDP has been doing it; they have been buying other people's cards and the INEC has been supplying them cards. That is why they came to Ikirun this time to collect voter cards by proxy. A credible effort should not be done by proxy. I travelled down to this place to collect my own card. I did not send any of my children or political boys. I came to collect it by myself because I know it is not lawful to collect it by proxy.
"But because the PDP knows that they can do it and they are doing it in the open, that is why it is the only one we see. They can go to INEC office in Abuja to collect cards by fraudulent means. We have known INEC to be inefficient. If the voters' register is not credible, the election that will follow will never be credible."
THE NATION