Osun O'meal Director Tasks School Heads On Monitoring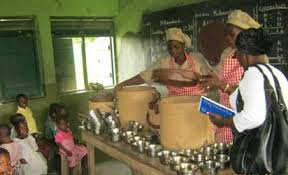 Mrs Olubunmi Ayoola, Director, Osun Elementary School Feeding and Health Programme, has stressed the need for active involvement of primary school head teachers  in the programme, tagged "O'meal''.
Ayoola, who is also the state operations officer for the programme, made the call during a meeting with head teachers of public elementary schools in Ikirun and Ila zones.
She said the meeting was aimed at strengthening the programme and improving the services of the O'Meal food vendors.
The director advised all head teachers to be committed and be more involved in the daily monitoring of O'Meals activities in their schools.
She said the O'meal programme had impacted positively on Government's action plan which includes banishment of poverty, hunger and unemployment, as well as promotion of healthy living and functional education.
Ayoola stressed the need for head teachers to cooperate and ensure effective monitoring of the programme to provide the data needed to evaluate it.
"Without proper monitoring, all the money spent on the programme will go down the drain,'' she said.
She lauded the support provided by all head teachers present at the meeting and enjoined them to be alive to the monitoring responsibility for the government to realise its vision for the programme.
Some of the head teachers said they had been enlightened and encouraged to work selflessly for the benefit of the pupils.
"I used to think it was the government's business to monitor the O'meal programme.
" I now know that it is my responsibility as the head of the school to monitor the activities going on in my school,'' said Mrs  Khadijat Alade, one the head teachers.
Another head teacher, Mr Kunle Babalola, said the meeting was an eye opener for the school heads.
"I really appreciate this meeting; it has enlightened us, and for safety reasons, head teachers should be concerned and monitor what their pupils eat.
"I appreciate the government for the efforts it is making to make learning enjoyable for both the teachers and the pupils,'' he said.