SPEECH: The Difference Leadership Can Make…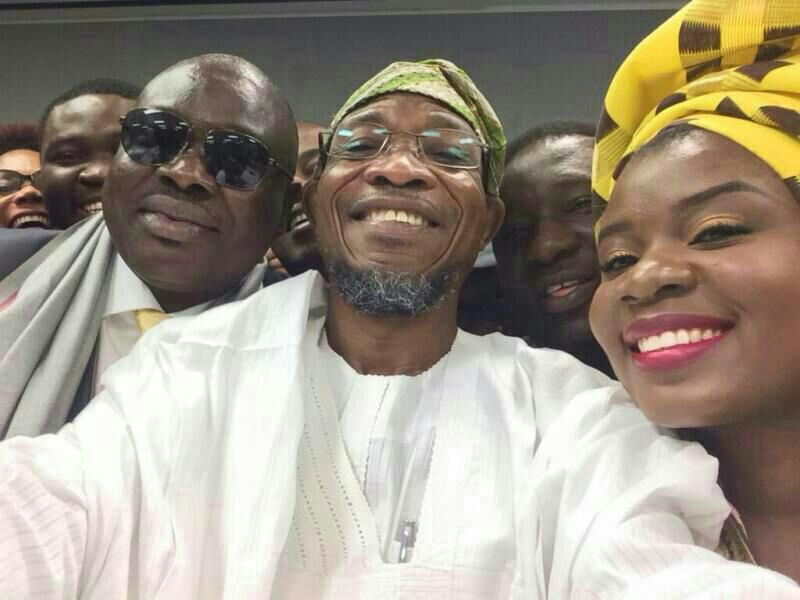 REMARKS BY THE GOVERNOR OF THE STATE OF OSUN, OGBENI RAUF AREGBESOLA, AS RECIPIENT OF THE 'NIGERIAN OF THE YEAR 2013' AWARD, PRESENTED TO HIM BY THE MEDIA ACE LIMITED AT THE 3RD EDITION OF ITS ISMAIL BABATUNDE JOSE LECTURE ON MEDIA & SOCIETY, HELD AT THE CENTRE FOR BLACK CULTURE AND INTERNATIONAL UNDERSTANDING, OSOGBO, ON SATURDAY MAY 24, 2014

This is another occasion for us to gather and celebrate what we regard as worthy achievements of significant impacts on the lives of the people. I want to therefore thankfully acknowledge the good gesture of the organisers of today's events, the Media Ace Limited and publishers of the reputable news magazine, National Infinity.
To them I extend my sincere gratitude for electing to confer me with the 'Nigerian of the Year 2013' award. It will be a cherished addition to the outpouring of such goodwill recognitions of our efforts at transforming the lives of our people for the better.
The change of leadership at the polls may often appear to be another routine little development. But in reality, it may be a quantum leap for the people who make that choice. After all, leadership is all about making a big difference in the lives of the people.
Distinguished ladies and gentlemen, this may not be as easy as it sounds. Nevertheless, it is my sincere conviction that it is not as difficult as it might appear. It all depends on one's view of leadership. And this makes the difference between non-achieving leaders and great achievers in leadership.
For me, leadership is defined by what one does for the people, by the fact of whose existence one is in a position of leadership. Consequently, I subscribe fully to Albert Pike's assertion that: 'What we have done for ourselves alone dies with us; what we have done for others and the world remains and is immortal'. This for me succinctly defines the mindset from which greatness in leadership springs.
It is the case that leadership most times is a matter of choice, which many avoid to make because of the responsibilities attached to it. I have never been one to be afraid of leadership, despite the huge responsibility attendant upon it.
Indeed, it is my belief that leadership offers a golden opportunity to serve the people and bring improvements to bear on their lives and existence. I also do hold onto the view that leadership is a core pillar upon which a viable and successful human society can be built.
Consequently, from the beginning of history, leadership has been of the essence in the affairs of men. In effect, when I sought the leadership of the State of Osun as governor, I was fully aware of the implications and well-prepared to face the responsibilities.
It is as a result of this, and to the glory of God Almighty, that my leadership of the state has been able to make a difference in the lives of the people of Osun. At a personal level, I have faith in God and I believe in His capacity to intervene in human affairs.
But it is also my belief that God has given us, human beings, talents and abilities. And it is God's intention that we use them. But how we use our talents is a different matter, which is a question of who we are and what we stand for.
The improvement of the lots of the people of Osun was therefore a strong motivation for my seeking office and a paramount object of the deployment of my talents. Thus, as a leader I constantly seek for ways of bringing about progress and advancement for my people in every area of their lives.
In education, everything done under my leadership is meant to improve the standard for the benefit of our children. Building of new schools; recruitment of more teachers; provision of uniforms, distribution of Opon-Imo; provision of free food etc. are all aimed at raising the standard of public education in Osun.
This is grounded in my belief that education is one of the greatest legacies we can give to humans. Similarly, the intention behind my administration's agricultural policy is to transform farming in the state to big business. This is born out of the fact that it is only commercial agriculture that can raise the material condition of existence of our poor farmers.
By achieving this in the agricultural sector we will also be solving a lot of other problems in our society – the problem of unemployment, hunger, poverty, primitive farming techniques, poor soil management, inefficient use of farming resources, raw materials for industries and a lot more.
We will be able to create an agro-allied industrial base for further development. It will equally raise the revenue available to government for deployment into other areas of development.
My idea and vision of leadership plays out in the other areas of government's policies and programmes. In health we have an integrated programme of prevention and treatment. Our environmental sanitation policy is aimed at preventing many of the avoidable ailments that spring from poor hygiene and unclean environment. Our efforts at creating a beautiful environment are yielding the needed results. We now have documented record that the incidents of malarial in Osun have reduced significantly.
Simultaneously, we are upgrading all of our health facilities to be able to effectively deal with the challenges of treating people for those ailments they already have, as well as their various other health challenges.
All citizens of the state are aware of the road infrastructure being constructed by this administration. They are of such unprecedented scale that they extend to every local government in the state. The roads are meant to enhance the various levels of human transactions including trade and commerce.
Environmental regeneration, control of flooding, urban renewal, employment generation, capacity building, women and youth empowerment, among others, are also areas where attentive leadership is being brought to bear.
I believe in applying my best talents to the service of the people. It is what I have done since my assumption of office some three and a half years ago. I therefore agree with former American President, Calvin Coolidge, that 'No person was ever honored for what he received. Honor has been the reward for what he gave'.
I accept this award with the promise that I will continue to apply my God-given talents and abilities towards the unceasing improvements of the lives of the people of Osun. And this is the basis of my asking my people for a second term.
Once more, I thank the National Infinity magazine for this award; and for to adding voice to the motivating choruses of appreciation that have greeted our demonstration of the difference leadership can make in society.
I thank you all for your warm reception.
Osun a dara!