INTERVIEW: 'No One Can Reverse Osun's Development Strides'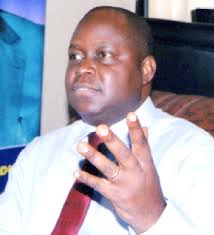 Recently, the Osun State chapter of All Progressive Congress inaugurated campaign committee for the re-election of Governor Rauf Aregbesola in all nine federal constituencies in the state. Dr. Wale Bolorunduro, the Commissioner for Finance, Budget and Economic Planning is the chairman of the committee for Ijesa North federal constituency. In this interview with journalists, including Correspondent Gbenga Faturoti, Bolorunduro speaks on the plans and strategies to ensure that Aregbesola retains his seat and other burning issues. Excerpts:
There are fears in some quarters that violence would trail the elections; do you entertain such fear and what plan has your committee to tackle this?
What we are telling our people is that the security personnel are there to protect them; whatever might happen, security personnel have been deployed for the purpose of that election and they would all be protected. What we are telling our people is to come out en masse and vote; they should not feel intimidated by anybody. We hope there won't be any violence and also strongly believe that the security agents would take charge and ensure that we have a violence-free election. Having said that, as a Yoruba, looking at Osun as at the centre of the South West and based on history facts, we know that the Yoruba people are sophisticated and know how to defend themselves. The Yoruba believe that nobody has monopoly of violence, and they know how to defend their vote. In 1965 when elections were rigged and marred with violence, people arose to defend their votes, and the First Republic fell. Also in 1983, elections were rigged in South West, Ondo and old Oyo. The Second Republic fell also, not because election were rigged in other places but in South West. Our hope and prayer is that the election would be peaceful and hitch-free. As a result, the President of the country would be shown as a responsible leader. Hence we enjoin Mr. President to ensure that the votes of the people of Osun and Ekiti states count.
You assured that the election would be violence-free without considering the opposition's agenda; what is your take?
My message for the opposition is to play the game according to the rules. They should know that they don't have monopoly of violence, they should not subvert the wish of the people. The only way to express themselves is to vote democratically and in other to do that, they must come out with their manifestoes. And up till now, we have not seen the manifestoes of the major opposition parties. We expect them to come out and let us have robust arguments, not for them to be poisoning the air that they will reverse everything. Osun is on the move towards socio-economic development and it cannot be reversed.
As a corporate person who is now into politics, what have you seen to be the driving force and difference in the two worlds?
In the corporate world, politics are played but somehow politics in the corporate world are at a stage that makes you seem larger than life. The irony of life is that human beings have the opportunity to live a grand life, yet you find them yielding to things that are not profitable to development. So, in the corporate world, you are elevated above pedestrian things, though you can equally come down. In essence, nobody has monopoly of violence. Again in the corporate world, that element of preservation and defending your right exists. In the political domain or administrative politics, there are always similarities like you are providing service to humanity just as in corporate world too, by growing your business and allowing the business to employ more people. The only difference is that the corporate people live by the rules; they are somehow elevated beyond the pedestrian. We are all political animals and would always seek opportunity to provide service and to defend it.
 Which of Aregbesola's programmes do you admire best and why?
I admired his socio- developmental programmes like the infrastructures being put in place. I admire well done physical infrastructure; why? It is because it is the only way as a federating unit in the federal system, whereby you can as a leader attach yourself and stimulate growth. When you build road, airport, or schools, you automatically create a job. That drastically reduces unemployment which will jack up people's standard of living and move them out of poverty. As an applied economist, that is the best programme and you know coming from a corporate background, people think you are focused on money and are not a fiscal policy person that believes in the federating system. The only instrument you have is fiscal instrument and you must drive it like crazy, you must create linkages between your fiscal expenditure and economic growth and between real growth and development. For me I love the social service. The most critical thing is physical infrastructural development.
Being a technocrat, how do you cope with the assigned job considering the PDP bigwigs in your federal constituency?
I will not want to discuss our strategies, however we have been going out on door-to-door, street-to-street visits and requesting to know from our people who has not benefited from the Aregbesola government. There is no household that has not benefitted directly or indirectly from Aregbesola's government. So we go out with that message and challenge our people to come out en masse and vote. Talking of bigwigs of PDP in my federal constituency, yes we are not scared of them, the question we are asking our people is that, despite the claim of the opposition of being close with the people when they were in government and now claiming of being close with the federal government, what did they do for them? If they have not done anything for them in the past, people should come out and vote against them, cast their vote for Aregbesola who is performing wonders.
How do you cope with the intrigues of politics as a technocrat?
You first must realise that policies of government and corporate bodies are different. In corporate policy, many people play by the rule but in government, it is not so. So your role is to call the attention of the umpire and the security operatives to ensure that opposition plays by the rule, that is very key.
 What are your plans to dislodge the moneybag politicians?
We have being sentisising our people not to sell their votes; selling their votes amount to selling their future. Osun people are sensible, they have tested these people before and know what they were up to. The infrastructural development put in place as at today in Osun has seriously transformed the state; people cannot fall into their hands again, we have learnt our lessons.
DAILY INDEPENDENT