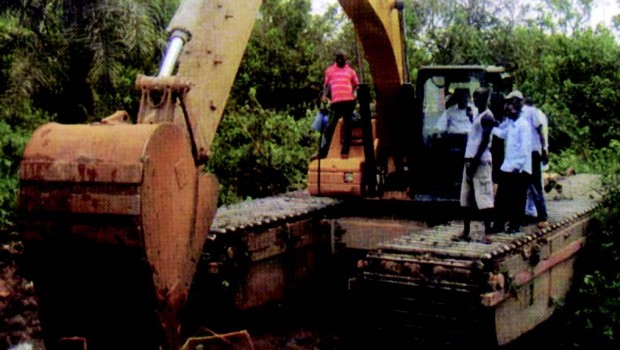 Osun Spends N2.5b On Channelisation
Osun State Government, yesterday, said it has spent about N2.5billion on dredging of waterways and canals to ensure free-flow of water and save the state from flooding.
Speaking to newsmen on the occasion of World Environment Day in Osogbo, the Osun State Commissioner for Environment and Sanitation, Professor Bukola Oyawoye, said that in the last three and half years, the present government has taken necessary precautions to ensure a flood-free raining season in the state.
Oyawoye added that apart from clearing waterways, the administration has also embarked on sensitisation of the populace on the dangers of dumping refuse on water paths.
She said: "Before the present government came on board, things were extremely bad, as towns in the state usually experience flooding. The most devastating one occurred in the state capital on July 7, 2010 when a pupil was swept away by flood.
"But what could not be done by the past administration, this government has done and, in the last three and half years, we have not experienced any incident of flooding. It is due to the ingenuity of the present administration, which deems it fit to dredge waterways in the state.
The commissioner said that the world is at risk of extinction, as a result of gas flaring, emissions from industries and other anthropogenic and natural activities released into the atmosphere, leading to depletion of the ozone layer.
She added that the results of this in the contemporary world are coaster erosion and severe flooding, calling on the people to desist from blocking waterways so as not to endanger themselves.
"People are always at risk when water rises as a result of dumping of refuse on waterways and blocking of water channels. When rain falls and it is not allowed to flow freely, there will be negative effects on the environment," Oyawoye said.
In his words, the Special Adviser to the governor on Water Resources and Rural Development, Kunle Ige, stated that the present administration will continue its ongoing beautification exercise across the state.
Ige, who spoke through the Project Manager, Rural Water Environmental Sanitation Agency, RUWESA, Alhaji Olaposi Adiatu, said in the last three and half years, Aregbesola's administration has committed huge amount into making environment safe for people to live in, calling for peoples' support to ensure clean and safe environment.