Osun's Social Protection Policies Deserve Nigeria's Emulation -UNICEF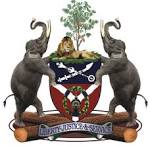 United Nations Children Education Fund (UNICEF) country representative in Nigeria, Ms Jean Goll, has observed that the social protection policy programmes of Governor Rauf Aregbesola should be emulated by other states of the federation.
The UNICEF representative, who spoke today during a courtesy call on Aregbesola, described the school feeding programme and Agba Osun welfare scheme as policies that, aside adding value to the lives of pupils and elderly ones, as a lasting legacies the administration would bequeath to the state.
Describing education as foundation for development, Ms Goll said she was impressed by correct infrastructure met in the newly constructed schools she visited.
According to the UNICEF country representative, the school feeding in addition to serving as encouragement and catalyst for pupils to stay in schools and learn are very rich in nutritional values.
"Having gone round the schools, UNICEF is encouraged by the tremendous progress the state has made since the administration came on board.
"The interview granted to us by some of the recipient of the Agba Osun welfare scheme has demonstrated goodwill as well as political will of the government to live lasting legacy in mind of the people.
"UNICEF is ready to partner with government at different levels of interaction on what strategies to be employed to ensure that 2014 to 2017 UNICEF activities in the state are successful,"
Responding, Aregbesola said if people are the principal factor in development, the six-point integral action of the government are therefore focused to impact on the life of the populace.
The governor said the social protection policy of his administration are his reason for seeking the mandate of the people for the second.
According to him, government remains popular, unpopular reasonable or unreasonable depending on how governance affects the people.
"You cannot find a better, willing and ready partner in the administration of Osun.
"We need you with every passion; we need you to partner with us because this administration see the people in the image of God," Aregbesola said.
The Director General, office of the Economic Development and Partnership, Office of the Governor, Dr. Charles Akinola, stated that UNICEF partnership with the state at this level will further encourage the administration in his avowed commitment in impacting the life of the people most especially the youths and the aged.