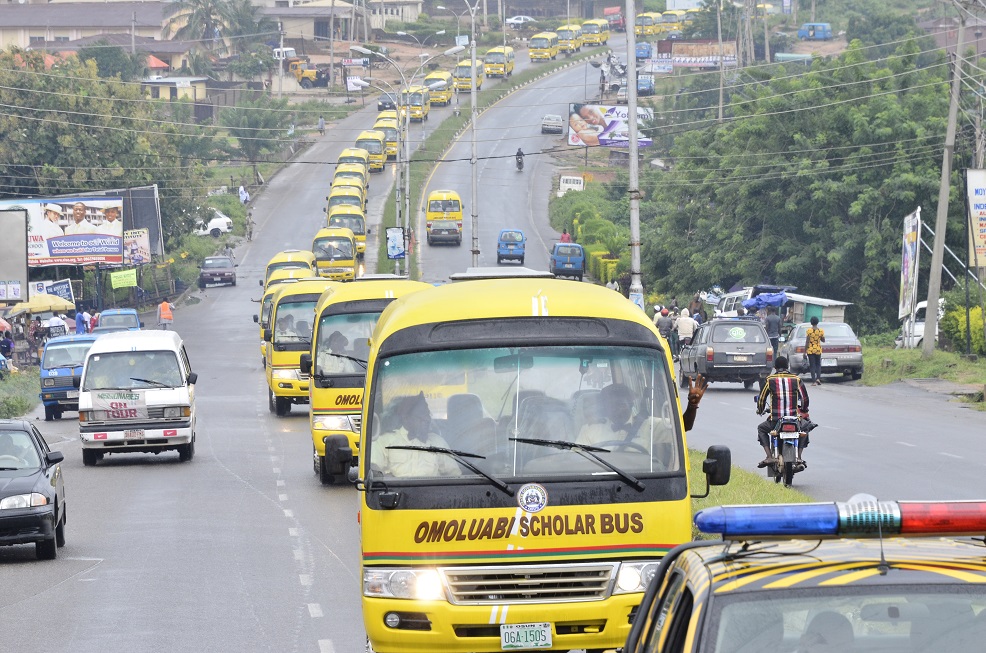 ACHIEVEMENTS: A Few Reasons That Qualify Aregbesola For A Re-Election Bid
(1). 40,000 youths employed under the Osun Youth Empowerment Scheme (O'YES)
(2).  5,000 Youths trained and empowered in information communication technology under the Osun Youth Empowerment Technology (O'YESTECH)
(3). Over N2.4 billion injected into the economy as allowances for the OYES Volunteers
(4). 123 kilometres of waterways (streams, arteries and canals) dredged to keep the state flood-free for three years
(5). 750,000 school students provided with free school uniform coupled with empowerment of 3,000 tailors
(6). students provided with computer tablets (Opon Imo), an electronic learning tool preloaded with 17 subjects, 54 textbooks, and past questions of JAMB, WAEC AND NECO of the past 10years.
(7). Introduction of bi-monthly environmental sanitation exercise under the O'CLEAN initiative to keep the state clean.
(8). Beautification of the 185 Km Oyo Boundary (Asejire) to Osun-Ondo Boundary (Owena)
(9). Trucks provided for a Public-Private Partnership waste management model in the state.
(10). Primary School Funding Grants increased from N7.4 million to N424 million a year.
(11). 240,000 children feed daily with nutritious meals under the Osun Elementary School Feeding (O-MEAL) and Health Programme coupled with empowerment of over 3,000 caterers
(12). Secondary School basic funding grants from N171 million to N427 million per year.
(13). Tuition fees in State-owned tertiary institutions reduced by 30%.
(14). Security of lives and properties being guaranteed with provision of 5 Armoured Personnel Carriers, over 100 security patrol vehicles and one helicopter for area surveillance.
(15). 2 state of the art police stations built.
(16). Internally Generated Revenue (IGR) increased from N300 million to N1.6billion without increasing tax payable by citizens.
(17). Setting up of Omoluabi Conservation Fund with a N4.2 Billion reserve.
(18) Osun Debt Management Office established.
(19) Building of the largest commercial apiary in Sub-Saharan Africa for refined honey production.
(20). Over 1,765 hectares of land cleared and prepared to support farmers.
(21). Rehabilitation of farm settlements in the state.
(22). Over N1 billion committed to the support of farmers.
(23). Building of super highways to connect Osun to Lagos and Osun to Kwara states.
(24). 61 Township roads covering 128km are being upgraded all over the state
(25). Ede Water Works capacity increased from 13% to 30% and plans on-going to reach 100% capacity.
(26). Over 3,000 permanent teachers employed into the state education sector and recruited 339 university graduates into osun state civil service.
(27). 218 km roads being built across the 30 local government areas and Ife East Area Office, Modakeke.
(28). Osun Ambulance Service Authority established with 400 youths trained as paramedics.
(29).  9 State Hospitals and 12 Comprehensive Health Centers being rehabilitated and refurbished in the state; 74 Primary Health Centers built.
(30). Construction of Freedom Park, the first of its kind in the history of the State of Osun.
(31). Omoluabi Garment Factory employed up to 3000 people in the State of Osun.
(32). Free rail service to all indigenes of the State of Osun living in Lagos State.
(33). With just a few I have mentioned that Man has done, you will all agree with me that our governor is an unusual governor.
(34). Payment of salaries to old age people in the State of Osun referred to as Agba Osun.
(35). O-Mediation; to settle disputes between people in the state and increase in bursary from N2000 to N10000 to all the students in tertiary institution from the State of Osun. Osun TI o tin N DARA koni BAJE OOOO.
VOTE….. RAUF ADESOJI AREGBESOLA of APC for the 2nd term.