Aregbesola Has Almost Completed The Only Airport In Nigeria, With Aircraft Repair Facilities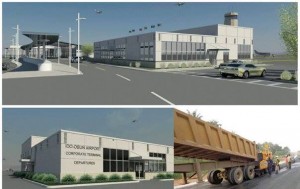 The Rauf Aregbesola's government in the State of Osun is constructing an airport with on-the-spot repair facilities for all categories of airplanes in the State.
Special Adviser to Governor on Environmental and Sanitation, Hon. Bola Ilori, made this disclosure while briefing the ministry's staff, the 'O'-Clean marshals and Groups, Sanitation Offices and other concerned individuals, on the programmes and activities of government during the first six months of the year.
According to him, the state- of –the –art airport, being established in Ido-Osun in Ede, apart from being the only one with aircraft repair facilities in the country, also has the longest landing tarmac for aeroplanes.
He disclosed that during the last three and a half years, the Ogbeni Rauf Aregbesola's government in the State has received local and international awards in the area of forestry, tourism and environmental sanitation.
Also at the occasion, the various Directors in the Ministry, subject-matter specialists, 'O'-Clean Marshals and other stakeholders, commended the Rauf Aregbesola's government for employing staff, providing finance and other logistics, which had assisted them in the performance of their duties.