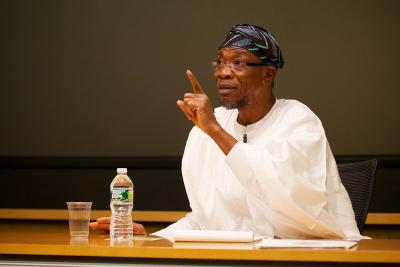 Integrity Matters In Governance – Aregbesola Tells Omisore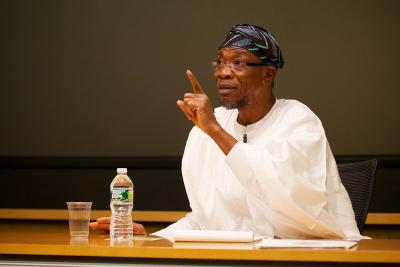 The governor of the State of Osun, Ogbeni Rauf Aregbesola, has said that the candidate of the Peoples Democratic Party, Iyiola Omisore's litany of lies would not be enough to earn him victory in the August 9 governorship poll.
Aregbesola, through a statement by the Director, Bureau of Communications and Strategy, Semiu Okanlawon, said as the state inches towards the August 9 date, Omisore rather than explain to the people of Osun and other stakeholders what he intends to do differently, has dissipated energy trying in vein to discredit the various landmark projects of the Aregbesola administration.
"We acknowledge his capacity for lies, fraudulent claims, innuendoes and fallacies. We however note that these are only the last resort for a candidate who knows the degree of the rejection he has suffered from the good people of Osun.
"Omisore must take the Osun people for being daft to believe they will embrace his lies. In recent times, he has woven a litany of lies around all the projects of the Aregbesola administration such as Opon Imo, roads contracts, school reforms, financial engineering, youths empowerment schemes, environmental development projects and others.
"But what Omisore appears to forget is the fact that the people are at the centre of these programmes and therefore they are the direct beneficiaries. Any attempt to discredit them easily fails," the statement said.
Reminding Omisore and his listeners how his many lies have been put to shame, the statement demanded from the PDP candidate how he intends to explain his almost one year of dubious claims of heavy indebtedness after the Debt Management Office came from the Presidency and faulted his claims.
"In some other parts of the world, that revelation and confirmation are enough reasons for Omisore to back out of the contest having been found not to be credible in his several claims on the so-called Osun debt.
"But his shamelessness knows no limit. He has moved from one lie to another as if lies are all it takes to win a governorship election," the statement added
Saying that his penchant for causing disaffection in the state is noted, the statement reminded the people that all the PDP candidate had done since he began his campaigns is to muddle up facts and figures.
"He has sought desperately to set workers against the government. The Osun workers who have witnessed the massive changes in the conditions of service since the Aregbesola administration came would even in the face of the confusion attempted by him, still take the best electoral decision of re-electing Aregbesola for a second term.
Advising him to utilize the little campaign period left to tell the people what ideas he has to improve the lots of the Osun people, the statement added that it is not enough tell lies at rallies and rely on the proposed militarization of the state to capture power.
"This arrogant reliance on the powers of the Federal Government-controlled forces to subjugate a people in order to rob them of their rights to choose their leaders and endless lies would not help Omisore. At best, they will make him enter the hall of infamy in the politics of our land," the statement concluded