OPINION: Osun Poll And Aregbesola's Optimism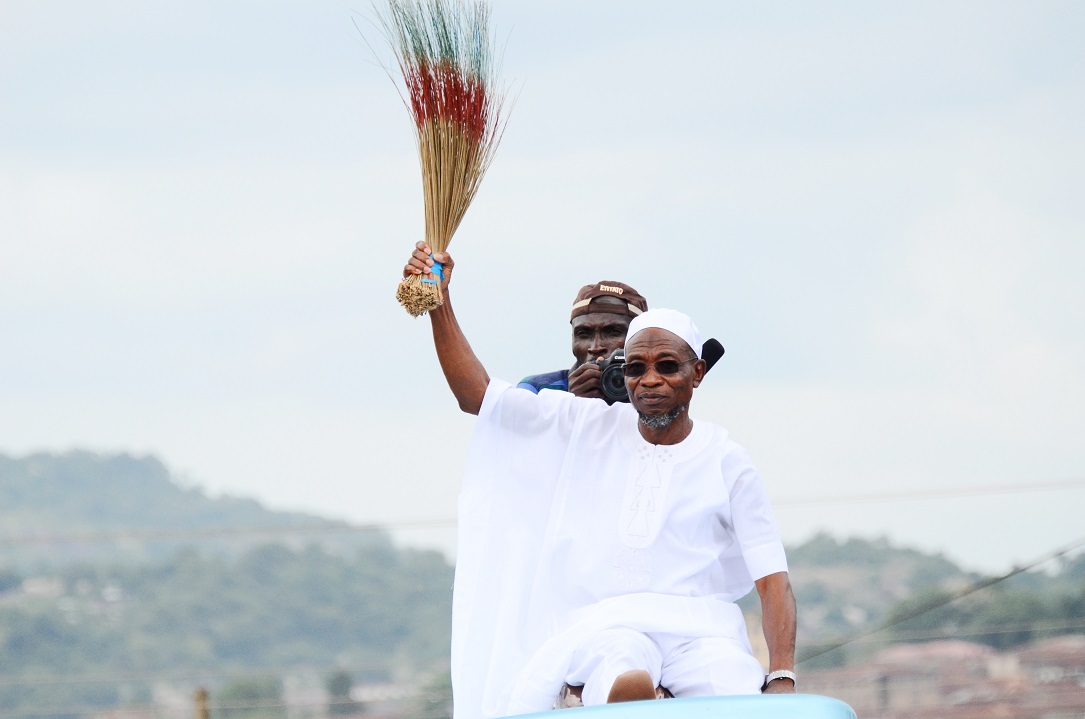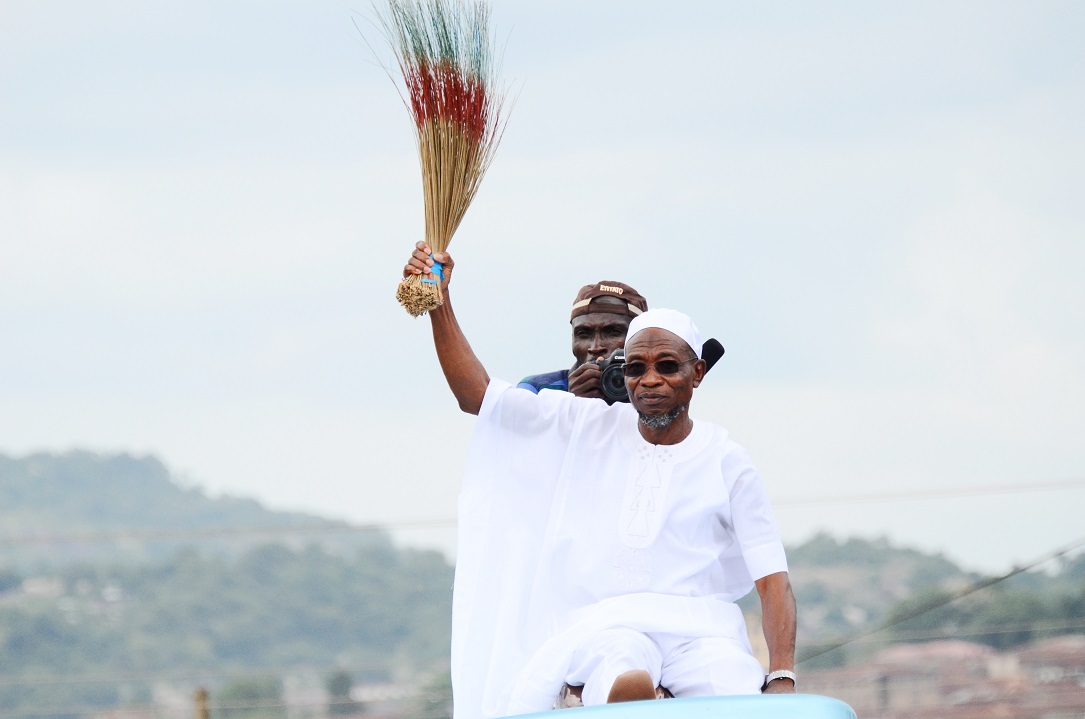 Come August 9, this year, the people of Osun State will go to the poll to either renew the mandate of incumbent governor, Ogbeni Rauf Aregbesola of the All Progressives Congress (APC) for another four years or vote in a new governor in the person of Senator Iyiola Omisore of the Peoples Democratic Party (PDP), the hottest challenger to the coveted post. The election coming after the defeat of APC incumbent governor in Ekiti State, some weeks ago, has great implication for the APC generally.
Without prejudice to other political parties that fielded candidates for the poll, the Osun contest is clearly between the PDP and APC candidates. It is, indeed, going to be a battle of wits and supremacy between the duo. The coming epic political battle is going to show those really in charge of Osun politics between PDP and APC chieftains and supporters, whether it is politics of "development infrastructure" or that of "stomach infrastructure." Both are important new paradigms in evolving Nigerian party politics. Any politician that ignores any aspect of new political vote-catching mantras is doing so at his own peril.
What happened in Ekiti poll is an eye-opener of sorts and students of political science will do some research on it. It is a surprise that in an election that Governor Kayode Fayemi readily conceded defeat and congratulated the winner, Ayodele Fayose, the APC has cried blue murder and challenge the result, which Ekiti people and, indeed, Nigerians, local and foreign observers hailed was free, fair and credible. I am very sure that the APC has not recovered from the shock of Ekiti defeat and it is going to haunt the party for months or years to come depending on the outcome at the tribunal and also the result of Osun poll.
Since the Ekiti landslide, the PDP has gone with the notion that, the Ekiti episode has signalled what to expect in Osun next month and other South-West APC states in 2015 and even Nigeria. But the truth of the matter is that elections don't normally follow such predictive patterns in a heterogeneous entity as Nigeria where many factors account for how elections are won if all things are equal. So many reasons have been advanced why the APC lost in Ekiti and they range from the sublime to the ridiculous.
Most outstanding among the numerous reasons for APC defeat is that Fayemi concentrated on development infrastructure and neglected stomach infrastructure. And the latter, is where his opponent, Fayose, reportedly capitalized and gave him an edge. As sweet as this theory may sound, I do not believe in its entirety that Fayemi lost simply because of neglect of stomach infrastructure. There must be other cogent reasons why he lost outside the puerile argument of neglecting mere stomach infrastructure.
After all, it was reported that bags of rice and other edible items were used as campaign mementos by all the political parties before the election. Fayemi is not the first incumbent governor that has lost an election in Nigeria. The factors responsible for his defeat will not be isolated from those of other incumbents that have lost elections in the country. Ekiti own is not different or special.
I believe that Fayemi lost because Ekiti people, like the people of Imo State in 2011, want regime change and that is exactly what they did and not necessarily that they voted for stomach infrastructure. Anyway, the voters have the right to make a choice of who governs them and nobody should query their conscience or their choice.
Therefore, it will be wrong on the part of the PDP in Osun to think that because Fayose won Ekiti State for them that the same will be replicated in Osun. That would be delusion of grandeur. They should remember that the sociology of Ekiti politics is poles apart from that of Osun. They should also remember that Fayose had ruled that state before he was removed through unpopular impeachment by those in charge of central authority then.
There were certain things that Fayose did that still endeared him to the hearts of Ekiti electorate that made them gave him massive votes at the recent gubernatorial poll in the state. They should not forget that Fayose's victory was foretold prophetically. Such scenarios do not exist in Osun. Governor Aregbosola is never confronted with the same dilemma that Fayemi faced in Ekiti State where some of his unpopular policies were said to have contributed to his being defeated at the poll.
Watching Aregbesola from a distance, I think that the Ogbeni has done creditably well in providing both physical infrastructure, in terms of well-paved roads, schools, hospitals and others. He has empowered Osun youths through his youth empowerment programmes. When he saw that some politicians want to use religion to foment trouble in the state, he quickly arrested the situation and demonstrated that the government is for all religions in the state and treated them equally.
Besides these, Ogbeni is a grassroots politician and committed hard fighter. He knows how to reach the electorate effortlessly. He has large support base and mass following in Osun and they would surely root for him for a second term in office, all things considered. He is well at home with populist programmes that can win votes to his side. Ogbeni Aregbesola must also have learnt from the mistakes of his colleague in Ekiti.
It is my belief that he learnt very well. In fact, any APC governor that has not learnt from the mistakes in Ekiti is not telling the truth. It is not only APC governors, any governor hoping to win a reelection must have learnt some intrinsic lessons on voter psychology from Ekiti that will make him survive politically.
This can explain why Ogbeni Rauf Aregbesola is sounding so convincing and optimistic that his people will surely return him to office soon. He has said it openly that what happened in Ekiti will not repeat itself in Osun and I do not think that it is an empty boast coming from such sophisticated political warrior as the Ogbeni himself. But the incumbent governor should expect a hard fight from the PDP candidate, Omisore. It is indeed going to be a titanic political battle.
Who becomes the next governor of Osun State will be solely at the discretion of Osun voters if the electoral umpire and others involved in the poll do the needful to ensure its transparency and fairness. Nevertheless, from the look of things, it appears the incumbent governor would have the upper hand.