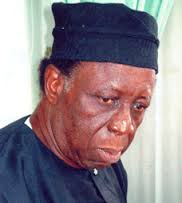 OSUN 2014: Oyo Former Governor, Omololu Olunloyo Scores Aregbesola High
A former governor of the old Oyo state, Dr Omololu Olunloyo has described the Governor of Osun state Ogbeni Rauf Aregbesola as a visionary leader worthy of emulation by all particularly the political office holders.
Dr Olunloyo stated this at the palace of Timi of Ede land, when the Aregbesola campaign train paid a homage to the traditional ruler.
He described as excellent the Opon Imo project, saying it is capable of revitalising the education standard.
The former governor who noted that he could not believe his eyes at the sight of the level of transformation on his way to the state, said the governor has indeed made a name for himself as the peoples governor.
Olunloyo thereafter enjoined the people of the state not to sell their votes in the forthcoming governorship election.
"Aregbesola is always willing to work for the development of his people especially the yoruba race because he has taken tutelage from Bola Tinubu for eight years."
"I so much admire the "Opon Imo" project of Aregbesola because after studying the device I know that it can go a long way in revitalising education in the state."
"I can say it with all boldness that Aregbesola is the best and the most innovative Governor in the south-west and I am so happy to be associated with this."