Osun Election 'll Be better Than Ekiti – Jega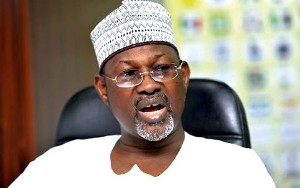 In spite of the widespread applause for the recently concluded Ekiti State governorship election, the Independent National Electoral Commission (INEC) on Tuesday said that it is working hard to make the upcoming Osun State governorship poll better.
The Chairman, Professor Attahiru Jega said no effort would be spared to make the Osun election scheduled for August 9, more qualitative in all aspects than the June 21 Ekiti State election which has been widely acclaimed as the best so far by the Commission.
Jega made this known on Tuesday, when the Ambassador of the Peoples Republic of China. Gu Xiaojie, paid a courtesy visit to the Commission.
The Chairman said the present Commission had since 2010, when it came on board, been devoted to improving the electoral process in Nigeria, "to make it more participatory and ensure that it is more transparent, that elections are conducted consistent with international best standards and in accordance with our own electoral laws."
He added: "Since 2011, we have been doing our best to keep on improving the integrity and transparency of the electoral process. We have cleaned up the Register of Voters, and we have been doing our best to address the challenge of logistics of deployment, which has been a major obstacle to our conduct of good elections."
I am pleased to say there has been progressive improvement in the series of governorship elections that we have conducted since 2011, culminating in the Ekiti election that we conducted two weeks ago, and which has been generally acknowledged as perhaps the best election that we have conducted so far. On the 9th of August, we have another election in Osun State and we are doing everything possible to ensure that the Osun election is better than Ekiti."