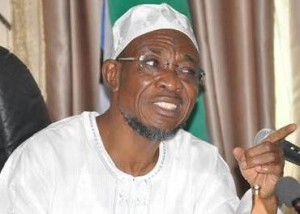 OPINION: Osun Poll And The Triumph Of Reason
Osun peoples' preference for the incumbent governor, Rauf Aregbesola in the just concluded gubernatorial election in Osun State could be called the triumph of reason. There is no doubt that Aregbesola in the last four years has impacted on all sectors of Osun State in an unprecedented manner. His feats were more pronounced in the provision of physical infrastructure like roads, parks, classrooms, etc. His performance in education sector was equally remarkable in spite of uproar occasioned by his government's decision to merge schools and wearing of hijab by Muslim girls. Knowledge tablets, Opon Imo, school uniforms and meals were given to students free of charge, to mention but a few.
As should be expected, opposition banked on perceived weaknesses of Aregbesola government like demolition exercise to aid road expansion, reclassification of schools, refusal to throw money around and distribute foods items (stomach infrastructure) etc, to discredit his government during their campaigns. Even to practicalize their "love" for the grassroots people, opposition parties brought large quantities of materials like foods, rice and beans, detergents, kerosene amongst others to distribute free of charge to the electorate.
At the end of the day, the result of the election showed the people's preference for reason. This is the ability of a healthy mind to think and make judgment, especially based on practical facts and rejection of stomach infrastructure. As a matter of fact, Osun has laid a foundation that will be difficult for time to destroy, that is, performance would be rewarded. Aregbesola may not be perfect, but in terms of performance, even passersby in Osun State would testify to the changes wrought in the state by Aregbesola.
How Osun's preference for performance as against stomach infrastructure would influence other remaining states in the southwest where elections are pending is a conjecture.
However, Osun has laid a good example which one would wish others to follow by making performance the only yardstick for electing people into government and reject mundane, deceitful and perishable materials. This is the only way to enjoy the dividends of democracy which, to me, is the right to choose who will govern one and to sack such person if he fails to deliver.
Adegbite writes from Apake, Ogbomoso