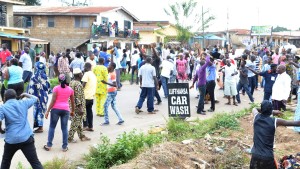 Osun 2014: Victims Of Harassment Sue SSS, Army, Police
Fifteen aggrieved persons who were allegedly harassed and humiliated by security operatives during the August 9 governorship election in Osun State have concluded arrangements to challenge the alleged inhuman treatment in a court of law.
The complainants are High Chief Sola Ogunsanya, Isaac Onajide, Babatola Segun, Ogungbangbe Suliman, Obayemi Ayo, Awopetu Odunayo, Esther Olamijulo and eight others.
Those to be sued include the Department of State Security Services (SSS), Nigerian Army and the Nigeria Police Force for their alleged complicity in the complaints of illegal arrest and detention.
The complainants, in an application for a court order enforcing their Fundamental Right, slated to be filed at a Federal High Court in Osogbo today, a copy of which was made available to newsmen in Osogbo, demanded compensation and unreserved apology from the security operatives.
In the application, they stated that "We pray for an order directing the respondents to pay N100,000,000 each as damages and tender public apology to each of us."
"Our arrest and detention prevented us from exercising our franchise in the August 9 poll and vote for candidates of our choice".
They also prayed the court to declare that their arrest and manhandling by officers of the respondents constitute a violation of their freedom from torture, inhuman and degrading treatment.
The applicants, however, sought these reliefs as contained in an originating summons pursuant to Section 34, 35 and 46 of the 1999 constitution and Article 5, 6, 12, 13 and 20 of the African Charter on Human and People's Rights, Cap A9 Laws of the Federation of Nigeria, 2004; Order II Rule 1, 2 and 3 of the Fundamental Right (Enforcement Procedure) Rules, 2009.
The applicants in the first relief are seeking the declaration of the court that their arrest and detention was unconstitutional, illegal, null and void and in violation of their right to personal liberty.
In an affidavit he sworn to, in support of the application, one of the applicants, High Chief Sola Ogunsanya, a registered voter said: "I was arrested on August 8 by armed officers of the respondents in my house, while other detainees were arrested on August 9 at Iloko-Ijesa and Ijebu-jesa."
He stated that "after the arrest, myself, and two other applicants were taken to the DSS office in Osogbo and Iloko police post where we were detained, stripped naked and ordered to lie down for several hours in the open without allowing us to move an inch and later beaten, tortured and humiliated".