Osun: The Next Four Years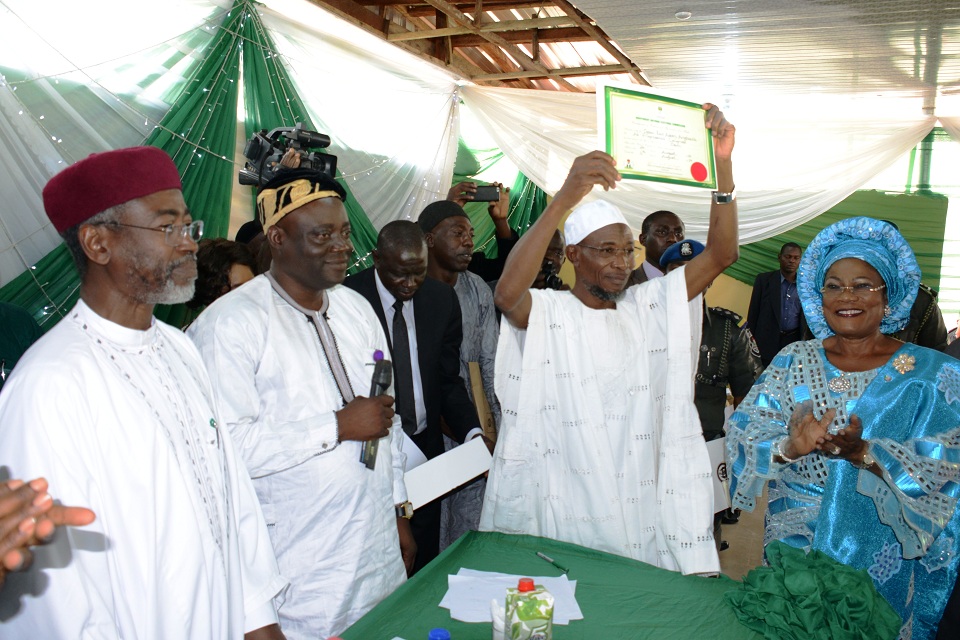 "My administration will carry through phenomenal reforms in the next four years. As a template of urban transformation across our cities and towns, Osogbo at the end of my tenure will look very much like Dubai"–Rauf Aregbesola, August 12, 2014.
Last Sunday, the Chief Returning Officer for the Osun State governorship election and Vice Chancellor, Obafemi Awolowo University, Ile-Ife, Prof. Bamitale Omole, announced to a crowd that had waited all night, that Mr. Rauf Aregbesola, incumbent governor of the state, had won the election by a comfortable margin. As a nation, elections, national or regional, test us to our very limits, and this recent one, by raising the spectre of electoral banditry, was certainly no exception. And, so, despite the scientific prediction by three independently conducted opinion polls that Aregbesola would beat his closest opponent, Iyiola Omisore, by an appreciable leeway, tension, apprehension and fears of last minute vote swapping or high-tech rigging pervaded the atmosphere. Indeed, The PUNCH columnist, Prof. Niyi Akinnaso, stated in his article entitled, "Why and how Aregbesola won the Osun election" (Tuesday, August 12, 2014) that "in a final bid to snatch victory, they attempted to disrupt the collation of results at the INEC office".
How much a debt of gratitude the nation owes to INEC, and Omole for standing their grounds was brought home to this writer on Tuesday when as part of an ongoing research project, I had to be at Ile-Ife and Osogbo. For close to two hours, Osogbo came to a standstill as a massive, jubilant throng serenaded Aregbesola on his way to Freedom Square to address a huge audience. No hyperbole intended; the scene could have been swapped for one of Obafemi Awolowo's campaign rallies. In those moments, it dawned on me, what an epic political storm could have overtaken the nation, had the overseers of the process succumbed to the temptation referred to by Akinnaso, to conjure up a fake result.
This is all the more so, when you consider the comprehensive militarisation of the state featuring by one account, close to 75,000 security operatives, some of them wearing masks. Let the point be made: There is a difference between the deployment of soldiers for elections which occur regularly in large democracies such as India and Indonesia, and an ostentatious display of armed might including the assassination attempts on political opponents. Those democracies employ the military to transport voting material to remote and inaccessible regions and to maintain order in volatile territories. What is decidedly contemptuous of the citizenry, however, is the scenario where some politicians, deliberately targeted, were forced into hibernation, and in some cases, disenfranchisement.
Power exercised irresponsibly or unjustly gives out the character or intentions of those exercising it. In this instance, several narratives point to an intention to scare the opposition, the All Progressives Congress out of its wits and to provide a soft landing for possible vote swindling. These are tragic omens in the light of the 2015, an election qualified by the factor that as some observers have remarked, large scale militarisation on the scale of Osun or Ekiti is logistically impossible across 36 states. If Nigeria were a decent country, the federal authorities would have apologised for the naked show of force in Osogbo especially for the arrest of the APC party officials for no apparently justifiable reason.
In contrast to the second term syndrome of Nigerian politics whereby high flyers slow down or simply wallow in their initial achievements, Aregbesola, quoted in the opening statement, promises greater governance impact. He set the bar high on Tuesday when he said that Osogbo and other cities/towns will be transformed on the world class level of Dubai. Cynics may dismiss the promise as post-election rhetoric rushing forth in the flush of victory. It is important however to note that an urban renewal plan authored in conjunction with the United Nations – Habitat currently exists in the state. For example, there are plans to build a cargo airport, increase the quality of mega schools and regenerate urban infrastructure to better connect Osogbo with other cities in the state and to Lagos. This is no doubt an ambitious project; it is even more so considering the financial strait jacket under which the state labours.
Aregbesola already has several exciting menu on his governance plate some of which have been well acclaimed. The challenge he faces therefore is that of sustaining such innovative programmes as a vast school feeding system imaginatively skewed to incorporate an employment generating scheme; while delivering on an impressive urban transformation agenda. Facing this challenge head-on will of course involve increasing the state Internally Generated Revenue which he lifted in the preceding three and half years from N300m to N1.6bn.
Even at that, several of his bold social programmes which earned him reelection are bound to run against the tight leash of dwindling and irregular federal allocation. Conceivably, if the Western Regional Integration could be fast-tracked in the face of political vicissitudes, economies of scale would permit the quicker transformation of the regional hub into an industrial and agricultural model that will challenge the rest of the federation. In the absence of such a lucky turn, Osun will have to apply all the tricks in the books of financial engineering to pull through laudable social policies.
Considering the brake on development which an incompetent centre constitutes, it is time for developmental states within the federation to explore innovative power generating options such as solar and wind power, light rail and the quickening of small scale manufacturing. Of course, life may be easier for Osun if the APC gains control of federal power in 2015. However, scenario building should take cognisance of best case and worst case scenarios. There is also the factor that electoral victory having been secured in part by elite transactions featuring the defections of notable figures from the Peoples Democratic Party, the party at the state level has become so inclusive and disparate that singing from the same hymn sheet ideologically becomes a challenge. Aregbesola's political skills will be tested in the balancing acts he performs between fidelity to social programmes and the imperatives of power and spoils sharing.
Not everyone in his party will be interested in visionary programmes; more likely than not several will be angling for a piece of the action, hence the beckoning of statesmanship. In the same vein, acumen will be required in navigating the treacherous waters of religious polarity, an issue that nearly derailed some of his laudable programmes.
What is exciting about the prospects of Osun under Aregbesola is the framework gaining ground globally that innovative cities and sub regions may by transcending the constraints of weakly performing centres in fragile states to become growth poles and areas of fast paced development. By no means an easy task, it remains to be seen how far and to what extent the enunciated goals of a social reformer in political garb will be attained. He brings to his second term the popularity of a gladiator who has survived near martyrdom and enjoys the authority of a leader who ascended by surrendering himself to crucifixion.
He must now translate these assets into enduring achievement.