Osun-Osogbo Update: Preparations For Festival In Top Gear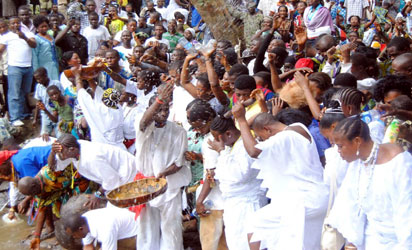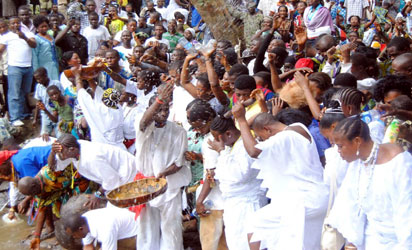 Activities marking this year's Osun Osogbo International festival are gradually reaching its climax with several traditional and cultural events, ahead of the grand finale on Friday 22nd August.
Parts of the activities is a cultural talent hunt among Youths, organised by the Osun  state government aimed at encouraging them to use local raw materials in their environment to launch themselves into economic prosperity.
Other programmes in which the Youth are taking part include the Oodua Fashion and Beauty Fair, designed to familiarise the youth with some basic aspects of Yoruba history, culture and tradition.
The Chairman of the Osun state tourism board, Engr. Abimbola Daniyan, said with the influx of tourists, foreign visitors and worshippers particularly those in Diaspora, the agency was leveraging on the festival to sell the abundant tourism sites in the state to the visitors.
"The government is using tourism as a veritable tool to fight unemployment and poverty among the Youths, with many of them trained as tour guides and operators,"
 Engr. Abimbola Daniyan said.
One of the most popular tourism sites, which has continued to attract local and foreign tourists, is the Oluminrin Water Fall, Erin Ijesa.
According to him, the site has hosted no fewer than 
40,000
 tourists this year.
The seven-step Oluminrin Falls now plays host to 
7,000
 tourists every month, as government on a continuous basis is giving face lift to the place to attract more tourists to the site.
The Osun Osogbo Groove, a world heritage site, located in the deep forest in the outskirts of the ancient town has continued to attract several visitors on a daily basis.
The Groove will be the epic centre of the Osun Osogbo Festival, with the traditional ruler, traditional title holders, worshippers and people coming to the place in a procession to perform the annual rituals.
VOICE OF NIGERIA