Security Agencies Are Not Paid To Wear Mask, Intimidate Nigerians – Aregbesola Blasts SSS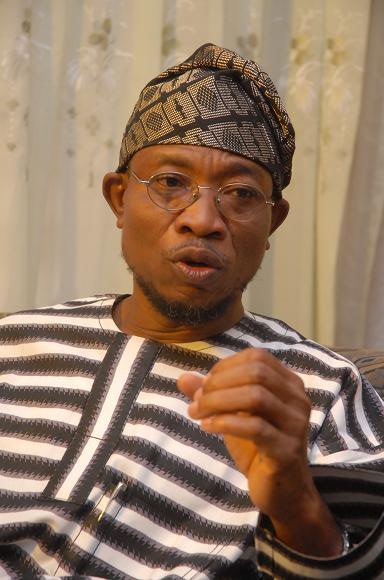 Osun State Governor, Rauf Aregbesola, yesterday condemned the show of force displayed by officers of the Department of State Services (DSS) in some areas in the state on Wednesday.
The masked-operatives had driven round the metropolis and shot sporadically into the air, an act that scared many residents.
Speaking in Oshogbo at the commissioning of the emergency call centre built for efficient security network in the state, the governor lamented that the display was meant to intimidate the people as no situation called for such.
Aregbesola stated that his administration will launch an official complaint to the authorities concerned, saying that they have no constitutional right to threaten or intimidate law abiding citizens of the state.
"We owe it a duty to let the whole world know what is happening here. This is against the right of the Nigerian people. We've all forgotten that we pay the salaries of the security agencies," he said.
"We don't pay for them to wear mask in our towns. They should only wear masks when they engage terrorists and if they have to operate in a region where seeing them might compromise their own safety and security.
"What would they say is the reason for what they are doing now other than threat, shock and awe? So, what this means is that they want to conquer and cow our people, which is a direct assault on democracy.
"I won't take gun against them but I will not be quiet. We should all talk and condemn it because this is not about Aregbesola alone," the governor stressed.
On the call centre, he explained that the facility will immediately alert security operatives at the dial of a distress call line (080067866786) that can take 24 calls at a time and 100 (hundred) calls when upgraded.
The governor pointed out that just as it has been done in all other aspects of public life in Osun, protecting the lives and property of the people is a task that has kept the administration busy and for which his administration will continue to shoulder.
He said it is a task for which his government was fully committed to observing, adding that government would leave no stone unturned in terms of welfare and security of the people.
"This Emergency Call Centre will go a long way in enhancing the effectiveness of the various security measures we have been putting in place for the safety of lives and property in Osun," Aregbesola added.
"Towards this end, therefore, we have gradually been building a mutually reinforcing security system that will guarantee the pursuit of a 'life more abundant' in the State of Osun. We have, among other measures, set up a patrol unit, the Swift Action Squad (SAS).