Be Disciplined In Holy Land – Aregbesola Charges Osun Pilgrims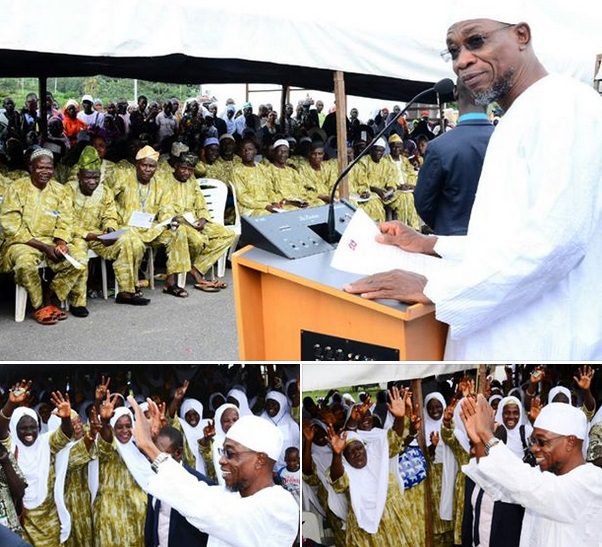 The state of Osun contingent of the intending muslims pilgrims have been admonished to pray for the peace, progress and economic development of the state in the holy land of Mecca, Saudi Arabia.
Governor Rauf Aregbesola gave the admonition at the farewell ceremony for the 2014 muslim pilgrims.
A total of eight hundred and sixty-eight intending pilgrims which include self and government sponsored will attend this year's Hajj operation from the state of Osun.
The first batch of the contingent will leave Osogbo for Lagos on Saturday and will finally depart the shore of this country in the evening of Sunday.
Previous Hajj operations since the inception of the present administration has been successful according to governor Rauf Aregbesola.
Expressing hope that this year's Hajj operation will be better in terms of coordination, conduct and performance of the spiritual duties by the intending pilgrims, Governor Aregbesola enjoined them to consider Hajj as a call to duty in the ways of Allah.
He admonished them to make use of the exercise to seek spiritual rebirth and come back a new born who will submit themselves to the total will of Allah, while also charging them to be of good conduct and be clean at all times.
The Governor also demanded that the pilgrims while in the holy land should thank Allah on his behalf for his success at the just concluded gubernatorial elections in the state.
"Performing the hajj will make you as clean as a newborn. Anybody going to meet with God at the holy land has no business with filthy things. I urge you to make sure you present yourself holy before God.
"If you take your hajj operations very seriously you will get everything you desire before you leave this earth because God can do anything you ask from Him except He doesn't want to do it.
"The hajj operations is very important aspect of Islam which should not be handled with kid gloves. So I urge you to take the exercise seriously and pray for the peace and economic development of the state of our", Aregbesola stressed.